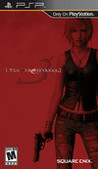 Summary:

(Also known as "Parasite Eve: The 3rd Birthday") Hideous creatures descend on Manhattan. Ground reports from the squad tasked with containing the pandemonium refer to these life forms as the Twisted. An investigatory team known as the CTI is formed within the year. The Overdive system

(Also known as "Parasite Eve: The 3rd Birthday") Hideous creatures descend on Manhattan. Ground reports from the squad tasked with containing the pandemonium refer to these life forms as the Twisted. An investigatory team known as the CTI is formed within the year. The Overdive system emerges as a means of opposition, but only one viable candidate exists –Aya Brea. A gift as she awakens from a lost past on this, the occasion of her third birth.

…

Expand
Developer:

HexaDrive

Genre(s):

Action

,

Shooter

,

Shooter

,

Third-Person

,

Sci-Fi

,

Sci-Fi

,

Arcade

# of players:

No Online Multiplayer

Cheats:

On GameFAQs

Rating:

M
Please enter your birth date to watch this video:
You are not allowed to view this material at this time.
The 3rd Birthday TGS 2010 Official Trailer
Expect 15-20 hours of gameplay just to get through the game and that's not including any replays for secrets, alternate paths, or checking out any of the secrets or unlocks. The 3rd Birthday rivals a lot of console action-RPG's these days, and while it probably would have played better and received a wider audience on the PS3, I have to commend Square Enix for publishing a fantastic sequel and an exceptional gameplay experience on the PSP that any fan of the genre or the series should definitely check out.

It's likely that most of the old time followers of the series will be put off by the extremely shooter-driven gameplay - but despite having the structure of something very standard, the game has a deceptively creative centre.

The 3rd Birthday is still one of my favorite PSP titles, and playing it again on the Vita just re-enforced my love of the series. Once PSOne titles start working on the Vita I can finally have my Aya Brea trilogy in one place to play at my leisure, and while this new game is a radical departure as far as gameplay is concerned, it still fits right in with the theme of the series as a whole.

Playstation Official Magazine UK

May 17, 2011

Has pleasingly strong gunplay. [June 2011, p.112]

Parasite Eve fans may find themselves turned off by the frenzied action-oriented approach of The 3rd Birthday, and the execution certainly has its ups and downs. Even though The 3rd Birthday may not be one worth celebrating, we're hoping Square Enix can get it right if it decides to someday bring the franchise back to its console roots.

If you were expecting a unique experience, equal to that of the PlayStation era games, you will be very disappointed. On the other hand, as a plain third person shooter, The 3rd Birthday is capable of delivering some quality gaming hours.

Some of the first magazine advertisements for Parasite Eve, back in the late 90′s, used the tagline, "The Worst Foe Lies Within the Self." How oddly ironic that all these years later, a new Parasite Eve game should come out in which the worst foe truly is not a monster, but flaws within the design of the game itself. That's heavy.
refreshing, polished and i fancy Aya... seriously though its got a wicked style nice controls (for PSP) and the lv up system is very engaging.

refreshing, polished and i fancy Aya... seriously though its got a wicked style nice controls (for PSP) and the lv up system is very engaging. this game isn't about aiming, so what.. its about surviving and there are some quite deep tactics involved... very impressed and i HOPE there bringing Aya to the NGP!!.... oh, i forgot to mention the graphics are pretty spot on too.

…

Expand

I am frankly surprised at the below average scores this game is getting. Sure it's not exactly like Parasite Eve 1 and 2, but the game truly

I am frankly surprised at the below average scores this game is getting. Sure it's not exactly like Parasite Eve 1 and 2, but the game truly makes the most out of the PSP and offers tight gameplay despite the lack of second analog stick. The story is serviceable, and there's a good resume of the previous games in the menu's notes if you're a newcomer.

All in all, this game is one of the swansongs of the PSP and I'm quite saddened it didn't get much love from the press. It feels like a blend of all the positive aspects of Dirge of Cerberus and Crisis Core mashed together, and the now-discounted price of $20, you have the best third person shooter on the platform. Not too bad!

…

Expand

The 3rd Birthday is fun mash up of third person shooting and rpg stuff, which makes a really good combination (unlike Lord of Arcana.)

TheThe 3rd Birthday is fun mash up of third person shooting and rpg stuff, which makes a really good combination (unlike Lord of Arcana.)

The Story:
Well the story is confusing, first of all it didn't explain why the FBI attacked the wedding of Aya and Kyle. Second is that to really understand the story behind the twisted and the high ones. Combine all to and you get a weird Daytime-Soap-Opera Shows.

Gameplay:
Unlike the it's predecessor it's not a horror game, it's more of a Resident Evil except with out the horror or intense scenes. Instead it's an Awesome TPS where you can do this "Overdive" thing where you can take the place from one ally to another by using overdive. Weapons are good, changing DNA is cool and Getting to Have different costumes like Lighning's Costume is AWESOME!!!!

Graphics:
As usual the graphics are fantastic!!!!! If you say it sucks then go play your GBA, I bet it has lots of COOL games in it special the AWESOME graphics it has.

Sound:
Solid Voice Soundtrack but the voice acting is at the mercy of the script.

Replay:
If you wanna get everything then be my guest cause one of the main replay value is the story cause you won't get any thing out of the story if you just played it once.



see the full review: http://asia.gamespot.com/psp/action/the-3rd-birthday/player_review.html?id=751144&tag=contributions%3Breview20

…

Expand

I am a huge, HUGE fan of the Parasite Eve series. That being said, this game is nothing like it, and it does quite a lot to blemish the

I am a huge, HUGE fan of the Parasite Eve series. That being said, this game is nothing like it, and it does quite a lot to blemish the series. Let's start off with the problem that pains me the most, Aya Brea. She's not the same Aya Brea you know from Parasite Eve, at all. She's weak and looks like a slut. The strong-willed, badass Aya Brea you know from Parasite Eve is dead, and in her place is a skimpy, frail, teenage-like girl with a gun. It really, REALLY hurts me to see one of the most amazing female characters in gaming become this, and it definitely killed much of the game. To make matters worse, Aya now loses her clothes when she gets hurt. Square said this was a matter of realism, although I have a pretty hard time imagining they would treat a male protagonists the same way. They aren't being subtle here: Aya Bra is a sexual item in this game. Most of the satisfaction you will get from this game is watching her clothes fall off. The next problem would be the story, which makes little sense. If you watched the trailer and wondered why everything was happening the way it was, don't expect this game to explain it to you, because it won't. You are a tiny girl possessing soldiers from the past shooting monsters. That's all you will get from this game's story. Don't expect memorable characters either. They are all shallow and you will forget all their names a week after playing the game. The last parts to address in this game are the graphics and gameplay, which luckily are fantastic. The graphics are probably the best I've seen on a PSP, very similar to that of Crisis Core and Birth by Sleep. Absolutely stunning for this fiveish year old handheld. Gameplay is creative and addicting. You play by taking control of different soldiers and unleashing special attacks when gauges fill up. It's very difficult to describe properly so you'll need to look it up in the videos. You get to lock on to targets which may seem too easy at first but the game itself is not easy at all, as the enemies will be ruthless and have interesting weaknesses you need to discover. Overall while the game suffers from brutally murdering the Parasite Eve image and has a horrible story, the graphics and gameplay make it worth trying on the PSP. If you have never played Parasite Eve, you will want to pick it up. If you are a fan of Parasite Eve pretend The 3rd Birthday has nothing to do with it, because for the most part, it doesn't.

…

Expand

Being a huge fan of the original Parasite Eve games... I couldn't have been more excited to finally play another one. They were some of my

Being a huge fan of the original Parasite Eve games... I couldn't have been more excited to finally play another one. They were some of my favorite PS 1 games, and some of the best survival horrors ever made. Sadly, what we are given here is a game that has nothing to do with those, despite having the name. It's a "Parasite Eve" game in name quotes only, as if the first 2 games didn't happen at all. There is absolutely no reference or connection to the previous games. It's not played anything like those were. It's instead a straight up arcade shooter, and little else. Aya Brea, like the title, is in name only, as she has nothing to do with the Aya Brea from the previous games. This is very disappointing, as it's obvious that they just took a shooter, and adapted it into Parasite Eve to better sell it. If this wasn't Parasite Eve, I probably never would have played it. If they weren't going to bother to connect this to the other games, I wish they wouldn't have mooched off the title. They basically bait and switched us, meaning any fan of the original games will be rather upset.

So what is this game about then? It's basically about an invasion of monsters which the game calls the twisted. They are taking over the entire world very quickly, and you try to stop them, being the only person(for some reason) that can do anything about it. Other marines/swat/etc do try to help every level, but they are little more than fodder for you to use with an expendable throw away attitude. The twisted somewhat resemble the mutants you'd expect from Parasite Eve, but they aren't alterations of normal creatures like what you'd see from the original games; they are instead just new original designs. You see, in the original games, the monsters were all mutations of normal creatures, such as giant rats, deformed monkeys, a huge 3 headed dog; there's none of that here. This is yet another thing that has no relativity to the original games despite leeching their name.

But soon enough, the story becomes a huge over convoluted mess about time travel and "High Ones" that makes absolutely no logical sense. I don't think I've ever said the words, "Why?", "How?", "And?" so many times when suffering through this kind of nonsensical crap. I think the writer honestly must have been smoking a bong, that or they just threw this slop together in a weekend then started working on all the cutscenes for it. Long story short, the story is garbage. It's so garbage that it's comparable to Starcraft 2, and it's as confusing as Bioshock Infinite. Ya, it looks great... the cutscenes are so pretty, congratulations... but none of makes any sense, so it's all a big waste. Should I give you a point for doing all these nice cutscenes and take it right back for them being completely pointless and nonsensical? It's like sitting through the RE 6 cutscenes. They look nice. But they're still all garbage because the writing is garbage. I'm not a baby that claps his hands at the sight of pretty pictures.

All that said, I did actually enjoy playing the game. The graphics(in combat) are rather nice for the PSP, probably being one of the best looking games on the system. The combat plays almost entirely like a shooter, except giving you the ability to switch between soldiers, which you possess and use to fight. I didn't like this constant switching around between expendable fodder soldiers, but it was alright once I stopped viewing this as a Parasite Eve game.(This is yet another feature that has no relevance to the series or her original powers) The shooting handles nicely, for the most part, but I did sometimes have trouble getting "Aya" to target the correct things.

After finishing the game, you realize that you've barely unlocked anything in it, as they built the game around replayability. All I had by the end was 1 sweater and a few guns to purchase. Seriously? This repetitive arcade shooter is built around being repeatedly run in order to unlock most of the stuff in the game? No thanks. The game does have a gun slot system with upgrades and a DNA slot system, but they're very shallow and barely affects the game. As I said, you barely even get most of the guns in your first run through, and DNA barely feels like it does anything at all. Do you really want to sludge through that whole game again just to use some more toys and put "Aya" in a few more outfits?

Overall, it's hard to recommend this game. As a Parasite Eve title, it's complete garbage. As an arcade shooter of its own, you may get some fun out of it. It looks nice, the controls are good for the most part(can't correct Y axis aiming, /sigh), and it is fun to play. It's just very disappointing to have a game making a mockery of the name it's using, while at the same time having no replayability despite apparently being designed with it in mind. At the end of the day, it just makes me wish we had gotten HD remakes of the original titles instead.(Like the Final Fantasy games)
-Drain (Steam)

…

Expand

What did you do with Parasite Eve? The first game was a masterpiece and the second one was really good but this is not even a Parasite Eve

What did you do with Parasite Eve? The first game was a masterpiece and the second one was really good but this is not even a Parasite Eve game. The story makes no sense, the characters are wasted and the fan service is shameful (Deteriorating clothing = sex sells). Square Enix lost its superiority in the rpg sector.

…

Expand

This review contains spoilers

, click expand to view

. I grew up desperately poor. Like, "we would fry bologna and pretend it was bacon for breakfast" poor. This has influenced my financial habits as an adult, and I never, ever throw things away, instead opting to sell, give away or donate my unwanted things. I bring this up because 3rd Birthday is still to this day the only videogame I have ever just thrown in the trash.

It completely rewrites Aya Brea, changing her from a strong and admirable female lead into a weirdly aloof, over-sexualized victim who simply moans and grunts. It's worth noting that I'm not some SJW crybaby and do enjoy a beautiful woman in my games, but they've made her this way by eradicating her previously established character. The story is absolute nonsense and makes exactly zero sense, in that I finished this piece of garbage four entire times and still have zero idea what the F happened, aside from the final story development: shooting and killing the woman who, over PE1 and PE2, we've grown attached to. Cool.

The combat is an unbelievably boring mess where you shoot guys, and if you get hurt real bad you use Aya's magical mindjacking ability to possess a new body. That's basically it. Some of the bosses were visually interesting but that doesn't make the combat any less crappy.

The soundtrack is pretty good overall and suits the setting and action pretty well. The other sound design (gunfire etc) is good enough, although the voice acting is pretty mediocre. I hate this game. I hate it more than I've ever hated another game, but in fairness I am one of the biggest PE1/PE2 fans out there. 3rd Birthday was a painfully mediocre game that didn't just let down the franchise it belongs to but poops all over it. Not worth any price and I hope to God if Squeenix ever makes another they pull a Disney and declare this non-canon.

…

Expand
| | |
| --- | --- |
| 18 | |
| 1 | #1 Most Discussed PSP Game of 2011 |
| 3 | #3 Most Shared PSP Game of 2011 |