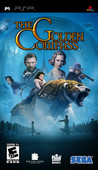 Summary:

The Golden Compass follows the screenplay adaptation of the first book in the acclaimed trilogy, capturing the fantasy adventure set in a parallel world where giant armored bears rule a kingdom, beautiful witches fly through the frozen skies, and human beings' deepest essence is manifest as

The Golden Compass follows the screenplay adaptation of the first book in the acclaimed trilogy, capturing the fantasy adventure set in a parallel world where giant armored bears rule a kingdom, beautiful witches fly through the frozen skies, and human beings' deepest essence is manifest as talking animals that remain their faithful companion for life – their daemon. Players can assume the role of Lyra, a young girl, along with her daemon Pantalaimon (Pan), as she journeys through the frozen wastes of the North to rescue a friend kidnapped by a mysterious organization known as The Gobblers and winds up on an epic quest to save not only her world, but ours as well. Gamers can also take on the character of Iorek Byrnison, a great armoured polar bear who joins the quest. As Lyra, players use their daemon and collaborate with in-game characters, collecting special items in order to explore, evade, and deceive their way through confrontations with the Gobblers, the Magisterium, and the horribly dangerous spy fly to find her friend. They can also do battle as Iorek with special attacks and a riding mechanic as he protects Lyra during the journey. Gamers can unlock secrets and mini-games using a mysterious, truth-telling golden compass device called an alethiometer. Players can explore 13 vast locations, including all-new breath-taking environments not seen in the film, on this massive journey of collaboration, exploration and the eternal struggle between good and evil. [Sega]

…

Expand
Developer:

Shiny Entertainment

Genre(s):

Action Adventure

,

Fantasy

,

General

,

Fantasy

# of players:

No Online Multiplayer

Cheats:

On GameFAQs

Rating:

E10+
There's not really much more to say about the game other than just ranting about our horrible experience with it. Surely, that would bore you, our respected readers. We're actually somewhat sorry that you're being exposed to this game in the first place. Please, look elsewhere for gaming if you want to do yourselves a favor.

Even the music, as pretty as it is, can't redeem such poor gameplay and atrocious presentation.

The Golden Compass orients itself amongst the worst of licensed games, failing to do anything notable beyond tarnishing the name of the acclaimed novel it's associated with.

The Golden Compass is just another family-friendly film cash-in with a huge number of inexcusable technical glitches.
I am going to tell you the truth now ladies and gentlemen this game is the worst game I have ever played. Its horrible to play and looks like

I am going to tell you the truth now ladies and gentlemen this game is the worst game I have ever played. Its horrible to play and looks like something i'd poo out in the morning. If you choose to play this game you are making a very good decision as you will be thankful about how good other games are.

…

Expand

Let me tell you a story. A few year ago about a young boy was told by his mum that she had a surprise present for his brithday. Must to that

Let me tell you a story. A few year ago about a young boy was told by his mum that she had a surprise present for his brithday. Must to that poor boy's dispointment that present turned out to be this game. Being polite he played the game to found it was the worst fame every. The end.

…

Expand