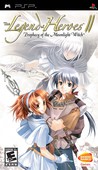 Summary:

This role-playing title featuring meticulously detailed characters and an epic coming-of-age story introduces two courageous young heroes who must save a magical world in peril. With the return of the "pet system" and the environments from the original The Legend of Heroes: A Tear of

This role-playing title featuring meticulously detailed characters and an epic coming-of-age story introduces two courageous young heroes who must save a magical world in peril. With the return of the "pet system" and the environments from the original The Legend of Heroes: A Tear of Vermillion, The Legend of Heroes II: Prophecy of the Moonlight Witch offers easy-pick-up-and-play game mechanics and improved enemies that gauge the player's strength before attacking. The game opens with childhood friends Jurio and Chris as they embark on a pilgrimage to five shrines surrounding their village. During their journey, they learn of the dangers of the Raual Wave that threatens to destroy everything in its path. Can Jurio and Chris, with the help of their friends, stop the Raual Wave emanating from Queen Isabella's castle? Will they discover the identity of the mysterious Moonlight Witch who predicted it all? Players can join in the adventure with this elegant turn-based role-playing title developed by the legendary Nihon Falcom. [Namco Bandai]

…

Expand
Developer:

Microvision

Genre(s):

Role-Playing

,

Console-style RPG

,

Console-style RPG

,

Japanese-Style

# of players:

No Online Multiplayer

Cheats:

On GameFAQs

Rating:

E10+
Please enter your birth date to watch this video:
You are not allowed to view this material at this time.
The Legend of Heroes II: Prophecy of the Moonlight Witch Official Movie 1
A gamer who wants to get a fix of stabbin', stealin', spellin', an' strollin' will find everything he enjoys here, just in a slightly more austere wrapping.

This is easily a 30+ game, so don't grab this game if you want a quickie game to blow through in 10 hours, or if you don't like reading.

If you enjoyed the last Legend of Heroes PSP game, the second one will be right up your alley. You get a fairly long quest, memorable characters, and the addictive Pet System to keep you busy. But, if you're new to the Legend of Heroes scene, you might want to give the game at least a three or four hour grace period.

I'm not sure if it's translation issues or what, but this franchise needs a much more compelling story if they want me to invest a huge portion of my already-limited portable gaming time on a game of this magnitude.

Official U.S. Playstation Magazine

So there you have it: a typical Japanese RPG. With pets. [July 2006, p.85]

I've already had my fill of this recipe. I was sort of hoping for something a little new.

Console-style role-playing badly needs to move forward, and games like this are just keeping it stuck in the last century.
Game: The Legend of Heroes II: Prophecy of the Moonlight Witch
Genre: RPG
Developer: Falcom Publisher: Bandai Namco System: PlaystationGame: The Legend of Heroes II: Prophecy of the Moonlight Witch
Genre: RPG
Developer: Falcom
Publisher: Bandai Namco
System: Playstation Portable (PSP)
Year of Release: 2006
Length of Playthrough: 30 Hours

Total Score: 78/100
Value Score: 7.8/10

• Story: 9/10
• Characters: 9/10
• GamePlay: 7/10
• Graphics: 7/10
• Sound: 7/10
• Music: 7/10
• Length: 8/10
• Replay Value: 6/10
• Player Value: 8/10

Pros
+Decent story and cast of characters
+Decent OST
+Remake of the 1994 game with improved visuals , effects and sound
+Faster combat speed than Tear of Vermillion
+CG cutscenes

Cons
-Bad translation in narration and in game play
-Gameplay can be clunky at times in terms of both battles and outside of battles
-Some dungeons are too short while others are too long
-Due to the translation, sometimes its easier to get lost in what way you need to go to

…

Expand

Decent game, but the story line is not as good as Legend of Heroes I.

This game was good, for about 2 hours. Afterwards the game got extremely repetitive. You'll spend half your time backtracking, and many

This game was good, for about 2 hours. Afterwards the game got extremely repetitive. You'll spend half your time backtracking, and many times will forget where you need to go. The story is cliched, and it doesn't even do a very good job telling it.

…

Expand
| | |
| --- | --- |
| 90 | |
| 80 | #80 Most Discussed PSP Game of 2006 |