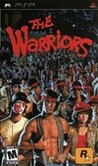 Summary:

Based on the 1979 cult classic Paramount Pictures film, The Warriors expands the stylized cinematic journey of the film into a gritty, interactive experience set in 1970's New York City. [Rockstar Games]
Please enter your birth date to watch this video:
You are not allowed to view this material at this time.
The Warriors Gameplay Movie 3
It's a near-perfect port of a killer game. In fact, I'd go on a limb and say that The Warriors is that console generation's best pure brawler.

The best 3D scrolling beat-em-up ever. And did we mention it's a near-perfect port with a budget price?

If you missed this game on the consoles, or just want to experience it on the go, it's a no brainer.

The Warriors on the PSP remains a great game, and is actually quite suitable as a handheld beat 'em up.

Returning to the title (regardless of the platform) does prove to be just as much fun now as it did in Autumn 2005.

The Warriors on the PSP is basically the same game it was on the consoles; a rock solid brawler that captures the heart and soul of one of the coolest flicks of all time.

Violence is what makes the game so enjoyable in the first place. It's a little disappointing just how much the game looks and feels like every other Rockstar has released recently, but the shining story and brutality of it all make it all a worthwhile endeavour.
I'm giving it a ten because i think its not perfect, but its the best psp title ive played. Great action, good story, cool minigames, and

I'm giving it a ten because i think its not perfect, but its the best psp title ive played. Great action, good story, cool minigames, and a good soundtrack. It also has impressive graphics, and a semi physics engine, i think. It never gets to frustrating, but its challenging. The multiplayer is welcome, but it is not really needed, this games real fun is in the single player, but if you want after you beat the game, go play some bot or online brawl matches, it sure is a great experiance.

…

Expand

My favourite game of all time. The story telling prior to the movie, the combat, the mechanics, the side missions, it's my perfect game.

A great port of a great game based on one of the greatest films of all time. If you have a PSP or a PS2, you NEED THIS GAME. If the amazing

A great port of a great game based on one of the greatest films of all time. If you have a PSP or a PS2, you NEED THIS GAME. If the amazing story, thousands of unlockables, destructible and interactive environment isn't enough of a reason to buy this game, then I don't know what is.
Bashing people over the head with beer bottles and breaking baseball bats over cops heads provides some of the most refreshing gameplay I've ever experienced.
You'll grow to love the sound of steel toed boots breaking peoples noses in no time.

…

Expand

This game is a must and is way better than what I was expecting. At $20 it's a steal and definitely a worthy purchase. I mean damn.

Una vez terminado de jugar Warriors tengo mi conclusión the Warriors para la psp es un juego infravalorado y desconocido

Una vez terminado de jugar Warriors tengo mi conclusión the Warriors para la psp es un juego infravalorado y desconocido (desafortunadamente)es un juego divertido q te entretiene un sistema de combate q pudo ser mejor y más pulido para un sistema de combos mejor y entretenido una historia muy bueno siendo una precuela de la película pero al mismo tiempo te cuánta la pelitno la e visto pero si veo q le es fiel subiré la puntuación la razón por la q no le di nota verde es q a la larga se hace muy repetitivo en resumen es pelear,robar cosas por ahí y demás no hay tantas cosas por hacer pero considero q todo el mundo debería jugarlo pero si vas a jugar en la versión del emulador juegalo los controles son cómodos no pesa mucho y corre en casi cualquier teléfono

…

Expand

This review contains spoilers

, click expand to view

.

I do not have to say anything. But i need to write one hundred and fifty characters. i think my score can describe it.................................

…

Expand

1979's the Warriors is in my top 5 favorite movies of all time and Rockstar Games is one of my favorite game publishers/developers so this was

1979's the Warriors is in my top 5 favorite movies of all time and Rockstar Games is one of my favorite game publishers/developers so this was obviously a match made in heaven for me. The Warriors game expands upon the fantastic world building from the movie while also retelling the film in as faithful of a manner as possible. It's not quite open world and there's not much to do once you've completed the campaign but the campaign itself is pretty damn decent.

It starts 3 months before the events of the film and leads all the way to the film's credits, showing how The Warriors managed to build up their rep in the coming months before their fateful chase back to Coney Island after a meetup gone wrong.

The combat is fun, albeit a little repetitive. The voice acting is decent, especially coming from the returning actors. The environments and music perfectly reflect the atmosphere of the film. It really is a great game for fans of the movie, just not anything too spectacular for fans of video games.

The Warriors will give you a good 8 hours of pure fun, but after that, you're kinda screwed. Definitely worth at least one playthrough though.
I beat this game in October of 2019 after beating it many times before.

…

Expand
| | |
| --- | --- |
| 11 | |
| 39 | #39 Most Discussed PSP Game of 2007 |
| 11 | #11 Most Shared PSP Game of 2007 |