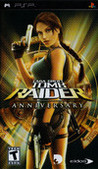 Summary:

Inspired by the first Tomb Raider videogame, originally released in 1996, Lara Croft Tomb Raider: Anniversary is a totally new 2006 adventure for Lara, faithfully preserving the elements which made the original Tomb Raider such a classic. Using an enhanced "Tomb Raider Legend" game engine,

Inspired by the first Tomb Raider videogame, originally released in 1996, Lara Croft Tomb Raider: Anniversary is a totally new 2006 adventure for Lara, faithfully preserving the elements which made the original Tomb Raider such a classic. Using an enhanced "Tomb Raider Legend" game engine, the graphics, technology and physics bring Lara's adventure and pursuit of a mystical artefact known only as the Scion up to today's technology standards and offer gamers a completely new gameplay experience. The puzzles are now more in depth and incorporate environmental interaction and physics driven solutions. The level design and flow of gameplay are inspired by the original videogame making Lara Croft Tomb Raider: Anniversary a brand new experience in gaming, while still invoking the nostalgia of the first adventure in Tomb Raiding. [Eidos Interactive]

…

Expand
Developer:

Crystal Dynamics

Genre(s):

Action Adventure

,

Modern

,

Modern

,

Linear

# of players:

1 Player

Cheats:

On GameFAQs

Rating:

T
Please enter your birth date to watch this video:
You are not allowed to view this material at this time.
Tomb Raider: Anniversary Cutscene 1
It's nice to relive the past, but it's a lot nicer when you discover that things are even better than you thought they were.

In the end, though, it's a testament to the game's quality that even in the face of the imperfect camera and combat, the wonderful adventuring aspects manage to make up for whatever other shortcomings this game may possess. [July 2007, p.54]

It's let down a bit by the dodgy camera perspective, but this won't ruin your experience. [Issue#156, p.86]

A happy coda in a symphony that had lost its flow, Anniversary cannily pairs the refinements of the last decade with the peerless excellence of the original Tomb Raider.

If you haven't picked the game up on another platform and fancy visiting a video game classic, lovingly restored for a new audience, then this is certainly a game worth checking out.

But unless portability is a necessity for you, the console versions will prove more satisfying.

Thankfully, when you die, which will be quite frequently, the loading times are kept mercifully short and don't add to the frustration like so many other PSP games.
una verdadera experiencia se siente la nostalgia del primero pero con calidad de underworlds es maravilloso la verdad, así se hace un remake

We all know that Tomb Raider Legend on PSP was a disaster. However, Anniversary vastly improves upon the previous instalment's bad controls,

We all know that Tomb Raider Legend on PSP was a disaster. However, Anniversary vastly improves upon the previous instalment's bad controls, bad camera and low framerate. This version is just as brilliant as the other versions. Nice graphics and gameplay make for and enjoyable playthrough.

…

Expand

Tomb Raider Anniversary is probably the best action-adventure 3D game ever made for the PSP. I like how the controls were bastly improved from

Tomb Raider Anniversary is probably the best action-adventure 3D game ever made for the PSP. I like how the controls were bastly improved from the PSP version of Tomb Raider Legend, I love how smooth its framerate is. It's a portable game with a pretty good lenght for a linear experience (something about 7-10 hours). It's a portable version of a console experience without any substantial sacrifice: yes, the game looks a little flat compared to its PS3 and Xbox 360 cousins, but the fact that every layout, secret, and moveset made it to the PSP is something very loable.
This game is not hard in any way, the climbing is organic and paceful and the level-puzzle design is somewhat condescendent, but still fun. The only bad implemented feature of this game (no matter what version of it) is the combat: the enemies (with one or two exceptions) are boring, annoying, even pointless. The bosses are okay and sometimes a genuine challenge. Overall, this game is great, and in the PSP is awesome and lovely.

…

Expand

I enjoyed "Tomb Raider Legend' on the PSP. This title managed to improve all the shortcomings of the previous game. The game looks and plays

I enjoyed "Tomb Raider Legend' on the PSP. This title managed to improve all the shortcomings of the previous game. The game looks and plays better than its predecessor. Highly recommended.

…

Expand

while it is a surprise how good of a version it is. It is an incredibly buggy mess, The load times are horrendous, the control is incredibly

while it is a surprise how good of a version it is. It is an incredibly buggy mess, The load times are horrendous, the control is incredibly sensitive. Play any version but this version.

…

Expand
| | |
| --- | --- |
| 20 | |
| 41 | #41 Most Discussed PSP Game of 2007 |