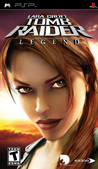 Summary:

Tomb Raider: Legend revives the athletic, intelligent and entertaining adventurer who won the hearts and minds of gamers worldwide. Lara comes alive with intricately animated expressions, moves and abilities. An arsenal of modern equipment, such as a magnetic grappling device, binoculars,

Tomb Raider: Legend revives the athletic, intelligent and entertaining adventurer who won the hearts and minds of gamers worldwide. Lara comes alive with intricately animated expressions, moves and abilities. An arsenal of modern equipment, such as a magnetic grappling device, binoculars, frag grenades, personal lighting device and communications equipment, allows gamers to experience tomb raiding as never before. Eidos and Crystal Dynamics shaped Lara's look and movements to be an inherent extension of her skills, motivation and personality. Lara's character model features natural structure, realistic textures, detailed facial features, reactive eyes and fluid motion, all of which make her part of a living environment. New character animations and controls allow her to move through stunning environments with grace and precision, while an understanding of the game's original appeal reinvigorates the fundamental explore-and-solve adventure experience. [Eidos Interactive]

…

Expand
Developer:

Buzz Monkey

Genre(s):

Action Adventure

,

Modern

,

Modern

,

Linear

# of players:

1-2

Cheats:

On GameFAQs

Rating:

T
Please enter your birth date to watch this video:
You are not allowed to view this material at this time.
Tomb Raider: Legend Official Trailer 3
But if you like to game on the go, Tomb Raider Legend is a solid little addition to the PSP library, and an adventure that is worth experiencing on any console. [July 2006, p.113]

Tomb Raider: Legend might not be an epic or set new standards like the original game did ten years ago, but it's thoroughly entertaining for its duration and is an impressive package on the PSP.

The sequel we've all been waiting for since the original Tomb Raider hit PSone. But not as lovely on PSP, so get the PS2 or 360 version!

It may have a few wrinkles but, crucially, the adventuring returns to the forefront of the Tomb Raider experience.

Tomb Raider: Legend for the PSP is riddled with technical problems but it still managed to cram in all the great things we loved about the console version.

I cannot suggest a purchase to anyone except hardcore fans of the console versions due to the controls and crappy camera work.

While it's amazing that Eidos was able to cram the entire game into the PSP, it simply doesn't excuse the fact that they broke it in the cramming.
i think tomb raider is one of the most adventures games it is hard to figure out a way to pass some of the leves and there is most suprises.

Exciting adventure action, glorious reinventation of the franchise. Snakes on the plane!

Just finished this game today, I think its very good. Game play is great scenery is the best I've seen camera angles are good but can

Just finished this game today, I think its very good. Game play is great scenery is the best I've seen camera angles are good but can get annoying sometimes. Recommend it a lot.

…

Expand

The only problem with the game is the occasional slow-down. Other than that its a great port of a fun console game. The character models are

The only problem with the game is the occasional slow-down. Other than that its a great port of a fun console game. The character models are impressive on the PSP.

…

Expand

A worthy attempt to bring TR to the PSP. The hardware struggles at times especially when there's a bunch of anemies on screen, but the

A worthy attempt to bring TR to the PSP. The hardware struggles at times especially when there's a bunch of anemies on screen, but the sense of space is well realised. Still a few of the niggles that have constantly dogged the series are still there - the camera can misbehave and boss encounters tedious. However all is quickly forgotten when one of those 'a-ha' moments pop up on solving a puzzle.

…

Expand

Crap. Just crap, a shoddy port of a decent console game. While all the levels remain in tact to it's console sibling, the extra multiplayer

Crap. Just crap, a shoddy port of a decent console game. While all the levels remain in tact to it's console sibling, the extra multiplayer modes cannot redeem the annoyingly low framerate and crap camera and controls. And that's coming from a fan.

…

Expand

I brought this game thinking it would be perfect but it wasn't good at all,actually it was rubbish.The second level made it to

I brought this game thinking it would be perfect but it wasn't good at all,actually it was rubbish.The second level made it to alrightish but all the other levels were too easy or just plain boring.The Tokeo night club cheared me up a bit though,it was a surprise.

…

Expand
| | |
| --- | --- |
| 73 | |
| 37 | #37 Most Discussed PSP Game of 2006 |
| 13 | #13 Most Shared PSP Game of 2006 |