Publisher:

Capcom

Release Date:

Aug 29, 2006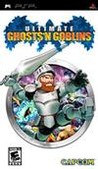 Summary:

In Ultimate Ghosts 'n Goblins, Arthur's heroic battle with the underworld was finally over and the entrance to the realm was sealed. So he thought. Time passes and unknowing to mankind, the dark lord has awaken from his slumber and kidnaps the princess in an effort to conquer the human

In Ultimate Ghosts 'n Goblins, Arthur's heroic battle with the underworld was finally over and the entrance to the realm was sealed. So he thought. Time passes and unknowing to mankind, the dark lord has awaken from his slumber and kidnaps the princess in an effort to conquer the human world. Arthur must set off for the evil forest, the gateway to the underworld, to save the princess from imminent doom and keep the devil as well as his minions at bay. The excitement and intensity of the forerunner continues as our armored hero takes on this new challenge for the sake of humanity. With the use of a 3D graphics engine, the Ultimate Ghosts 'n Goblins world comes alive as effects, cutscenes, backgrounds and animations are given more depth and richer detail. Retaining the classic design of the series, several new facets have been created including a broader range of motion and new control techniques. Now our hero has the capability to dash, double-jump, shoot up or down in a vertical fashion, grab onto ledges, etc. With a new leveling system, allows gamers to build up Arthur's skills for more powerful magic abilities and attacks. With the addition of extra lives, death doesn't mean starting from a check point but rematerializing where they left off. [Capcom]

…

Expand
Developer:

TOSE

Genre(s):

Action

,

Platformer

,

Platformer

,

2D

,

2D

# of players:

No Online Multiplayer

Cheats:

On GameFAQs

Rating:

E10+
Please enter your birth date to watch this video:
You are not allowed to view this material at this time.
Ultimate Ghosts 'n Goblins Gameplay Movie 7
Ultimate Ghosts 'n Goblins is "2D" but it's also a highly-produced, meticulously planned, big-budget release. This is no throwback to side-scrollers gone by, this is 2D handheld gaming. [Aug 2006, p.16]

Addictive fun for action platform gamers with the desire for a real challenge. Good graphics and engaging, tough gameplay.

And so it is that the series's venerable blend of cut-throat peril and exemplary platform action is not only maintained, but arguably kicked up a notch with newfound levels of visual splendour, hellish level design and structural ingenuity. Though far from universal in its appeal, Ultimate Ghouls 'N Ghosts is quite simply a masterfully executed platform game.

Thankfully, the difficulty has been offset by the inclusion of regular checkpoints and some new moves for Arthur - the ability to hang from ledges gives some welcome leeway when jumps are mistimed, and a double tap on the D-pad makes him dash. It's great, simplistic, old-school adventuring, but fiendish with it. Crap gamers: you have been warned.

This game is about as hard as petrified wood. Capcom eased things up a bit by tossing three difficulty levels into the mix, but even the added confidence booster couldn't save me from dying hundreds of times.

Fans of the series or those looking for a challenge should give it a try but many will no doubt be put off by the clunky control and unrewarding difficulty.

When it isn't busy knocking you off cliffs or duping you into a second play-through, it's a fun, hectic shooter, but without a more gradual difficulty ramp or at least some cheat codes, this is one problem best left unsolved.
Ultimate Ghosts 'n Goblins picks up from the last entry in one of Capcom's most popular franchise series. In an update version Author has more

Ultimate Ghosts 'n Goblins picks up from the last entry in one of Capcom's most popular franchise series. In an update version Author has more weapons, more armor and more ghosts 'n goblins to slay. The game is as hard as it always has been, while adding more features, such as multiple shields, new spells and an armor stacking feature that allows you to take more hits. A new "warp staff" track back feature allows you to re-play through zones to collect everything you need, without having to beat the game and then re-play everything. A fantastic entry in the series, well worth the time to play.

…

Expand

hardest sidescroller ever... but if ur up for the challenge it's incredibly rewarding!

A true hard as hell masterpiece. Great music, awsome graphics and glorious old school gameplay. This game will bring the memories of hellish

A true hard as hell masterpiece. Great music, awsome graphics and glorious old school gameplay. This game will bring the memories of hellish nights in front of your NES/SNES trying to beat those old past games. The good thing about this is. Beating these type of games really makes you feel special! Recomended for everyone that loves a good challenge!

…

Expand

Side scrollers are suppossed to be hard. Why should this one be an exception. It isn't that bad. The first time I played this game, I

Side scrollers are suppossed to be hard. Why should this one be an exception. It isn't that bad. The first time I played this game, I made it to the fifth level. Looks fantastic, not for anyone born after 1980.

…

Expand

Hard, simple, good! It has more weapons, armour and enemies so you don't feel like fresh meat. The difficulty doesn't change, but deaths feel

Hard, simple, good! It has more weapons, armour and enemies so you don't feel like fresh meat. The difficulty doesn't change, but deaths feel like it was your fault and not the games. Graphics improved, which doesn't bother me but may bother some, better music and the same storyline. Rewarding and pushes you on to win. My fave PSP game!

…

Expand

Prepare to have your fragile gamer ego mercilessly bludgeoned by wave after wave of enemies who attack from angles too awkward to counter.

Prepare to have your fragile gamer ego mercilessly bludgeoned by wave after wave of enemies who attack from angles too awkward to counter.

Looks good, sounds good, and unlike previous installments in the series you get to save and continue your game, reducing the degree to which your sanity (and possibly your PSP) will be broken during gameplay. This is a great game, but skip it if you're not interested in struggling tooth-and-nail for every inch of progress.

…

Expand

Here's my review from wayback on MobyGames, since the original on here has been deleted:

SummaryHere's my review from wayback on MobyGames, since the original on here has been deleted:

Summary
------------------------------------------------------------------------
UG'nG is a problematic, beautiful risk undertaken by Capcom.

What you liked about this game
------------------------------------------------------------------------
Ultimate Ghosts'n Goblins is not a step backwards, but it is also not
the sequel that could have been made. Over a decade later and Capcom
continues right where it left off. This is only half of what was
expected. What they present is a troubling dichotomy within this
game, that of nostalgia versus innovation. Moments of wonder,
however, do slowly invade this troubled sequel in the form of
exciting expansions to Arthur's repertoire, to remind us of the fact
that the originator was at the helm of this project. In short, quite
good but much more worthy of being made great.

What you did not like about this game
------------------------------------------------------------------------
Capcom could have taken many of the crazy-paced arcade game mechanics
that have made them famous since 1992, but has puzzlingly decided to
exclude them: a combo system, multiple characters, extravagantly
showy magic effects, and baroque bosses that take up a whole stage
rather than a whole screen, as well as multiple tiers of levels and
skill/technique-based rewards. Capcom has the technology these days
to implement the sprite-heavy, manic gameplay of the late 90's-early
00's, seen in their Versus games. Instead, we get more environmental
effects (which are admittedly good) but the ponderously fragmented
magic/armor/weapon system is needlessly clunky…what belongs in a
proper sequel to Ghouls'n Ghosts is the arcade sensibility and not
the collection adventure sensibility.

Your final recommendation
------------------------------------------------------------------------
This game may be unapproachable to many casual gamers. I would like
to think the new levels, monsters and surprises would be enough to
hold interest; but to the hardcore among us, we will be in familiar
ground, with new twists that stretch the boundary of rewards and
punishment even further, the collection aspect being the most
frustrating. Stick through the tough parts and you will find the gems
in this game. It's most worth it to see (and fight) the spectacular
bosses and find your own way through.

…

Expand
| | |
| --- | --- |
| 56 | |
| 28 | #28 Most Discussed PSP Game of 2006 |
| 16 | #16 Most Shared PSP Game of 2006 |