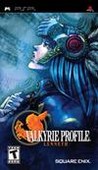 Summary:

Asgard, the realm of the gods, remains locked in an eternal struggle between the benevolent Aesir and the demonic Vanir. With the end of the world approaching, Odin, Lord of Asgard, summons Lenneth Valkyrie to his side. Possessing the ability to hear the thoughts and feelings of men and

Asgard, the realm of the gods, remains locked in an eternal struggle between the benevolent Aesir and the demonic Vanir. With the end of the world approaching, Odin, Lord of Asgard, summons Lenneth Valkyrie to his side. Possessing the ability to hear the thoughts and feelings of men and women in their dying moments, he charges Valkyrie to search Midgard, the world of mortals, to recruit and train the souls of worthy warriors to join the ranks of the Aesir in the Sacred War. Valkyrie Profile: Lenneth brings the classic PlayStation® game console title, originally released in 2000, to the PSP system with completely new CG cut scenes. tri-Ace, the developers behind the acclaimed Star Ocean series and "Radiata Stories", introduce new fans to the spectacular combo attacks, unique side-scrolling environment, and gripping storyline that first captivated players six years ago. To give players a deeper understanding of the plot and to complement the game's dramatic storyline, additional CG cutscenes have been incorporated. Some of these new scenes contain links to the story of "Valkyrie Profile 2: Silmeria." [Square Enix]

…

Expand
Developer:

TOSE

Genre(s):

Role-Playing

,

Console-style RPG

,

Console-style RPG

,

Japanese-Style

# of players:

No Online Multiplayer

Cheats:

On GameFAQs

Rating:

T
Please enter your birth date to watch this video:
You are not allowed to view this material at this time.
Valkyrie Profile: Lenneth Gameplay Movie 3
For those that have played it before, it remains as engaging as ever.

While not quite up there with the likes of GBA's "Final Fantasy Tactics Advance," Valkyrie Profile: Lenneth is by far the best RPG ever to grace the PSP platform!

An interesting RPG with some reasonably original ideas. The 2D locations and the semi-real time combat system are nice. The Norse mythology is interesting, but the story does not use it very well. [Aug 2007]

Valkyrie Profile Lenneth is exactly that - wholly distinct from the rest of the crowd, a niche within a niche, marvellously thought out and mostly brilliantly executed. If there were other comparably innovative and inventive Japanese RPGs to set this against, then its flaws might cause it to be judged more severely. But it stands alone, a rare original expression of Japanese role-playing individuality.

Despite the porting issues, Valkyrie Profile: Lenneth is a positive and challenging experience that remains unique more than six years after its initial release.

I also was frustrated by a sea of poorly designed and explained menus, repetitive dungeon hacks and temperamental controls.
Valkyrie is an excellent game. The story is very creative and impressive. The graphics are fair, for PSP anyway and the overall gameplay is

Valkyrie is an excellent game. The story is very creative and impressive. The graphics are fair, for PSP anyway and the overall gameplay is magnificent. You will be blown-away by the features that this game offers. It's a must-buy!

…

Expand

VP is a CLASSIC! Its one of the best tri-ace games ever made. This fantastic sound and characters like lezard are a most have. You have to

VP is a CLASSIC! Its one of the best tri-ace games ever made. This fantastic sound and characters like lezard are a most have. You have to play this game.

…

Expand

VP is truly a classic. Its compelling story and Unique battle system make it a must for any J-RPG fan. Top that with amazing characters and

VP is truly a classic. Its compelling story and Unique battle system make it a must for any J-RPG fan. Top that with amazing characters and an unlockable secret dungeon and you got an unforgettable gaming experience.

…

Expand

It must have been a compelling story for me to actually finish this. Also, unique gameplay. I don't remember much about this game.

Valkyrie Profile Lenneth is well made remake/enhanced port of the PSX Classic Valkyrie Profile which was released about 10 years or so ago.

Valkyrie Profile Lenneth is well made remake/enhanced port of the PSX Classic Valkyrie Profile which was released about 10 years or so ago. Even with the time passed this game has aged gloriously and the newly added CG Cutscenes make the game's value even more worth it. You will fall in love with the unique combat system which focuses on combos, the drama filled storyline with a lot of suspense, beautiful visuals and music and a decent amount of replay ability for a game of its age. This game is highly recommended for anyone who loves Japanese games, RPGs, and are interested in Norse Mythology.

…

Expand

This is a very good game indeed. Beautiful 2D graphics, memorable characters with their dramatic stories, a lot of them! The battle system is

This is a very good game indeed. Beautiful 2D graphics, memorable characters with their dramatic stories, a lot of them! The battle system is amazing and unique. The game is pretty hard at times and it can be merciless if you've missed some item or spell earlier in the game. also it has some annoying platformer-style elements, but overall it's rather addictive. Ah, and I forgot to mention the stunning animation clips and great voice acting.

…

Expand

I enjoy this game, somewhat. What
| | |
| --- | --- |
| 19 | |
| 14 | #14 Most Discussed PSP Game of 2006 |
| 17 | #17 Most Shared PSP Game of 2006 |