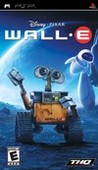 Summary:

What if mankind had to leave Earth, and somebody forgot to turn the last robot off? After hundreds of lonely years of doing what he was built for, WALL-E (short for Waste Allocation Load Lifter Earth-Class) discovers a new purpose in life (besides collecting knick-knacks) when he meets a

What if mankind had to leave Earth, and somebody forgot to turn the last robot off? After hundreds of lonely years of doing what he was built for, WALL-E (short for Waste Allocation Load Lifter Earth-Class) discovers a new purpose in life (besides collecting knick-knacks) when he meets a sleek search robot named EVE. EVE comes to realize that WALL-E has inadvertently stumbled upon the key to the planet's future, and races back to space to report her findings to the humans (who have been eagerly awaiting word that it is safe to return home). Meanwhile, WALL-E chases EVE across the galaxy and sets into motion one of the most exciting and imaginative comedy adventures ever brought to the big screen. Joining WALL-E on his fantastic journey across a universe of never-before-imagined visions of the future, is a hilarious cast of characters including a pet cockroach, and a heroic team of malfunctioning misfit robots. Players of the game take control of WALL-E and EVE through a fast-paced adventure based on the Disney/Pixar film. The game allows fans to relive some of the movie's most thrilling moments as they explore 10 worlds filled with non-stop action and adventure, along with head-to-head multiplayer challenges. Players will recognize the storyline, characters and key locations from the WALL-E film as they carry out intense missions, dodge dangerous enemies and navigate their way through a futuristic world. In addition, the game contains new storylines and environments that movie-goers will not see in theaters. [THQ]

…

Expand
Developer:

Heavy Iron Studios, Savage Entertainment

Genre(s):

Action

,

Platformer

,

Platformer

,

3D

,

3D

# of players:

1-2

Cheats:

On GameFAQs

Rating:

E
With elements of science fiction, comedy, awesome graphics, and entertaining animations throughout the game, WALL-E is definitely a fun experience for anyone who enjoys the odd carefree children's title.

While the gameplay is pretty solid, control issues and visual glitches take away from some of the fun.

Sometimes you want your experience in the theater to follow you all the way home, and in the case of Wall-E, the PSP version of the game is one of the most solid film to game adaptations we've seen in a while.

WALL-E for the PSP was never going to reach for the stars, but it presents an interesting addition to the movie, especially for younger gamers.

But the game itself is not rewarding. The game is, like so many with a license attached, little more than a rental you'll quickly forget.

Too bad a game this boring and frustrating ever saw the light of day.

For the handhelds, the PSP version resembles the home console titles for the most part, but with the worst visuals of the bunch. The controls also feel completely off, and the entire game is more frustrating to play than the other titles.
| | |
| --- | --- |
| 35 | |
| 15 | #15 Most Shared PSP Game of 2008 |