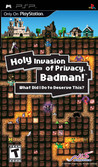 Summary:

[Playstation Network] Also known as "What Did I Do To Deserve This, My Lord?!" The goal of the game is clean and simple: As the God of Destruction, you must create a dungeon that is difficult and powerful enough to fend off human hero invasions. The dungeon must have a self-sustaining

[Playstation Network] Also known as "What Did I Do To Deserve This, My Lord?!" The goal of the game is clean and simple: As the God of Destruction, you must create a dungeon that is difficult and powerful enough to fend off human hero invasions. The dungeon must have a self-sustaining ecosystem, so players must strategically dig and create a dungeon with a balanced food chain. Periodically, human heroes will invade the dungeon in order to bring peace and harmony to the world, but they are your enemies. You must destroy the heroes before they capture the Overlord and take him back to the surface. [NIS America]

…

Expand
Developer:

Acquire

Genre(s):

Role-Playing

,

Strategy

,

General

,

General

# of players:

No Online Multiplayer

Cheats:

On GameFAQs

Rating:

T
A true must-have game for the experimented players.

It definitely took a while, but once I understood what Badman was trying to do, I was sold. That doesn't mean everyone will get it or even like what the game is doing when they do, but for me it really was something different and unique.

An enjoyable, quirky, and hilarious game that stands on its own as far as strategy titles go. Pick it up for a great change of pace.

Playstation Official Magazine UK

Well made and deeply strategic. [Christmas 2009, p.116]

If you're thinking of picking up the game, go into it knowing about the steep difficulty of the story mode, and try out the demo first. I recommend the game with the caveat that you may never obtain the skills needed to see the end of the story, just like arcade games of old.

Playstation: The Official Magazine (US)

Badman's core mechanic is frustrating in that you can't directly control your troops, so it feels like luck plays as much a role as skill. [Nov 2009, p.84]

A weird and unique freak of nature amongst the mundane shooters and RPGs with their played out themes of morality, but it's trying too hard to be clever.
| | |
| --- | --- |
| 36 | |
| 55 | #55 Most Discussed PSP Game of 2009 |
| 55 | #55 Most Shared PSP Game of 2009 |