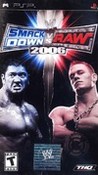 Summary:

SmackDown vs. RAW 2006 delivers the deepest and most realistic wrestling experience ever. New high-resolution textures and motion-captured technology bring WWE programming to life like never before. The improved fighting system brings a new level of realism and tactical thinking to matches.

SmackDown vs. RAW 2006 delivers the deepest and most realistic wrestling experience ever. New high-resolution textures and motion-captured technology bring WWE programming to life like never before. The improved fighting system brings a new level of realism and tactical thinking to matches. Lace up your boots for the definitive wrestling experience. Features over 50 playable WWE Superstars. Robust Create-A-Superstar and Create-A-Championship modes. Full Season Mode and dozens of exhibitions. PS2 to PSP Connectivity. Transfer season mode and created characters between the two game systems. Exclusive PSP Features: Party Mode -- WWE mini-games with wireless multiplayer support. Exclusive PSP unlockables: up to 4 player multiplayer wireless gaming. [THQ]

…

Expand
Developer:

Yuke's

Genre(s):

Action

,

Sports

,

Fighting

,

Fighting

,

Individual

,

Wrestling

,

Combat

,

Wrestling

# of players:

1-4

Cheats:

On GameFAQs

Rating:

T
Please enter your birth date to watch this video:
You are not allowed to view this material at this time.
WWE SmackDown! vs. RAW 2006 Gameplay Movie 2
You won't even believe how nearly identical the game is to it's PS2 counterpart. If ever there was the "perfect port", this is very close to what you'll get.

So feature rich and just so damn entertaining.

The complete package. There is so much content here that you won't believe you are playing it on the PSP.

Official Playstation 2 Magazine UK

If you don't already own the PS2 gmae, this is a must-have. If you do, then it's not quite so essential, but a quality grappler nontheless. [Jan 2006, p.102]

This is a rare PSP game that's not a poor translation of a PS2 flop from four years ago, or a disappointingly crippled version for the handheld. It's a spot-on, virtually perfect miniature version of the PS2 smash.

Offers a lot for players and if you like wrestling or enjoy the series, this is definitely a game to grapple with for a while.

The gameplay and modes are identical to the PS2 version in every way I can think to evaluate them. The minigames are completely worthless, but they don't really get in the way of the actual game so I'm going to pretend like they don't exist and treat the game as if it was an exact PS2 port.
this game is the best wrestling game in the world.i was online looking at this game and i could'nt believe it. i was so amazed.

Hands down this is the best game out for PsP right now. Yes there are some horrid load times, but if you bought a PsP you were aware of this

Hands down this is the best game out for PsP right now. Yes there are some horrid load times, but if you bought a PsP you were aware of this issue to begin with. The story mode is great, way better than anything I expected. And all the options and depth are here. But the reason this game stands above all else is the fluidity of the movments. Its not just a button masher like earlier incarnations. Anyone who loves wrestling MUST pick up a copy.

…

Expand

gggggggggggggggggggggggggggggggggggggggggggggggggggggggggggggggggggggggggggggggggggggggggggggggggggggggggggggggggggggggggggggggggggggggggggggg

gggggggggggggggggggggggggggggggggggggggggggggggggggggggggggggggggggggggggggggggggggggggggggggggggggggggggggggggggggggggggggggggggggggggggggggggggggggggggggggggggggggggg

…

Expand

This is the best wrestling game since No Mercy for Nintendo 64! I think that verbalazation in the story mode could be better and I was

This is the best wrestling game since No Mercy for Nintendo 64! I think that verbalazation in the story mode could be better and I was expecting a little out of the gameplay. But overall it's a great game. Highly recommended!!!!

…

Expand

In my opinion SvR 2006 is one of the best SvR games out of the whole series, just beaten out personally by '07. And this port for the PSP of

In my opinion SvR 2006 is one of the best SvR games out of the whole series, just beaten out personally by '07. And this port for the PSP of this game is near perfect to it's PS2 counterpart. The graphics are almost on par and all the content found on the PS2 version is here. The gameplay is also very well kept in as well, and you'll have as much fun with this version of the game as you will on the PS2. The only thing taken out that's worth mentioning is the commentary during matches, which is replaces by the soundtrack. Not a very big deal, as the soundtrack is very good. Despite all these positives though, the atrocious load times almost ruin this port on the PSP. Every game type on this version has load times that go into the minute mark, and way past that most of the time. I don't think it's worth playing this game on an original PSP. I'd recommend playing this on either an emulator or on a modded PS Vita. The game on those platforms completely solve the loading problems and gives back all the praise the game deserves.

TL;DR: very close port to an already good game, just not worth playing on an actual PSP.

…

Expand

Pretty good... first game I got on my PSP. It rocked, story mode could be a lil longer and I do admit, the load-times were awful. But it was

Pretty good... first game I got on my PSP. It rocked, story mode could be a lil longer and I do admit, the load-times were awful. But it was still the best game ive played for psp.

…

Expand

If you love long load times, you'll love this one! It brings back memories of Crash Bandicoot Wrath of Cortex on the PS2 -- you can

If you love long load times, you'll love this one! It brings back memories of Crash Bandicoot Wrath of Cortex on the PS2 -- you can measure the load times in minutes.

…

Expand
| | |
| --- | --- |
| 11 | |
| 32 | #32 Most Discussed PSP Game of 2005 |
| 9 | #9 Most Shared PSP Game of 2005 |