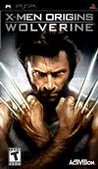 Summary:

X-Men Origins: Wolverine is an action-adventure game based on the movie of the same name and will take you through and beyond the movie's storyline.
Developer:

Griptonite Games

Genre(s):

Beat-'Em-Up

,

Action

,

Beat-'Em-Up

,

2D

,

3D

# of players:

No Online Multiplayer

Cheats:

On GameFAQs

Rating:

T
This tears your skin off! Fast gameplay, customisable upgrades and lots of style – despite the repetitive action, Wolverine definitely is the best game incarnation of our favorite super-hero.

X-Men Origins: Wolverine doesn't come close to recreating the same level of excitement or the experience of actually being Wolverine that the console versions manage to do.

Unfortunately, X-Men Origins: Wolverine for the PSP is not as remarkable in its technical aspect, nor as fun as we expected, in comparison with the domestic consoles.

If the only system you own is the Sony PSP and you need an X-Men fix, you could do a lot worse than X-Men Origins: Wolverine. Rent it first, bub.

While the Uncaged Edition may be ideal for many fans, the PSP version is the best at what it does, and what it does is very nice.

Incredibly straight-forward and only represents Wolverine in the most general of ways. If you're looking for something you can just bash your way through and say that you're Wolverine, I guess this fits the bill, but that's far from a ringing endorsement.
While the hack and slash gameplay gets a little boring, this game is still worth a play through. However, its probably best to wait for this

While the hack and slash gameplay gets a little boring, this game is still worth a play through. However, its probably best to wait for this to hit the bargain bin. not the greatest looking, but once you get past teh first level, there is fun to be had. Console version is better though, so if you love wolverine, and you have a ps3 or 360, go with one of those versions.

…

Expand

Не плохая игра. Детальные и красивые каст сцены. Отличная боевка виде слэшера. Не плохие и интересные локации. Не плохие боссы. Сюжет игры

Не плохая игра. Детальные и красивые каст сцены. Отличная боевка виде слэшера. Не плохие и интересные локации. Не плохие боссы. Сюжет игры основан на фильме. Иногда бывают странные моменты. К примеру босс - это обычный человек в каком то костюме, которые убивается за 5-10 минут. Если вы хотите во что то поиграть, во время поездки, то эта игра отлично подходит для таких действий. Игра проходиться от 1-го часа 50 минут до 3 часа.

…

Expand