Publisher:

Atlus

Release Date:

Sep 16, 2008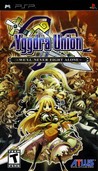 Summary:

Yggdra Union is a card-based strategy RPG for the PSP. For years, strategy RPG fans have accepted repetitive, non-interactive battle sequences as the genre standard; few games have dared to break the mold. Yggdra Union blows through, shattering the mold into tiny, unrecognizable bits.

Yggdra Union is a card-based strategy RPG for the PSP. For years, strategy RPG fans have accepted repetitive, non-interactive battle sequences as the genre standard; few games have dared to break the mold. Yggdra Union blows through, shattering the mold into tiny, unrecognizable bits. Experience a fresh mix of turn-based strategy and real-time action, constantly engaging the player and providing intense gameplay combined with tactical card-based combat. Originally released for Game Boy Advance, Yggdra Union is remade and loaded with enhancements, including fully remastered audio and visuals (featuring the artwork of famed character designer and manga artist Satoko Kiyuzuki), fully-voiced dialogue in both Japanese and English, a widescreen aspect ratio, additional difficulty settings, new unlockable content, and more... all exclusive to the PSP system. [Atlus USA]

…

Expand
Developer:

Sting

Genre(s):

Role-Playing

,

Strategy

,

Turn-Based

,

General

,

General

,

Historic

,

Tactics

# of players:

No Online Multiplayer

Cheats:

On GameFAQs

Rating:

T
Please enter your birth date to watch this video:
You are not allowed to view this material at this time.
Yggdra Union Gameplay Movie 1
Although its overzealous combat system takes some getting used to, Yggdra Union is a rare gem that manages to stay interesting after hours and hours of playtime. In my opinion, it's a must-have for PSP owners and it is, without a doubt, one of the best titles I've played this year.

With simple, yet strategic gameplay, excellent voice acting, cute graphics, and decent dialogue, all improved from its GBA counterpart, it's definitely worth the pickup.

Let it be said that the PSP version of Yggdra Union is the definitive version. It's a great game, but once you're done with it, you won't likely be back for a visit. The focus is on battling, and, frankly, you'll have had enough of it by the time you reach the end.

All together though, this is a fantastic port, but it doesn't change or enhance the original in any meaningful way.

Overall, if you missed this on the GBA and like a challenge in your RPGs, then Yggdra Union will be right up your alley.

If you're not really focusing on what's going on during battle, you may find your forces quickly dispatched. Conversely, if you play to your strengths, you may find yourself giggling with glee as you lay waste to your adversaries.

I thoroughly enjoyed the opening moments of each map, looking over the terrain for bonuses and counting moves to make sure that I engaged the enemy with the perfect formation. After that, it was back to 20 minutes of occasionally pressing one button to keep my little soldiers swinging in the most non-violent war this side of a NERF fight.
Yggdra Union is a fun strategy game with interesting cast of characters. Starting from Milanor, the bandit leader with ox strength. Yggdra, a

Yggdra Union is a fun strategy game with interesting cast of characters. Starting from Milanor, the bandit leader with ox strength. Yggdra, a cute loli princess with huge sword and questionable heart. Durant, the most loyal and honorable knight in Westeros(except it's call Fantasica). Nietzsche, the loli mermaid. Roswell and the witch and many more. The most interesting cast is Gulcasa of course. In fact the game is centered around him. The card system is okay, there are a lot of secrets which I missed out which I think many players would've too if they never followed any guides. Playing this game is about coming out with the best strategy and then going back a few stages to see what you missed. Pretty fun JRPG. Highly recommended but very hard in end-game.

…

Expand

this game oh this game i love this game i truly do first off
it introduced me to rpg games witch i love now adays and second off
thethis game oh this game i love this game i truly do first off
it introduced me to rpg games witch i love now adays and second off
the gameplay oh the gameplay
its one of those games that easy to get in to but some peopole can spend years and not be good at it and some can spend seconds and be a master but its realy realy fun the visuals were eye candy on its gba port and now it has voice acting and such theres no reason not to get it over the GBA version unless you dont have a psp in witch case GET THIS GAME the story is fantastic with each and every character being funny or having a unique personality and trust me the end will leave you balling (FREAKIN ANKHS)
the gameplay is very nice if a critic didnt like the game its because there not good at it and thus dont like it as much this game will always have a spot in my game library and since its also a digital download if you dont get it your just keeping yourself from a great game

…

Expand

I really like the core mechanic of this game. It's almost a puzzle game, where you need to determine the best formation that'll result in your

I really like the core mechanic of this game. It's almost a puzzle game, where you need to determine the best formation that'll result in your characters attacking enemies that are weak against them.

The issue is that the game becomes unfair and tedious. It will surprise you with new enemies for which you're unprepared, it'll give you new objectives that are impossible to complete without having positioned your characters correctly beforehand, it'll introduce new enemy abilities that you simply can't compensate for on the fly. When you lose, you'll restart at the beginning of the map, and need to go through all the battles and events again.

I also suspect that you can find yourself in a position where the game is impossible to beat because you weren't careful about which characters were getting the MVP bonuses, or you weren't diligent about searching the map for hidden items.

If you don't mind replaying sections over and over again while trying different strategies, or looking for items, then you might very well love this game for its interesting and complex battle system. For myself, the game stopped being fun and became a chore.

…

Expand
| | |
| --- | --- |
| 20 | |
| 29 | #29 Most Discussed PSP Game of 2008 |
| 9 | #9 Most Shared PSP Game of 2008 |