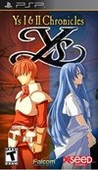 Developer:

Falcom

Genre(s):

Role-Playing

,

Miscellaneous

,

Action RPG

,

Action RPG

,

Compilation

Cheats:

On GameFAQs

Rating:

T
Please enter your birth date to watch this video:
You are not allowed to view this material at this time.
Shin Megami Tensei: Devil Summoner 2: Raidou Kuzunoha vs. King Abaddon Atlus Spoiler Trailer
It feels antiquated, but give it a chance, and you're likely to enjoy it. Plus, more support for the series means more likelihood that the rest will somehow, someday reach our Falcom-starved fingers.

The combination of original gameplay, tied in with fantastic retro feel and original soundtrack makes this a must pick up for PSP owners.

Ys I & II Chronicles may not be the first release of this two part adventure it is without a doubt the best version.

It was an interesting move by XSEED to release past Ys Games for those new to the franchise; unfortunately, the games certainly show their age, don't leave that great of an impression and aren't as enjoyable in comparison to Ys Seven or Ys: The Oath in Felghana.

Only consider it if you know you're in the mood for an intentionally obtuse, old-school journey that'll have you searching for an online guide in the first five minutes – or if you just really want to see a man defeat his foes by slamming straight into them with his face.

Despite its storied history and retro charms, Ys I and II is easily the weakest of XSEED's three PSP Ys releases.

Ys I & II deserve their honored place in history, but from now on, they should probably stay there.
I love the descriptions in other reviews calling Ys antiquated. Who would have thought a game made in 1987 would feel antiquated by today's

I love the descriptions in other reviews calling Ys antiquated. Who would have thought a game made in 1987 would feel antiquated by today's standards.

That aside, it's great to hear how troubled today's players are by its gameplay and storytelling. I'm sorry children, Adol doesn't talk much, and you're not going to be spoonfed what's going on during his adventures. You simply have to pay attention and use your imagination (and read the **** in-game books)

I don't have a button to attack? Deal with it. It's hilarious how the only justification for this system being bad is "it's old".

The level cap is too low? Oh dear me, I didn't know it was wrong to challenge people by putting the stats against you.

If the only thing left to answer is, "Why re-release it?", it's called opening it up to a new platform. To anyone who actually bothered to play it on DS before comparing it, the visual differences are clearly noticable, and the PSP version has the remastered soundtracks/visuals as well as the old ones from the PC-88 and complete versions.

…

Expand

Simply the best game ever. Screw those reviewers! It's a wonderfully told story with flawless gameplay and art. Every gamer should play it.

Simply the best game ever. Screw those reviewers! It's a wonderfully told story with flawless gameplay and art. Every gamer should play it. Even your mom.

…

Expand

I never purchased this one, the reviews were not great and the packaging didn't really sell me. I came late to the game on this one,

I never purchased this one, the reviews were not great and the packaging didn't really sell me. I came late to the game on this one, -literally. Just picked this up for my PSP (used on eBay). ...what a great game. Sure its an idea that has been done to death, but its done really well and its really refreshing to play. I absolutely love this game. Giving it a 10.

…

Expand

I never played Ys until I bought this on impulse a few months ago. I don't understand how reviewers can call this game antiquated or too old

I never played Ys until I bought this on impulse a few months ago. I don't understand how reviewers can call this game antiquated or too old to be appreciated by modern standards. I loved the game(s). The soundtracks for both are among the best I've ever heard (with the ability to switch between 3 different versions!), the graphics are sharp and clean and the combat felt fresh and fast-paced compared to simply mashing the attack button in some modern action games. The first game was a little light on story, but it had enough there to satisfy, and the second game opened up and expanded everything about the first, creating a memorable experience that sticks with you.

If you're unsure that you'd like the game or that it'd be too old now to enjoy, then I'd tell you not to worry. If you enjoy action games, you owe it to yourself to buy this game. You'll want to invest hours and hours into it and you'll certainly be happy that you did.

…

Expand

This review contains spoilers

, click expand to view

.

I take most of it back. Ys 1 was fun and frustrating all at the same time due to its rubbish bosses. But the journey was good and so was the combat. I LOVED Ys 2. Much better and the bosses wern't stupidly designed. Yes they mostly all had to be killed with fireballs but its when you realise these bats things are killing me WAY too often and then think, wait! I CAN STOP TIME and you do that and you win! Combat is excellent, story is awesome (ahead of its time) and I love the characters but not how they get so little mention from Ys1. Ys 3 here I come!

…

Expand

These are old school games to the core. The bump mechanic is a little odd but I got used to it as time went on. Ys II is much better than the

These are old school games to the core. The bump mechanic is a little odd but I got used to it as time went on. Ys II is much better than the first game. Both have their flaws. but the second one is superior in every way.
Excellent music for both and nice boss designs.

…

Expand

Completion: Finished games on normal difficulty

Ys I --- Pros: - Wonderful and unique soundtrack that perfectly suits how fast-pacedCompletion: Finished games on normal difficulty

Ys I ---

Pros:
- Wonderful and unique soundtrack that perfectly suits how fast-paced the game is.
- The reworked visuals look good while still retaining an old-school vibe.
- While combat is normally bland, boss battles are challenging and different. I only wish there were more of them.

Cons:
- Combat doesn't feel as interactive as it could be due to the lack of an attack button. Although the battle system isn't exactly bad, it just doesn't hold up very well compared to many other action RPGs.
- Dungeon design is boring and uninspired.
- Level cap is too low and removes any incentive to fight enemies after you hit this ceiling.
- Equipment is linear and boring with the changes in your character's power being nearly imperceptible. This makes the progression feel somewhat stifled.
- Story is bland and hardly anything of note happens. While they are surprises, characterization and world building were not strong enough to actually make these plot twists have any impact.

Final Word:
While clearly outdated in gameplay and story, Ys I still manages to be a relatively fun experience due to its short length, pumping soundtrack, and charming aesthetic.

True Score: 7.2

…

Expand
| | |
| --- | --- |
| 21 | |
| 14 | #14 Most Discussed PSP Game of 2011 |
| 17 | #17 Most Shared PSP Game of 2011 |