Publisher:

Konami

Release Date:

Nov 18, 2009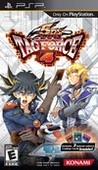 Summary:

Yu-Gi-Oh! Tagforce 4 offers the most expansive Yu-Gi-Oh! game to date, with riveting story mode and its signature trading card dueling. Yu-Gi-Oh! games are designed to be played in the spirit of competition, and wireless ad-hoc gameplay allows up to 4 players to compete against each other at

Yu-Gi-Oh! Tagforce 4 offers the most expansive Yu-Gi-Oh! game to date, with riveting story mode and its signature trading card dueling. Yu-Gi-Oh! games are designed to be played in the spirit of competition, and wireless ad-hoc gameplay allows up to 4 players to compete against each other at one time through cooperative gameplay, which is unique only to the Tagforce series. Yu-Gi-Oh! 5D's Tagforce 4 ups the stakes by offering over 4,000 playable trading cards, including exclusive cards from the Ancient Prophecy and Stardust Overdrive card packs that can be bought sold or traded in the game. Four player tag duels allow players to partner and strategize with each other to defeat friends in no holds barred card battle showdowns. Tally up all the gameplay and Yu-Gi-Oh! 5D's Tagforce 4 presents one of the most impressive PSP system games to date, clocking over 300 hours of gameplay between all modes. [Konami]

…

Expand
Developer:

Konami

Genre(s):

Strategy

,

Miscellaneous

,

Turn-Based

,

Card Battle

,

Card Battle

# of players:

Up to 4

Cheats:

On GameFAQs

Rating:

E
I simply put it this way: This game has got all you've ever wanted from the Yu-Gi-Oh! universe. Featuring more than 4,000 cards from the trading card game, tag duels and opponents to your heart content – if you're a fan, you've got to get it.

Another fun addition to the Yu-Gi-Oh! series. Just don't expect anything you haven't seen before.

In conclusion, if you're a fan of the series, than you're in Yu-Gi-Oh heaven which does successfully transfer the card game to the virtual world. Although the graphics are a little lacking, the gameplay with real players more than makes up for this inconsistency.

I just think there's more that could have been done with the single-player portion of the game design here, as after four Tag Force adventures the 2D cutesy style and lack of any real sense of interaction with the storyline or characters is disappointing -- it'd be nice if Konami could take some cues from itself, and from the more robust story modes being crafted for other Yu-Gi-Oh games on other systems.

As is the case for most games like this, only fans should bother giving this one a spin.

Yu-Gi-Oh! 5D'S TAG FORCE 4 is a game that you love or hate. Quibble about the validity of its gameplay does not seem particularly constructive because, as repeatedly reported in the review is to be understood as a niche title, inappropriate, hit and run as a hobby, but able to absorb more patients and more stubborn. Instead, what we wish to emphasize is that now the series needs a good modernize both the graphical and sound is primarily through a component that involves adventure and fun outside of duels and challenges. True fans will not be disappointed, for all the others should look elsewhere.
This is hands down the best yugioh game ever. Over 4k cards, great animations, tag dueling. It's beyond awesome. The only thing that

This is hands down the best yugioh game ever. Over 4k cards, great animations, tag dueling. It's beyond awesome. The only thing that sucks is the long load times for the game, if not for those load times i'd give it a 10.

…

Expand

I'm a really big fan, so I couldn't resist. Not disappointed. Over 4000 cards is great, and the tag duels are awsome. The one thing

I'm a really big fan, so I couldn't resist. Not disappointed. Over 4000 cards is great, and the tag duels are awsome. The one thing that it's missing is online duels. With online, the game would be 10 times better!

…

Expand