Publisher:

MidBoss

Release Date:

Jul 26, 2018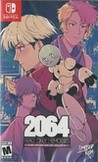 Summary:

2064: Read Only Memories INTEGRAL features all of the original content featured in previous releases, enhanced and expanded with a host of brand new content and features exclusive to Nintendo Switch. When Turing, the world's first sapient machine, teams up with a struggling journalist, the

2064: Read Only Memories INTEGRAL features all of the original content featured in previous releases, enhanced and expanded with a host of brand new content and features exclusive to Nintendo Switch. When Turing, the world's first sapient machine, teams up with a struggling journalist, the unlikely duo find themselves drawn into the shadows behind the dazzling lights of Neo-San Francisco. The secrets they uncover could shake the very foundations of society, and some powerful people would stop at nothing to keep them quiet.

…

Expand
Developer:

MidBoss

Genre(s):

Adventure

,

Point-and-Click

# of players:

No Online Multiplayer

Cheats:

On GameFAQs

Rating:

M
2064: Read Only Memories INTEGRAL is the best version of a great adventure game. Outside of the lack of touchscreen support, this is basically everything I wanted in a port of 2064 for the Switch. If you've never played this before, this is the version to get.

2064: Read Only Memories INTEGRAL is a charming and captivating visual novel. It's a title that fits seamlessly with the Switch and makes clever use of the console's functions. The added touch of HD Rumble and touch functionality offer deeper gameplay options exclusively for the console. Additional exclusive content makes this the best version of ROM for first-timers or veteran fans of the title. While the core game is untouched with its gameplay flaws, it still brings a lot of love and attention to detail to the visual novel genre.

2064: Read Only Memories INTEGRAL takes the classic point-and-click genre of old, strips out many of the annoyingly exacting puzzle systems, and injects a refreshingly positive and progressive outlook. A cast of memorable characters and some spot-on retro presentation should seal the deal for fans of a good story and snappy dialogue.

2064: Read Only Memories INTEGRAL uses the formula and style of an old school adventure game to tell a narrative about a cyberpunk future. By doing that, it delivers a very interesting narrative, despite some minor flaws.

2064: Read Only Memories Integral holds strong thanks to its diverse crew of interesting characters and socially relevant story, despite sometimes telling more than it shows.

2064: Read Only Memories Integral tells us a shallow, cliché-filled story that works well as an interactive English cyberpunk game but not as much as a point and click video game.

Slick music and a cool setting doesn't quite make up for a lack of player involvement and engaging gameplay ideas.
Excellent game, great atmosphere and voice acting. Great cyberpunk plot! The music is amazing too.

One of the best point and click adventures, amazing artstyle, soundtrack and story, great characters and a powerful message. More games like

One of the best point and click adventures, amazing artstyle, soundtrack and story, great characters and a powerful message. More games like this are needed!

…

Expand

This game is not perfect, but it is very good. I am not one of the stereotypes to which the game panders and I felt a little left out because

This game is not perfect, but it is very good. I am not one of the stereotypes to which the game panders and I felt a little left out because of it.

With that said, this is a great successor to Snatcher if you can look past that flaw.

The story is intriguing, the characters are mostly likable, and the questions raised are valid and thought provoking. I would recommend this game to anyone who is looking for a well written adventure and is comfortable in their sexual identity.

Also, I purchased this game for Android and Switch, and this Integral version is a much better value-- if you can catch it on sale.

…

Expand

I came into this knowing nothing and just getting it because it sounded interesting and was on sale in the E-Shop.

It makes a good firstI came into this knowing nothing and just getting it because it sounded interesting and was on sale in the E-Shop.

It makes a good first impression by allowing me to express my veganism and my pronouns and graft those on the main character.

I would say the characters are good and interesting, the story is interesting, the retro Genesis looking graphics are nice and the voice-over stuff is never annoying.

It seems relatively progressive in some ways but also lacking in enough that it stood out and then I read that it is from a 2013 Kickstarter and I was like, "OH, that makes sense."

Also, playing it now its feelings about cops are a little too cozy.

Anyway, overall it was a worthwhile experience and I would play another from the company.

…

Expand

Probably the worst game i have played, probably.
First let's stablish what i mean by game, i mean for an actual product that is not brokenProbably the worst game i have played, probably.
First let's stablish what i mean by game, i mean for an actual product that is not broken and it works and you can play it; it succedes at that, that's my 1 point i'm giving them but the rest, is just awful, i feel like tumblr made this game, i don't mind politics in my games, but this games is downright sexist.
I understand in the future using your own pronouns, and that the game gives you the option i thought was great, but why does this happens:
- literally all couples you meet are in gay relationship except for a dead guy you don't even know, now understand, i mean EVERY couple is of gay males, and all of them are crimininals, oh there is a girl criminal but she had a sad little sister story so is justified, the males? do it for the money.
- i think there is literally only one straight male in the game and is a murderer and white and has anger issues that are very bad explained.
- the "final battle" is horrible
- the morals of the game is basically mass effect "say something obviously "good" or "bad"
- the epilogue doesn't add up ANYTHING to the game except for a nice dialogue with a low powered robot and it also has the only relationship im aware you can have, bondage sex with a random male furry you don't know and you act completely off character if you want to date him

…

Expand