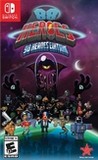 Summary:

88 Heroes is a chaotic 2D platformer that is as fun to watch as it is to play, where each level completed or untimely death brings a new uniquely skilled hero into the action. With just 88 minutes to complete all 88 levels, youll need every one of the 88 heroes to stop the dastardly Dr. H8

88 Heroes is a chaotic 2D platformer that is as fun to watch as it is to play, where each level completed or untimely death brings a new uniquely skilled hero into the action. With just 88 minutes to complete all 88 levels, youll need every one of the 88 heroes to stop the dastardly Dr. H8 destroying the Earth! Are you up to the challenge?

…

Expand
Developer:

Bitmap Bureau

Genre(s):

Action

,

Platformer

,

2D

# of players:

No Online Multiplayer

Cheats:

On GameFAQs

Rating:

E10+
88 Heroes: 98 Heroes Edition is an enjoyable game with an interesting and unique premise, plus the multiple game modes do make for a lot of replayability. However, some of the heroes basically do nothing but jump and some of the ones that can attack have attacks that can easily backfire if you don't know what you're doing, making a lot of the game trial and error. Also if you get down to just one hero, get very used to him/her/it as you do have unlimited continues, but unless you get enough coins to revive someone, that's all you have for the rest of the game.

88 Heroes is pure arcade fun. A game system as simple and straightforward as original and addictive.

88 Heroes: 98 Heroes Edition is a crazy and entertaining game with a cool concept. However, the execution is not where it should be. It's not a bad game, and fans of the genre will appreciate it. At the price point of $30, there are better 2-D platformers available on the Switch. If you've already explored those and long for something new, you can't go wrong with 88 Heroes.

While 88 Heroes can be fun for a quick play session, the premise feels as though it hurts the overall game. Making each level beatable by each hero makes the game a little too easy at times, but it is fun to get one of your favorite heroes and mess around with their unique abilities. While you can unlock modes that let you limit the heroes you wish to use, to either a pool of 8 with Magnificent 8 mode or 1 with solo, it still doesn't quite solve the game's issue of needing to cater to all of the heroes as a whole.

88 Heroes: 98 Heroes Edition features plenty of variety in terms of characters and comical overtones that are certain to become the target of the players' affection. What it doesn't do so well is a creative level design, as well as the way the player's characters die and how the game handles their loss of all of them.

Overall, the numerous heroes filled with in-jokes and references are the game's biggest strengths. The novelty doesn't last long and it becomes an exercise in patience having to relearn control schemes while navigating unfairly placed traps. It's compelling to find each character's inner strengths but it can also get repetitive thanks to the uninspired stage layouts. Indeed, 88 Heroes is an example of quantity over quality. I like the premise but wish there were more specialized challenges that took the heroes' unique powers into account or levels that incorporated the powers as opposed to succumbing to a generic one-size fits all design. While the game isn't necessarily GR8, I didn't H8 it, and there's some value to be found for 2D sidescrolling fans or anyone who's willing to pay for a good laugh.

Not since my teenage years have I experienced the sheer anger I went through trying to complete 88 Heroes. The saddest part is that I actually think there was a good game buried deep beneath the unnecessary time limits and bland level design. The heroes are the most interesting part of the game, but by design, you never get the opportunity to fully explore them.
Game is way more fun than you'd think - The different characters aren't 'exactly' as unique as they make out, but most of them are so that adds a lot

El mundo es invadido por alienígenas y es nuestro deber comandar a 88 extravagantes héroes debido a que los verdaderos super hombres estaban

El mundo es invadido por alienígenas y es nuestro deber comandar a 88 extravagantes héroes debido a que los verdaderos super hombres estaban ocupados en otra tarea. Para ello es necesario adaptarse cada vez a un personaje random con el fin de salir ileso de las difíciles pantallas del juego.
Éste indie tiene mucha personalidad, es un clásico juego de plataformas 2D con gráficos retro pero con la dinámica que la jugabilidad va a variar tras cada nueva secuencia, los controles están bien diseñados por lo que es nuestra culpa si uno de los personajes no llega a la meta del nivel.
Si eres fan de los desafíos "88 Heroes: 98 Heroes Edition" es una buena opción, es un juego ideal para Switch para jugarlo cuándo y cómo sea.

…

Expand