Publisher:

Nintendo

Release Date:

Apr 21, 2023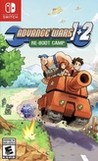 Summary:

Command an army in strategic, turn-based combat as a tactical adviser for the Orange Star Army. Your expertise is needed as you move land, air, and naval units across the battlefield. Take down enemy squads and capture towns and bases to secure victory and keep the peace. Keep an eye on the

Command an army in strategic, turn-based combat as a tactical adviser for the Orange Star Army. Your expertise is needed as you move land, air, and naval units across the battlefield. Take down enemy squads and capture towns and bases to secure victory and keep the peace. Keep an eye on the game-changing terrain and weather as you lead a variety of units across multiple maps. This remake features two campaigns that cover the events of Advance Wars and Advance Wars 2: Black Hole Rising! Fight alongside capable Commanding Officers. Defend your land with the help of Andy, Max, Sami, and other Commanding Officers, each with their own specialties and CO Powers. Andy can repair units, while Sami can boost the abilities of troops. Your opponents can use CO abilities of their own too! Throughout both campaigns, the COs you meet play a critical role both on the battlefield and in the story.

Recruit some friends and see who the superior strategist is

When you aren't busy keeping the peace in one of the two campaign stories, flex your army-commanding chops in Versus Mode**. Up to four players can battle on dozens of maps. Each player chooses a CO from either campaign and can strategically use their CO Powers to turn the tides of battle. Customize your combat with options like funds per allied base and fog of war.


…

Expand
Please enter your birth date to watch this video:
You are not allowed to view this material at this time.
Advance Wars 1+2: Re-Boot Camp – Nintendo Direct 2.9.202 Trailer
Be curious about the new looks, be reassured by the care taken to bring Advance Wars to a new generation, and look forward to precious minutes or expansive hours honing your tactical mind within a morning cartoon aesthetic.

20 years on, Advance Wars is still a great series. Advance Wars 1+2: Re-Boot Camp is full of content, stylish graphics and lots of battles. Wayforward is perhaps too faithful to the original games and lacks some of the quality of life features that could improve the game. And we also miss Dual Strike, to have the whole trilogy in one place. But Advance Wars 1+2: Re-Boot Camp is a great addition to the Switch line-up and a great experience for players new and old.

Advance Wars 1+2: Re-Boot Camp is exactly what it promises. A polished and fine tuned remake of the original two Advance Wars games. In this package you'll get two great strategic experiences that come with plenty of missions, objectives, multiplayer modes and even a map creator to keep you entertained for a good long while. Though the music may get a tad repetitive and the game feels best suited for short play sessions, these two games are a great return to form for the Advance Wars series. It does leave me hopeful that the next iteration will put less emphasis on the visual "Re-Boot" and more on the gameplay "Advancement" of this franchise.

For those interested in easing into the turn-based strategy genre, or those with a lot of experience, Advance Wars 1+2: Re-Boot Camp is a strong option on Nintendo Switch. With two complete games in one, there's a lot of meat in the package, and that's not even factoring in the multiplayer options. WayForward has done a very nice job adhering closely to the Game Boy Advance originals, while offering enough tweaks to make it feel like this package was a better decision compared to putting the originals on Nintendo Switch Online. It's been a while since fans of the series have had a wholly-new game to enjoy, so hopefully this package will lead to more from Nintendo.

Advance Wars' tone doesn't always work, but I'm a different person now than I was 20 years ago, and the world is a much different, much stranger, and often much scarier place. I don't know that you could make the original game today, at least not as it is. But I appreciate how its sequel grapples with the complicated subject matter, even if there are no easy answers to the questions I'm sure Nintendo would rather we didn't ask.

WayForward have done great work in restoring a tactical cartoonish classic to make it incredibly fitting to the Nintendo Switch as a platform, both on TV and in handheld.

Re-Boot Camp rescues Advance Wars' brilliant gameplay formula from a 15-year hiatus, but does so without ever displaying any amount of ambition. Its lackluster online multiplayer offering is emblematic of a re-release that shines on purely through the ingenuity of the original's gameplay loop.
Remake of one of my favorite video games of all time. Not much new, but perfection doesn't need improvement. Give us Advance Wars 3, Nintendo.

So here I am...finally on metacritic. All for the sake of me wanting to write a review on this game. Couple of things I want to mention.

1)So here I am...finally on metacritic. All for the sake of me wanting to write a review on this game. Couple of things I want to mention.

1) I get that not a lot of people are a fan of the direction of the visual style for the game. I am in the camp that really did not like the gritty direction Days of Ruin went and appreciate the game returning to its roots.

2) The game has gotten a significant amount of QoL improvements. It is more than just a copy-paste from what the original was. The fact the AI doesn't cheat in Fog of War actually makes the maps enjoyable instead of a chore.

3) Remember the game is over 2 decades old. The fact the original two games are being given an opportunity to have life breathed back into them is a good thing.

4) The game was genuinely made with a lot of love. The new OST shows that the devs knew what they were working with, knew how much the original fanbase loved this property, and delivered us an absolute gem.

5) If you actually enjoy turn-based strategies, this game is 100% worth your time. The game has the nintendo charm of not taking itself too seriously but is fun enough to allow you to enjoy the characters for what they are.

…

Expand

Excellent remakes of one of Nintendo's best, and most neglected, series. Advance Wars 3+4 next, please.

A solid remake, gameplay remains intact, but the 3D graphics weren't, in my opinion, the best choice.

I only just started but I feel the need to leave this review. As someone who's always struggled to get into strategy games, I think I've

I only just started but I feel the need to leave this review. As someone who's always struggled to get into strategy games, I think I've finally found the one. So far literally everything is perfect. The music, the animation, the art direction, not even mentioning the ganeplay.the only reason I didn't give it a 10 is because I haven't played all of it yet. But if you're like me and have been waiting for a strategy game that just feels like the perfect starting point, look no further. Also I don't know how good casual mode is, but I like the challenge if classic so far, it feels like just enough to push me to improve. Tldr; I highly recommend this game, especially to newcomers to the genre like myself

…

Expand

I adore this game - it gets nearly everything right that you want from a reboot, retaining the charm of the original and 'glowing up' the

I adore this game - it gets nearly everything right that you want from a reboot, retaining the charm of the original and 'glowing up' the elements that needed attention, with a stellar soundtrack and fantastic CO art design.

The 'toybox' aesthetic is so-so but it does grow on you, but I understand if it's offputting for some. But the only reason I can't score it a 9 is because the multiplayer is half-baked, which is a massive shame as this could have had a dedicated online audience for years to come if it had something that could supplant Advance Wars By Web, but alas it does not.

So for me it's a solid 8 and very much a recommended buy for any strategy enthusiast, particularly those who like single player experiences rather than multiplayer.

…

Expand

Pros: Online and Multiplayer; Enhanced Graphics, Fun as Heck

Cons: Controls get "stuck" sometimes, other then online, there isn't a whole lot added