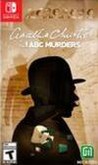 Summary:

The ABC Murders is an adventure and investigation game adapted from the classic Agatha Christie novel. You are the famous private detective Hercule Poirot and, once again, you find yourself up against a mysterious serial killer who goes by the name of "ABC".
Developer:

Tower Five

Genre(s):

Adventure

,

3D

,

Third-Person

# of players:

No Online Multiplayer

Cheats:

On GameFAQs

Rating:

T
Ultimately, Agatha Christie's The ABC Murders is a perfectly competent point-and-click detective game, competently ported to Nintendo Switch. It's more difficult to deliver a "great detective" story in a way that feels appropriate to the character and the players than most people would think, but the developers have done an admirable job here overall. Just do yourself a favour and resist looking up a guide. Not all the puzzles are perfectly executed, but for this game to have the right impact on you, you really do want to be solving each puzzle without assistance, even if that does mean that you feel like your Poirot's IQ has dropped a couple hundred points.

Granted, when you're as intelligent and debonnaire as Poirot, humility is beneath you. Where this adventure mystery game lacks in technique, it excels in creativity, humor, and puzzles. As a librarian who enjoys puzzles and escape rooms, Agatha Christie: The ABC Murders is an excellent nightcap to round out my day.

If you're a fan of Agatha Christie, murder mysteries, point and clicks, or puzzle games and want a fun little gem that will provide a day's worth of amusement without trespassing into darker territory, then Agatha Christie – The ABC Murders will definitely delight you. Christie's beloved detective duo graces the Nintendo Switch on October 6, 2020, and it's up to players like you to help them solve puzzles, interrogate suspects, and find that notorious A.B.C. murderer.

A different kind of point-and-click adventure, Agatha Christie – The ABC Murders has both highs and lows on the Nintendo Switch. But it's the quantity and quality of speech that pushes it over the edge for me, despite the inexplicable lack of handheld play.

A classic point & click adventure appropriate to adapt this mystery novel but whose biggest challenge for the player will not be the puzzles that the game offers but its control, which is not well designed to play on the console and has not been adapted to Switch. At least the touch screen could have been used.