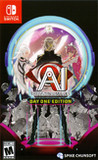 Summary:

One rainy night in November, a woman's body is found
at an abandoned theme park, mounted on a
merry-go-round horse. She had been stabbed repeatedly, and her left eye was gouged out. Kaname Date of the Metropolitan Police Department arrives on the scene. He recognizes the woman.One rainy night in November, a woman's body is found
at an abandoned theme park, mounted on a
merry-go-round horse. She had been stabbed
repeatedly, and her left eye was gouged out.

Kaname Date of the Metropolitan Police Department
arrives on the scene. He recognizes the woman.
Suddenly, a crash rings out through the rain...

AI: THE SOMNIUM FILES chronicles an investigation
through both dreams and reality.
A thrilling neo-noir detective adventure following
Date and his partner is about to unfold.

…

Expand
Developer:

Spike Chunsoft

Genre(s):

Action Adventure

,

General

# of players:

No Online Multiplayer

Cheats:

On GameFAQs

Rating:

M
Please enter your birth date to watch this video:
You are not allowed to view this material at this time.
AI: The Somnium Files - Announcement Trailer
AI: The Somnium Files' story is dark, with a lot of horrific and upsetting moments to be found, but I was pleasantly surprised by the amount of humor and, dare I say it, heart present in the plot too.

Overall, I'm gushing about how much I loved AI: The Somnium Files. The quality of characters and story mixed with the variety of gameplay and fun investigative segments make it a must-own for fans of Japanese detective games.

AI: The Somnium Files is a must-play for fans of detective games. It's risky, creative, fascinating, and feels like the next step for the visual novel medium. There are plenty of valid worries I've seen pop up from people who felt burnt by ZTD, but I feel like all of those were addressed here. It's far from perfect, but the flaws are incredibly minor and it still delivers the strongest narrative I've seen from a game all year. Fans and newcomers will find a lot to Love with AI, don't Sleep on this game.

With an endearing, violent, and engaging story, AI: The Somnium Files is an adventure game that fans of the visual novel genre should not miss. With a novel puzzle-solving mechanic and impressive voice performances, this game is a dream come true.

Nintendo Force Magazine

Apr 30, 2020

After a comparatively slow couple of hours at the start, AI: The Somnium Files takes off and never slows down. [Issue #44 – January/February 2020, p. 74]

AI: The Somnium Files is another brilliant adventure from Kotaro Uchikoshi, that deepens its narrative structure at the price of loosening a bit of its puzzle design. All in all, it's a compelling interactive story that deserves to be played.

While the oversexualization is disappointing and even distracts from the story at points, I'll still sing the praises of AI: The Somnium Files because it respects the player's time, offers interesting characters, and the Somnium sections are great to explore. It's recommended with a slight caveat, but it's still recommended.
Great character design, awesome soundtrack, gripping story with plenty of twists!

To start, this game is well directed with loads of good work done into characters and the comfortable flow of what they put into the gameplay

To start, this game is well directed with loads of good work done into characters and the comfortable flow of what they put into the gameplay style in terms of concept. Despite it being what most would call a visual novel, AI: The Somnium Files takes the concept of it to another level by putting in interactive segments that are full of humor, character, symbolism, and aesthetic while still retaining it's full value of being a "Visual Novel" style story and character driven game that will throw you for loops with branching paths. Like many visual novels, it's a very laid back experience and it pulls off what it's supposed to do really well while somehow still having you on your feet with highly unique and dialogue centered interactions that you wouldn't want to miss.

Gameplay: Consistent, Voluntary and Detail Oriented:
In most parts of the game, you're playing a social first person dialogue oriented point and click interactive novel. For the people who like design and detail, the amount of interactions you can have within these areas and scenarios is done perfectly and done well enough to keep you interested into every single detail of every frame of the game. Plus, with me personally, I had fun with just the characters dialogue and the personalities alone.

You can choose to blaze through the story like a regular visual novel, or you can choose to take in the small details in the environment and take in more of the personalities of the characters that I am sure many players would grow to enjoy. There are segments that are physically interactive in the third person as you roam the Somnium (deep sleep recess of the mind), and interact with items in the room that you move in while controlling Aiba, your AI False Eyeball Companion that literally lives in your head. Explore the Somnia, interact with items, and solve puzzles. It's quite simple and the developers did it well.

The soundtrack is amazing. The characters are unique and amazing, and although there are some that are "cliche" in scenario, the way that they are interpreted and put into the story is well done. The physically interactive segments are a really good fun new touch to what one would expect from a Spike Chunsoft "Visual Novel". In all fairness, it's an interactive dialogue centered game that is a rare combination of being BOTH character (in terms of interactions and personality) and story driven. I am very happy I got this game. Definitely a must buy for anyone who is looking for a laid back yet highly enjoyable mystery solving aesthetically pleasing AND YET on your toes unique experience. Another amazingly directed game, and I hope it gets the recognition it deserves in my opinion.

…

Expand

Made an account to make for the sore loser who bombed this game;
I'll admit I haven't actually played the game, but I did watch an entire lpMade an account to make for the sore loser who bombed this game;
I'll admit I haven't actually played the game, but I did watch an entire lp of the game itself and I enjoyed it greatly. It's sitting in my wishlist at this very moment to play with some friends for our next get together,, just waiting for payday. The twists of this game are great, I loved the humor so much, and the characters were all great and absolutely memorable with their own unique characteristics. The voice acting is amazing, which isn't something I usually praise. I Highly recommend playing this game.

…

Expand

Probably the best game I played in 2019, a great mystery with a satisfying end. Bless Uchikoshi for he delivers again.

Uchikoshi's games are always unique in their ideas and execution with a blend of science fiction tropes and solid writing. Fantastic work.

AI: The Somnium Files (pronounced like "eye", not "A. I.") is a treasure - while the puzzles can be on the simple side, the characterization

AI: The Somnium Files (pronounced like "eye", not "A. I.") is a treasure - while the puzzles can be on the simple side, the characterization and storytelling present in this game is something truly special. I found myself genuinely caring and enjoying the little moments between Date and Aiba, Ota, Mizuki, and Tesa; don't be afraid to mess up or try things that seem wrong in the Somnium segments, that's where the best dialogue is!

Shoutouts to all the hard workers in the ENG voice cast as well, this is probably one of the best acted games I've ever played. GOTY for me in 2019 without a doubt.

…

Expand

I don't like this game, the gameplay is very boring and the graphics are not good