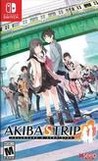 Summary:

AKIBA'S TRIP: Hellbound & Debriefed is the precursor to AKIBA'S TRIP: Undead & Undressed, the smash hit that introduced a Western audience to the seedy underworld lurking in the shadows of the haven of "otaku" culture in the Akihabara district of Tokyo. Released as AKIBA'S TRIP Plus in

AKIBA'S TRIP: Hellbound & Debriefed is the precursor to AKIBA'S TRIP: Undead & Undressed, the smash hit that introduced a Western audience to the seedy underworld lurking in the shadows of the haven of "otaku" culture in the Akihabara district of Tokyo. Released as AKIBA'S TRIP Plus in Japan, players explore a rich setting based on the famous "Akiba" district circa 2011, hunting vampiric foes and tearing off their clothes to expose them to sunlight. This remaster brings the game up to modern HD graphical standards, all while retaining the charm of the original classic that sparked a cult hit series.

…

Expand
Developer:

Acquire

Genre(s):

Action

,

Action Adventure

,

General

,

Beat-'Em-Up

,

3D

# of players:

No Online Multiplayer

Cheats:

On GameFAQs
Akiba's Trip: Hellbound & Debriefed is a good tribute to the otaku culture and the atmosphere of a place as emblematic as Akihabara. It offers a curious and fresh story, with a combination of elements that attracts attention. However, it has some gameplay limitations.

As confusing as it is that this game happened at all, I loved having the chance to play it. Akiba's Trip: Hellbound & Debriefed might look like a game that should have stayed on the PSP, but the satire and humour is there, the grainy rendition of Akihabara is still enough to make this homesick otaku miss Japan, and the action remains on the right side of simple and entertaining that you can enjoy it while it lasts. Akiba's Trip isn't going to win GOTY awards, but I sure enjoyed collecting a big pile of skirts.

If you enjoyed Akiba's Trip Undead & Undressed a lot and want more, Akiba's Trip Hellbound & Debriefed is worth checking out at a discount. In its current state, it suffers from feeling too much like the PSP game it is based on, and with the technical issues on Nintendo Switch. While I did enjoy it more on PC, the PSP roots are still there and it just feels like more should've been done to bring the original Akiba's Trip to a modern audience. If you're new to Akiba's Trip, I definitely recommend Undead & Undressed instead of this if the premise appeals to you.

There are tons of other issues that go along with the port such as music being louder than the voice acting, drowning it out, occasional frame drops or a dressing your underage sister for photos mini-game that feels uncomfortable and in poor taste. I know that there's an implied sexiness to the game (yes I got the title pun) but still. Akiba's Trip was a series I've always been curious about. I understand the fan service of finding quirky excuses to strip your enemies but everything around this just feels outdated. The mechanics have not aged well, the story rarely gets passed 'eye rolling,' and combat is frustratingly repetitive. From my understanding, there are many quality of life improvements that have occurred in later entries into the series but this remastered version keeps it faithful to the original, warts and all. Strip away the Akihabara charm, and there's not much left to enjoy.

Setting aside the inherent creepiness of it all — if Hellbound & Debriefed represented the first time we'd ever seen the mechanic, it might be noteworthy. But seeing as it was done much, much better in Undead & Undressed, here it just feels clunky and awkward. I get that in the absence of Undead & Undressed on the Switch, Akiba's Trip: Hellbound & Debriefed might seem tempting if you're after this sort of thing. It shouldn't be, though. The series may have (very briefly) gone on to more interesting things (before promptly taking a nosedive back to mediocrity), but you're not going to see any of that here.

Akiba's Trip: Hellbound and Debriefed on Switch is an odd little title with some really unique and interesting ideas, but overall falls short with its visuals, combat, and clunky controls.

Between lackluster combat, outdated graphics and the horrendous stripping mechanic, it's very hard to think of a reason to recommend Akiba's Trip: Hellbound and Debriefed.
I like this game but it's important to know what it is before buying it. This is a remaster of the first Akiba's Trip game released for the

I like this game but it's important to know what it is before buying it. This is a remaster of the first Akiba's Trip game released for the psp (only in Japan until now). Here's what this means:

This is a remaster meaning little to no QOL improvements. The graphics have been upgraded a little but don't expect anything stellar. Expect a psp game with better graphics

This was originally a psp game and the psp only has one thumb stick. This means camera controls are poor. They let you use the 2nd thumb stick on the switch to control your camera sometimes but in combat the camera doesn't always show what you want it to. It's playable but not great.

This is the 1st Akiba's Trip game meaning they refined the experience in Undead and Undressed. They took out the things that didn't work in this game and made that one much better because of it. Experiences that I found to be worse in this game are:

1. Combat - its less fluid (and that's saying something), you can get beat up on by a large group of opponents without a chance to defend yourself until someone lands a large hit on you and ejects you, the camera is worse making it hard to track opponents, building up a chain combo is more difficult, and probably a couple smaller things I can't remember. There were several times this straight up lagged especially during strip combos so the frame rate is bad.

2. Side quests - a few were enjoyable but probably half of them were just go here and fight X for Y reason. There are also some real PITA ones that are in no way enjoyable and others that are difficult if not impossible to complete on the 1st play through.

3. Navigation between areas - not only do you have fewer areas than in the sequel but they are smaller and every time you leave one you exit to the main map. Load times are as bad as the vita version of the sequel if not worse.

There's a few more minor things that would take a lot of explaining to describe which probably isn't worth the space. Imagine playing assassin's creed brotherhood (or 2 or revelations) first and then going back and playing the 1st assassin's creed. It's one thing if you played the original before the sequel but going back to play the original after playing the sequel really brings to attention all the flaws in the original.

Now that I've bashed the game enough here's what I liked:

It's another Akiba's trip experience. It's really unlikely they are going to make a new one so I'm happy to explore the original. It's not as fun as the sequel but there's still fun to be had.

The story was decent. Kind of weird pacing. I didn't find it to be particularly good or bad. If anything it was just weirder and more otaku focused than the sequel.

Collectibles were just as good if not better than the first. I liked getting more of the weirder clothing options. My first play through I ended with a frog head, soccer ball body, and shrine maiden legs. I don't think I could make a combination that weird in the sequel. You don't get to change your walk style without changing characters though which is unfortunate as I liked that feature in the sequel.

A few more notes.

My game has crashed twice so far after long sessions. I save often so it was a minor annoyance to me but I got that habit after the sequel crashing on my vita whenever my wardrobe got full. If you don't save often you may end up regretting it. I only noticed this happened after several hours of play which is both good and bad.

I thought the English voice acting was fine but I think most English voice acting is fine especially in the last 10 years or so. I've heard others complain about it though.

A few months from now people will probably have better guides on where to find items needed for quests. If you get annoyed if you can't find something or if you need to fail a side quest because you don't have the right skills then hold off on this game for a month or so. Right now it's hard to find help on the internet in English for this game.

All that said I'm having fun with it and I'm happy with my purchase. It's about what I expected when I bought it and I was neither pleasantly surprised nor disappointed by the quality of the remaster. I'm just happy to play this game in English with an official translation.

…

Expand

Strongly believe that this was a terrible introduction for Switch Players to play this game as there first in the series. Akiba's Beat would

Strongly believe that this was a terrible introduction for Switch Players to play this game as there first in the series. Akiba's Beat would have been so much better for the switch audience due to the JRPG elements instead of this game.

…

Expand

I'd give it a higher score if I was willing to finish it. This game shouldn't have been ported to the Switch in the state it is now. Port of a

I'd give it a higher score if I was willing to finish it. This game shouldn't have been ported to the Switch in the state it is now. Port of a 10 year old game from the PSP without any major game mechanic revisions and slapping a 50 dollar price tag on it. Couple that with the fact it runs sub 15fps in many fights and lack of basic QOL changes such as a backup autosave (my game crashed after not saving for a few hours and lost all that progress) makes this a dreadful port of an already dated game.

…

Expand