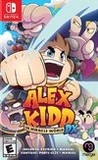 Summary:

Since his first appearance in 1986 with Alex Kidd in Miracle World, the iconic Alex Kidd makes his return to smash rocks, collect coins and tackle bosses once again in Alex Kidd in Miracle World DX!

Return The Kingdom of Radaxian to its former glory and destroy the evil Janken the Great!Since his first appearance in 1986 with Alex Kidd in Miracle World, the iconic Alex Kidd makes his return to smash rocks, collect coins and tackle bosses once again in Alex Kidd in Miracle World DX!

Return The Kingdom of Radaxian to its former glory and destroy the evil Janken the Great!

Comprising of all levels from the original title as well as brand new levels which expand the lore of Alex Kidd, experience Miracle World like you've never seen it before with new animations, graphical detail and gameplay improvements.

…

Expand
Developer:

Jankenteam

Genre(s):

Action

,

Platformer

,

2D

# of players:

No Online Multiplayer

Cheats:

On GameFAQs

Rating:

E
Remakes of true classics are usually cause for some concern, particularly a game that's almost 35 years old, but this is so much more than just an old game with a new skin. Alex Kidd in Miracle World DX balances perfectly the updates an old game needs whilst still staying true to what made the original such a landmark title. The quirks of the gameplay are all still there, controlling just like the original, although with little tweaks that make the experience even better. The new levels fit so well, it's pretty, and it sounds good to boot. If the developers could take on Alex Kidd in Shinobi World next that would be great, please and thank you.

This is a great remaster of the original Master System game, which updates the graphics but not the gameplay. This will be great for fans of the original, but not so much for those who expected a game that looks and feels new.

Alex Kidd in Miracle World DX is a great remake and a good 2D platform title that provides a lot of fun. A visually and soundly renewed classic game that will delight both veteran and new players.

Alex Kidd in Monster World DX is a faithful remake of the original, but the difficulty of a bygone era rears its ugly head far too often.

The remake excels at presenting the experience with a captivating art style and good soundtracks. However, it fails to learn from the platformers of today and sticks with the outdated design of the original game.

Alex Kidd in Miracle World DX from Merge Games and Jankenteam is a very niche product with very niche marketability. I imagine the game will be received well in territories where the Sega Master System held on to a longer life-span, such as Brazil and Europe. For the rest of the world though, there just isn't enough here to bring Alex Kidd into the modern age.

Alex Kidd in Miracle World DX made for some of the most irritating platforming I've experienced in some time. With its slippery controls, large enemy hitboxes, and weak player attack, it's miserable to play through the game's stages (unless you turn on infinite lives, which kind of makes the game feel pointless). Since its look doesn't improve the game, and the core game itself isn't much fun, I can't see anyone enjoying it besides the folks who grew up with it. And I can't even see them sticking around for long when there are so many better offerings in the genre these days.
An awesome remake! Pretty faithful to the original and graphically gorgeous. It includes new levels to expand it and still keeps the

An awesome remake! Pretty faithful to the original and graphically gorgeous. It includes new levels to expand it and still keeps the experience pretty challenging and hard. It's a new visual presentation to an old school experience.

…

Expand

This review contains spoilers

, click expand to view

. Just just, Brilliant!!!!!!

**** those people who say it's ****ing ****

I mean

The Game is Cute, Beautiful, New, RTX Like, Fun, Amazing, Improvemental Legend, Teachery and mostly Interesting.

…

Expand

This was my favorite game when I was a kid and being able to play with improved graphics and songs is priceless. Thanks to the devs... You did

This was my favorite game when I was a kid and being able to play with improved graphics and songs is priceless. Thanks to the devs... You did a great job here.

…

Expand

This "new Alex Kidd" tries return the magical era of the same game of master system but has his issues. Well, its a good remake with more

This "new Alex Kidd" tries return the magical era of the same game of master system but has his issues. Well, its a good remake with more stuff (more levels) to enjoy and a possibility to turn to version at 8 bits anytime. Its a great plataformer and such nostalgic too but simple game.

Wait for a promotion and be happy

…

Expand

A cute little game, but with problems regarding movement, framerate stutter and hitboxes it's one of the least enjoyable "oldie" remakes.

Miracle World DX is Merge Games' attempt to polish a turd.

Graphically it's a great remake that allows you to seamlessly switch on the flyMiracle World DX is Merge Games' attempt to polish a turd.

Graphically it's a great remake that allows you to seamlessly switch on the fly between remastered and classic visual modes. Some of the remade audio tracks are also brilliant and go far beyond the original's score.

Where the game falls apart is the gameplay. Miracle World DX is too faithful to the original's gameplay and is ball-bustingly difficult as a result. Alex dies if something so much as sneezes on him, platforming is floaty and imprecise as hell, Alex's punch has pathetically weak range, boss battles with Janken's henchmen are still determined totally by RNG, and the amount of lives Alex has is incredibly limited.

If you play this game I'd advise turning infinite lives on, not that game overs are really that punishing anyway - they just send you to the beginning of the stage you were on.

Classic Mode with all the bells, whistles & blemishes of the original should have been an extra mode.

Instead the emphasis should have been on improving Alex's controls, adding actual boss fights instead of rock, paper scissors matches, allowing Alex to take some punishment before keeling over and dying, and removing all of the BS grim reaper pick-ups.

…

Expand

The controls are very difficult. I think the game is like the old one with graphic improve not a new one like they say, because of this the

The controls are very difficult. I think the game is like the old one with graphic improve not a new one like they say, because of this the controls are so difficult and the gameplay is horrible. I wanted a new Alex kid for nowadays not like this one that is exactly the same the old ones but only the graphic improve. if I wanted the old ones I will buy the old one version ok ?
The game is not new is the same exactly the same ..... I not recommend this game if you want a new
version with better controls and gameplay .

…

Expand