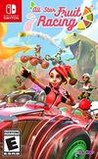 Summary:

All-Star Fruit Racing propels players into vibrant worlds filled with incredible action: drift through looping bends, soar over monumental jumps and defy gravity itself around tubular tracks in an explosively colorful racer bursting with championships, modes and awe-inspiring sights. Jump

All-Star Fruit Racing propels players into vibrant worlds filled with incredible action: drift through looping bends, soar over monumental jumps and defy gravity itself around tubular tracks in an explosively colorful racer bursting with championships, modes and awe-inspiring sights. Jump into a bumper career mode. Pick your favourite character and battle for the first place trophy in a series of testing championships. Balance speed and skill as you battle nine other racers in a frantically fruity scrap for the podium and the all-important winner's prizes, unlocking new characters, championships and kart parts along the way.

…

Expand
Developer:

3DClouds.it, 3DClouds

Genre(s):

Racing

,

Arcade

,

Automobile

# of players:

Up to 8

Cheats:

On GameFAQs

Rating:

E
Please enter your birth date to watch this video:
You are not allowed to view this material at this time.
All-Star Fruit Racing – Launch Trailer | Gamescom 2018
It has managed to surprise us in a very positive way: although it has its flaws, like an unpolished audio as well as a lack of online features, it possesses a ton of content to enjoy, the progression and unlocking systems are adequate, the are new elements introduced in the oversteer and attack systems, that with some exceptions, add some uniqueness to it, and, most of all, has its own identity regarding the visual elements.

All-Star Fruit Racing on Switch remains a good starting-point. Its kart racing is fun and easy to learn, thus confirming its "family-friendly" nature. By the way it retains flaws like a not memorable roster and some technical issues (such as shadows and loading times), and that's a pity that obscures a little its rediscovered nature of portable game.

All-Star Fruit Racing is a decent enough kart racer that offers a few interesting ideas of its own but unfortunately suffers in a few areas whether it's the awkward control scheme, confusing weapon system or even a general lack of online features. There's fun to be had from this fruit-inspired title, sure, but perhaps a little ripening could have helped sweeten this uneven racer.

All-Star Fruit Racing takes a unique karting weapon system, throws it into a blender with some cute presentation ideas and an unfortunate series of technical annoyances, and ends up with a pretty mixed bag as a result. This is a competent racer, and there's just about enough content to make you want to keep playing, but it never realises the potential that it could have had and doesn't really stand up to the heights that other titles can offer. It's just a little on the weak side to justify its asking price, so bear that in mind before jumping into a fruity purchase.

It doesn't fully capitalize on these factors, however, as the game's theme gets repetitive too quickly, the feeling of speed is absent and loading times are way too long, which coupled with a rather mediocre soundtrack, means that this All-Star Fruit Racing does not reach the same threshold as the biggest name in kart racing games.

In evaluating All-Stars Fruit Racing we have to underline a certain disappointment not so much for what the product is, but for what it could have been.

All-Star Fruit Racing is a colourful vibrant kart racer that brings new ideas to the track but doesn't execute them well enough to become a worthwhile option. Due to tech issues and dead multiplayer, you may find better enjoyment elsewhere.
Es un buen juego ,me parece interesante sus nuevas mecánicas de poderes aunque a veces se torne un poco fácil es divertido cuando juegas con amigos

Such a waste of money!

I bought on it because of trailer one month before the game has been released. I expected it will be something likeSuch a waste of money!

I bought on it because of trailer one month before the game has been released. I expected it will be something like Mario Kart or Beach Buggy Racing, but I only have got very raw game which definitely doesn't cost $40. I would not give for this game any dollar because it looks and behaves rather as demo than as full game based on its sound, graphics and gameplay.
Sounds: I barely can recall music and sounds which are worse than we have here and that "Let's go!" voice on the beginning of every race came right from 90s I guess!
Colors and fonts are so bad that I need to go closer to TV every time I want to read menu items.
Races: I thought such games where trees and bushes behave as walls have been left 10 years ago, but I was wrong! If you see a bunch of bushes on sides of a road don't think that you can just drive near them without a problem, it's definitely not a good idea, you will crash into the place you see space between bushes.
Another bad thing is AI. I had the situations when I was driving alone for few minutes and other drivers couldn't overtake me, and I couldn't overtake the first ones. It's very interesting to drive lap to lap without any action (really not).
And another really annoying thing is loading time, it's hard to believe but it takes about both Donkey Kong's and Mario Kart's loading times.

I wouldn't advice to buy this game to anyone.

…

Expand