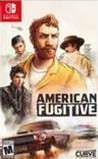 Summary:

American Fugitive is a modern take on classic sandbox action offering a new 3D top-down open-world single-player experience.

Welcome to Redrock County, a sleepy American town with a booming criminal underbelly. You take the role of Will Riley. No angel for sure - but not a killer. YetAmerican Fugitive is a modern take on classic sandbox action offering a new 3D top-down open-world single-player experience.

Welcome to Redrock County, a sleepy American town with a booming criminal underbelly.

You take the role of Will Riley. No angel for sure - but not a killer. Yet the cold-blooded murder of your dad is the crime they locked you up for. Fuelled by grief and a burning desire for vengeance, you'll bust out of jail intent on finding the real culprit.

Once outside, you'll need to blend with the townsfolk to avoid recapture. Establish contact with the criminal underworld and stay one step ahead of the police dragnet.

Set in the deep south of the 1980s, American Fugitive is a love-letter to the classic movies and games of old.

It's a race against time, and JUSTICE AIN'T ALWAYS LEGAL.

…

Expand
Developer:

Fallen Tree Games

Genre(s):

Action Adventure

,

Sandbox

,

Open-World

# of players:

No Online Multiplayer

Cheats:

On GameFAQs

Rating:

M
American Fugitive is a fun romp through a colourful, top-down GTA-inspired open-world crime-fest. While the game has some issues, such as repetitive missions, as well as stability problems on the Switch, it doesn't stop it from being an all-around fun and engaging title when you're actually playing. The freedom to explore a world of a decent size where there's actually a fair bit of content to go through, including side-elements like finding stashes, doing stunt-jumps and time trials. Is this the next GTA? No, nor was it going to be. Is it a fun, engaging and altogether decent title at a very reasonable price? Most definitely.

It's an entertaining romp, and doesn't have a tremendous amount of competition in its specific genre on the Switch, making it a definite recommendation for players who want to steal precious jewels in fast cars while evading the fuzz.

Playing on the Switch feels no different to playing on any other platform, with no console-specific features or controls. That said, it is the kind of small-scale, intimate affair that feels more at home on the handheld. Plus, you've the added benefit of putting it down mid car-chase to come back later.

American Fugitive hits most of the bullet points you look for in a functional open world game, but some glaring omissions, sparseness to the world, and a lack of developed characters keep it from being GTA in the boonies you might hope for. This far into the Switch life cycle, you can find better alternatives for your open world fix.

Overall it feels a little like death by a thousand cuts with American Fugitive, with one too many niggling little problems letting the whole thing down. There is still some fun to be had here, we can't emphasise enough how impressive Red Rock County itself looks and feels to knock about in, stealing clothes off washing lines and running around doing murder in a pink dress never gets old, the story has a handful of reasonable missions around its middle section, including a standout, multi-part bank heist and the music and ambient effects are perfect. It's just a shame then that those gameplay mechanics didn't have a little bit more time in the oven because there's only so many times your best laid plans can fall apart due to things beyond your control before you lose patience with the whole thing and jack it in for some GTA 2.

American Fugitive is plagued by poor controls, runs inconsistently and suffers frequent and annoying game crashes. Throw in awful loading times, and you've got some big issues. It could have been a GTA clone; it's just a shame that it's not fun.
Desperate fight to cleanse yourself from the father's murder verdict. It looks like the game was inspired by the Red Rock West movie with N.

Desperate fight to cleanse yourself from the father's murder verdict. It looks like the game was inspired by the Red Rock West movie with N. Cage. The game Red Rock County is quite similar to that one depicted in the movie - corrupted cops, including the sheriff, the train you can hop on and off to escape from cops chase, the great music changing according to the scene you are playing. In the beginning the game crashed a couple of times but it seems an update solved that so it's no more an issue.

…

Expand

American fugitive es un videojuego que recuerda a los GTA un poco más antiguos como a los de gameboy o al popular chinaton wars, con una vista

American fugitive es un videojuego que recuerda a los GTA un poco más antiguos como a los de gameboy o al popular chinaton wars, con una vista isométrica muy similar a la de estos títulos y una jugabilidad llena de acción, aunque con unos controles un tanto... imprecisos.

A nivel narrativo el videojuego no se innova y la historia es un tanto cliché, algo le sucede a tu padre, te ves involucrado en un malentendido y acabas en prision, te das a la fuga y de ahí el nombre del título, te vuelves en un fugitivo de la ley con todo lo que este involucra.

Este juego cuenta con una serie de acciones las cuales son muy interesantes como el cambiarse de ropa para perder a la policía, el comprar nuevos autos para perder a los policías, los rangos de búsqueda, las tiendas de empeño, entre otros.

el principal problema que le veo al juego es su jugabilidad la cual es un tanto imprecisa la cual no termina de calzar y se vuele un tanto difícil de realizar algunas funciones, como apuntar, ocupar algunas armas y realizar algunas acciones con los vehículos, la conducción de estos mismos se siente un poco extraña dando la idea que este aspecto no se terminó de diseñar, dando la impresión que todos los vehículos se sienten igual, sin peso y sin agarre.

American fugitive es una buena opción si estas buscando un juego que te recuerde a un GTA o similares y te pueda brindar horas de diversión, obviamente si eres capaz de acostumbrarte a los controles y la jugabilidad de este titulo.

…

Expand