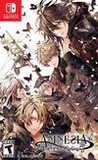 Summary:

A companion to Amnesia: Memories, Amnesia: Later x Crowd features a multitude of different story scenarios, as well as new mini-games. Deepen your relationship with the main characters and sub-characters of Amnesia: Memories and see what sparks.
Developer:

Otomate

Genre(s):

Miscellaneous

,

Compilation

# of players:

No Online Multiplayer

Cheats:

On GameFAQs

Rating:

T
If you're new to the world of Amnesia and just bought Amnesia: Memories on Switch or played it across its many ports and re-releases, this is an easy recommendation. It is more than worth the asking price and is one of the better otome releases from Idea Factory International. As far as fandiscs go, this took a while to release in the West, but the wait has been worth it.

Amnesia: Later x Crowd is simply an outstanding package for its price, offering a great selection of stories to enjoy, especially compared to its predecessor. I honestly didn't know what to expect from this double feature, but the titles complement each other so well, and I would definitely recommend it to any fans who want to spend more time with this endearing cast.

Amnesia: Memories achieved so well. But Amnesia: Crowd picks up the slack with ease, making the combination Later x Crowd a worthy follow-up for any fan of the original.

From a gameplay perspective, Amnesia Memories and Amnesia Later x Crowd have translated well to the new platform, with this being the first time Later x Crowd is available to fans outside Japan. Unfortunately, as a newcomer to the series, an incredible story about a girl's journey to recovering her memories and discovering the truth is grossly overshadowed by the love interest side of the story where she is often subjected to very poor and sometimes disturbing treatment.
This publication does not provide a score for their reviews.

This publication has not posted a final review score yet.

These unscored reviews do not factor into the Metascore calculation.
It's hard to fully rate these fan discs or compilations of post-game content because they're so dependent on how well the base game clicked with you, or if you weren't satisfied with the handling of a suitor and want to see them get their comeuppance. Later x Crowd is one of the better fandisc treatments on the Switch, however, with a good mix of modes and two games worth of fanservice. It's a definite recommendation after clearing the original.