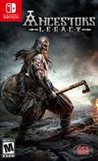 Summary:

Ancestors Legacy is a history-inspired real-time strategy game influenced by historical events in the Middle Ages. The game combines resource management and base building with large-scale, squad-based battles across vast battlefields, all rendered in great detail thanks to the Unreal Engine 4 tech.
Developer:

GS2 Games

Genre(s):

Strategy

,

Real-Time

,

Command

# of players:

No Online Multiplayer

Cheats:

On GameFAQs

Rating:

M
While Ancestors Legacy might not live up to every expectation, it still is a good real-time strategy game. With an interesting story, great battles, and diverse levels, gamers looking for a solid RTS on the Switch should undoubtedly check out Ancestors Legacy.

Ancestors Legacy is a title I'd love to see a follow up of on Switch. It places the groundwork for a legitimately great RTS implementation on consoles while lacking in a few key areas. The removal of multiplayer certainly hurts it's long term appeal but the variety of single player options help to make up for it. The controls are excellently adapted to a controller, and bring up relatively few issues in terms of unit control. I do wish the core design allowed for more diversity in terms of unit production and strategy, but that hasn't kept me from having some great matches. While some of these issues are inherent to the game while others are exclusive to the Switch version, none of them kept me from enjoying my time with it. Ancestors Legacy isn't perfect, but it just might be the best RTS experience on Switch.

The combat is good, the strategy is a lot of fun, and the only real thing that lets this version of Ancestors Legacy down is the lack of multiplayer. So, it's perfect for those who've no interest in playing with others, but may miss the mark if you were hoping for a more inclusive experience.

It's an impressive title in many ways, but certainly doesn't feel entirely comfortable on the Switch – it's certainly a game for fans of the genre and nobody else.

I wish I could recommend Ancestors Legacy to Switch players. I wish I could say I had an amazing time and couldn't put it down. Unfortunately, I mostly just wish I had played it on PC. As my brother told me, "not every game belongs on the Switch." I suppose he was right.
of missions for Slavs, Germans, Vikings and Anglo-Saxons, and amazing music I haven't played such a good strategy on the nintendo console for

of missions for Slavs, Germans, Vikings and Anglo-Saxons, and amazing music I haven't played such a good strategy on the nintendo console for a long time. but have a few bugs. it's hard to control on TV, and sometimes fps crash mainly during big battles and compared to pc and big consoles it looks bad but I still recommend it

…

Expand

A Multiplayer Game without Multiplayer ☹️
Love the Game on PS4
Hate the Game on Switch