Publisher:

Nintendo

Release Date:

Mar 20, 2020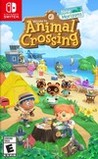 Summary:

If the hustle and bustle of modern life's got you down, Tom Nook has a new business venture up his sleeve that he knows you'll adore: the Nook Inc. Deserted Island Getaway Package. Sure, you've crossed paths with colorful characters near and far. Had a grand time as one of the city folk.

If the hustle and bustle of modern life's got you down, Tom Nook has a new business venture up his sleeve that he knows you'll adore: the Nook Inc. Deserted Island Getaway Package. Sure, you've crossed paths with colorful characters near and far. Had a grand time as one of the city folk. May've even turned over a new leaf and dedicated yourself to public service. But deep down, isn't there a part of you that longs for…freedom? Then perhaps a long walk on the beach of a deserted island, where a rich wealth of untouched nature awaits, is just what the doctor ordered. Peaceful creativity and charm await as you roll up your sleeves and make your new life whatever you want it to be. Collect resources and craft everything from creature comforts to handy tools. Embrace your green thumb as you interact with flowers and trees in new ways. Set up a homestead where the rules of what goes indoors and out no longer apply. Make friends with new arrivals, enjoy the seasons, pole-vault across rivers as you explore, and more.

…

Expand
Developer:

Nintendo

Genre(s):

Simulation

,

Virtual

,

Virtual Life

# of players:

Up to 8

Cheats:

On GameFAQs

Rating:

E
Please enter your birth date to watch this video:
You are not allowed to view this material at this time.
11 Things You Should Do Every Day In Animal Crossing: New Horizons
The latest Animal Crossing is also the best, full of life, charm, and near-endless ways to make your very own island paradise.

Animal Crossing: New Horizons is the best game I've played this year, and immediately cements itself as one of the generation's defining experiences. Fans will be playing it for years, watching as the seasons roll by and unveil the true potential of what has been created here.

New Horizons is the crown jewel in the beloved Animal Crossing franchise: Nintendo managed to surpass every expectation by refining the gameplay with a plethora of features which improve visuals, quality of life and customization.

Animal Crossing: New Horizons is the perfect island escape, drawing you in to play day after day. All of the charms of the series' previous games are here, but with gorgeous new graphics, DIY crafting and the eventual ability to remodel your island, you can really create the island settlement of your dreams.

If Animal Crossing was always a very simple concept with very complex features, New Horizons is a toy hammer with the capacity to forge a universe, powered by each player's imagination. It's must-have game in the library of every Nintendo Switch user that perfectly exemplifies Nintendo's idiosyncrasy. Similar to a bonsai, It offers something that can be cared for and appreciated every single day.

Animal Crossing New Horizons is simply adorable! Its world full of colors, its cute look and its multitude of possibilities make it an absolutely awesome and extremely generous game. The crafting allows a very satisfying experience, you can do just about anything on your island and transform it radically at your leisure. This exotic adventure is a real piece of paradise and the feeling of freedom is total.

By consolidating so much power in your hands, the game threatens to upend the Animal Crossing vision of community living.
This is the best game in the Animal Crossing series. I would actually give it a 9/10, because it isn't perfect, but I need to balance out all

This is the best game in the Animal Crossing series. I would actually give it a 9/10, because it isn't perfect, but I need to balance out all these negative reviews.

…

Expand

Really chill game that lets you do whatever feels like it could relieve your stress. With a wonderful atmosphere and adorable aesthetics you

Really chill game that lets you do whatever feels like it could relieve your stress. With a wonderful atmosphere and adorable aesthetics you can enjoy your own life on a deserted island. This was the first animal crossing game I bought and I honestly did not see the appeal before. After playing I can finally say that seeing your island life progress with new animal friends and your own creativity shine to show for others or simply for yourself is a fun thing. I have not even started to play with friends yet but I can imagine that will make the game even more enjoyable.

…

Expand

The basic concept is fun and addictive.

HOWEVER, the co-op and multiplayer is ATROCIOUS! 1. We bought the game mainly so my wife, son,The basic concept is fun and addictive.

HOWEVER, the co-op and multiplayer is ATROCIOUS!

1. We bought the game mainly so my wife, son, and I could play co-op. We were so excited to travel together and explore other people's Islands. TOO BAD. For some nonsensical reason, that is not allowed. Couch co-op is ONLY allowed on your island. And on top of that, the options for players 2, 3 & 4 are drastically limited. So much missed potential with this feature.

2. Only the first character to be created (the Island Representative) can travel to other islands online. I made my character 2nd, and I cannot travel online. It tells me I need to buy an additional Nintendo Online subscription. That means that if I am playing my character, I am pretty much stuck on our island. Why would Nintendo do this? Why should I need two online subscriptions for one game, on one Switch? I can't think of any logical reason to do this. Seems like blatant greed, to me.

Games released a decade ago have had more robust multiplayer than this. I just don't understand how, in the year 2020, a company as experienced as Nintendo can do such a poor job on such an important feature.

I see that I am not the only one complaining about these features. I hope Nintendo listens to its fans, and fixes them in the near future.

…

Expand

I wanted to love this game, but its not a game made for family , its made for people who lives alone who share no social contacts, the fact

I wanted to love this game, but its not a game made for family , its made for people who lives alone who share no social contacts, the fact that only one instance of the game play can exist in a console is just overwhelmingly stupid and arguably the most arrogant and greedy thing ever since nintendo history. the only option to have 2 people play the game is to either buy a new console for the other and a new copy of the game, or delete the first player's account.
i wish i could return this, people should be outrage because of this... i simply can not believe the score of reviews, anyone giving this more then 5 is biased, because it's half a game.

…

Expand

i wanted to play with my daughter and go to visit islands of each other but nintendo is too greedy. Shame nintendo!

Bought as an escape from the quarantine blues and being stuck inside.

Saw my son placing his tent on my island. Googled to find out there'sBought as an escape from the quarantine blues and being stuck inside.

Saw my son placing his tent on my island. Googled to find out there's only one island per console.

So this is a game about living with people in a small space with limited resources due to that restriction. Because I haven't lived that enough for the last two months.

What an absolute letdown. Deleted my save so my son could enjoy and I'll just enjoy the day to day drudgery of quarantine.

Thanks for nothing, Nintendo.

…

Expand