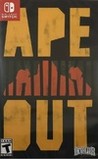 Summary:

Ape Out is a wildly intense and colorfully stylized smash 'em up about primal escape, rhythmic violence, and frenetic jazz.
Developer:

Gabe Cuzzillo

Genre(s):

Action

,

Shooter

,

Shoot-'Em-Up

,

Top-Down

# of players:

No Online Multiplayer

Cheats:

On GameFAQs

Rating:

T
Please enter your birth date to watch this video:
You are not allowed to view this material at this time.
Ape Out Gameplay - 7 Minutes Of Mayhem & Destruction
Honestly, I adore Ape Out. Visually it seems very uncomplicated, but step into the shoes of this gorilla and you will find that its simplicity belies a very considered approach to game design.

An addictive riot of a video game, and an essential purchase.

Ape Out is the embodiment of video game perfection. A clear artistic direction perfectly marries and compliments a simple, yet challenging, gameplay hook that keeps you coming back time after time. Additional challenging modes provide further replayability, and any excuse to keep playing is a good one in my books.

Ape Out grabs you by the bananas and doesn't let go. A glorious combination of cathartic action, addictive gameplay and a rousing jazz backing.

Not only is Ape Out primed to be one of the most stylish games of the year, but it's a strong argument for how far style can elevate material.

Ape Out has some underwhelming shortcomings that keep it from true masterpiece status. Thankfully the good far outweighs the bad. The boring level design can be ignored in the face of the pulse pounding soundtrack.

Ape Out is a game that draws you in with its strong aesthetic style and flair, but it feels short on ideas. When you're barrelling through a room, knocking multiple enemies into walls and watching them explode into puddles of blood, it can be quite exciting. But the game never really rises above being a mild thrill, and a lack the variety means that it's too repetitive to truly make a strong impact. Ape Out isn't as creative with its level designs and challenges as it is with its soundtrack and art, but as it stands it's a pleasant, jazzy way to spend a few hours.
Great game. Intriguing artistic style. Simple yet exciting gameplay. Levels become increasingly challenging but you can always overcome them.

Oh my, it's a masterpiece.

The perfect blend of jazz drumming by Matt Boch in a form adaptive soundtrack, jazz album covers in theOh my, it's a masterpiece.

The perfect blend of jazz drumming by Matt Boch in a form adaptive soundtrack, jazz album covers in the tradition of Reid Miles's covers for Blue Note label, and 'inverted' stealth gameplay.

Each minute of this game was pure fun.

…

Expand

This game is a fast paced, jazzy, people smashing good time! If you're looking for a game under $25 that gives you nothing but pure fun with

This game is a fast paced, jazzy, people smashing good time! If you're looking for a game under $25 that gives you nothing but pure fun with an artistic jazz filled direction then this is the game. Story is not the selling point of this game, it is arcade, action packed nonsense where you control an ape, literally trying to get out. How you do it is a simple mix of Hotline Miami and old classic Rampage that takes nothing but 2 buttons and a joystick to complete. Starts out simple and fun and slowly ramps up to exhilarating and difficult. If you want handheld, goofy and quick action to kill some time in your days this game is a must buy and will keep you with a smile glued to your face for hours!

…

Expand

Donkey Kong steht über allem, dann kommt diese Flucht. Ape Out ist kurzweilig schön, Affen die kritisieren haben keine Ahnung.

A fun game, I really liked it. The music and the art style is great. The way the gameplay interacts with the music is really entertaining. The

A fun game, I really liked it. The music and the art style is great. The way the gameplay interacts with the music is really entertaining. The gameplay is not complicated, the scale of actions available to the player is quite simple: run, grab, throw, smash. But this is not a downside, I think it helps that the gameplay dynamics are simple, because that plays well with the up-tempo energy of the free jazz style, and the colorful, simple, top-down art style. The only complaint I would have is that the number of enemies assigned to each level are randomly generated, meaning player success is somewhat bound to luck, and also that some chapters can be frustrating. These are not major gripes and I would recomment this game regardless.

…

Expand

It was fun but there's not much to it in my opinion. Good for a few hours of fun but i don't have any reason to come back and the main draw of

It was fun but there's not much to it in my opinion. Good for a few hours of fun but i don't have any reason to come back and the main draw of the game are the artsy visuals and music that responds to the situation. These are novel ideas and make for a fun few hours.

…

Expand

10 out of 10 style
2 out of 10 gameplay: overly simplistic; more reliant on luck than skill; randomized levels don't work for this game often10 out of 10 style
2 out of 10 gameplay: overly simplistic; more reliant on luck than skill; randomized levels don't work for this game often ending in unfair, cheap deaths
Really wanted to like this game but it was just a huge disappointment. Huge difficulty spikes at the end. I'm the type of guy who will finish almost any game or movie no matter how bad it is. I stopped playing on the 5th level, break out. Honestly don't think most reviewers made it that far.

…

Expand