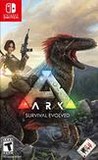 Summary:

As a man or woman stranded naked, freezing and starving on the shores of a mysterious island called ARK, you must hunt, harvest resources, craft items, grow crops, research technologies and build shelters to withstand the harsh elements. Use your cunning and resources to kill or tame & breed

As a man or woman stranded naked, freezing and starving on the shores of a mysterious island called ARK, you must hunt, harvest resources, craft items, grow crops, research technologies and build shelters to withstand the harsh elements. Use your cunning and resources to kill or tame & breed the leviathan dinosaurs and other primeval creatures roaming the land, and team up with or prey on hundreds of other players to survive, dominateand escape!

FEATURES:

* Use cunning strategy and tactics to tame, train, ride and breed the 100+ dinosaurs and other primeval creatures roaming the dynamic, persistent ecosystems across land, sea, air, and even underground.

* Build your character's strengths and gain items, skills, and pet creatures using in-depth role-playing systems.

* Start a tribe with hundreds of other players to survive and dominate competing tribes...and ultimately discover ARK's true purpose.

* Build a fire or shelter, then craft customizable clothing & armors to help protect against damage and extreme temperatures on your way to unlocking advanced technologies and equipment.

* Chop down trees and mine metal and other precious resources to build massive multi-leveled structures composed of complex snap-linked parts.

…

Expand
Developer:

Studio Wildcard

Genre(s):

Action Adventure

,

Survival

,

Sandbox

# of players:

Online Multiplayer

Cheats:

On GameFAQs

Available On:

Stadia

Rating:

T
Please enter your birth date to watch this video:
You are not allowed to view this material at this time.
ARK: Extinction - Official Announcement Trailer
Ark: Survival Evolved is a valid title, ambitious and full of content: but the conversion for Nintendo Switch has too many optimization problems.

Even as an Ark aficionado, it's difficult not to slump in disappointment as you play the Switch rendition of what can be a fantastic title. The touch screen may allow for better control functionality as far as the other consoles go, but it doesn't make up for the ugly visuals and general instability. Ark: Survival Evolved is and will remain one of those titles that shines brightest on PC and only there can it gain the appreciation it truly deserves.

ARK: Survival Evolved is hard to recommend on two fronts. The Switch Version is an ugly technical mess, and if it does run well the game happens to be unwelcoming and an unfun grind to obtain the actual draw cards to the game. As a big Dinosaur fan, both issues disappoint me so much. True it would be awesome to ride Dinosaurs around and taming them, but not on this console. If this warning isn't enough at the very least check out the mobile version (which looks better and has a better interface) and see if the game is for you. At the end of the day, ARK is playable, parts of it are even fun, but all the game and technical issues drag this behemoth-sized game back down into the tar pits.

ARK: Survival Evolved is an experience that has the right idea and concept to do well. Unfortunately this gets throw away by a very poor visual execution, which botches the game's quality and renders it nearly unplayable. It's a pity, as there are several ideas in this game which could flourish in a different environment.

Is a Switch game that can realistically only be played in docked mode actually playable? The entire point of this system is to be able to take your games with you, but ARK can't really offer that. It draws into question the sanctity of the Nintendo seal of quality. The fact that it is not only available to the public, but costs money is an insult. Don't buy ARK on Switch.

Set in a Utopian island inhabited by dinosaurs, ARK: Survival Evolved engages the player on a survival gameplay loop that could have been as engaging as it is punitive – if it wasn't plagued by so many technical issues.

Even if this were the most balanced game ever, even if it made picking it up and playing a breeze — ARK: Survival Evolved would still be a strong contender for the worst game on the Switch. It looks like garbage and it plays even worse, and no matter how great the intentions behind it or what crazy ambition it shows, there's no reason why anyone should willingly seek it out and play it.
Its a good game on a bad system for this kind of game. Still fun . Graphics might be bad, but its the same game as the other versions.

Despite crashing once when I tried to start the Dragon Boss, the lone fact ARK can run on such faulty hardware is a miracle.

The game is ugly, but far from "unplayable." I have played 70+ hours between single player and online in both handheld and docked mode. Runs

The game is ugly, but far from "unplayable." I have played 70+ hours between single player and online in both handheld and docked mode. Runs about as smoothly as the XB1 and PS4 ports, but with the necessary visual downgrades. The draw distance is low, textures are blurry, and lighting/shadows are pretty bad. It is pretty jarring at first, but I got used to it pretty quickly. The map takes about 3 minutes to load and it sometimes takes a few tries to log-on to the server. Aside from some minor gripes, there is a great time to be had here. Ark is an incredibly-deep open-world crafting survival adventure game with a virtually-endless amount of content and more DLC to come. If you've been waiting for a proper survival game to come to the Switch, don't let the bad reviews dissuade you. You'll likely have a smoother experience on other platforms, but the portability is worth the graphical compromises.

…

Expand

**** garbage company, thieves, scam, if people at wildcard are designers I'm an astronaut! Guys don't buy this game, any dlc or anything. You

**** garbage company, thieves, scam, if people at wildcard are designers I'm an astronaut! Guys don't buy this game, any dlc or anything. You will have a better time flushing your money down the toilet. It's a smoking pile of bugs, disappearing items and dinos, framerate drops, lag, disconnections and any kind of issues. I've been playing it for months but I'm friggin done! I'm done swallowing their poor design and constant problems. And the customarecare is useless! DON'T BUY THIS GAME OR ANYTHING FROM WILDCARD

…

Expand

A truly terrible game. The graphics are terribly adapted for the switch, and the game fails to have a good story or gameplay. You will be

A truly terrible game. The graphics are terribly adapted for the switch, and the game fails to have a good story or gameplay. You will be wandering around bored out of your mind in this game. There really is not much more to say other than do NOT buy this game.

…

Expand

Que puedo decir de semejante porquería... caídas de fps y popping brutales . El juego en si es una verdadera desgracia, es injugable y se

Que puedo decir de semejante porquería... caídas de fps y popping brutales . El juego en si es una verdadera desgracia, es injugable y se recomienda jugarlo en cualquier otro sistema.

…

Expand

Optimization, Optimization, Optimization, Optimization, Optimization, Optimization, Optimization, Optimization, Optimization, Optimization,

Optimization, Optimization, Optimization, Optimization, Optimization, Optimization, Optimization, Optimization, Optimization, Optimization, Optimization, Optimization, Optimization, Optimization, Optimization, Optimization, Optimization, Optimization, Optimization, ?.....?...?...?..?...........? Optimization, Optimization, Optimization, Optimization, Optimization, Optimization, Optimization, Optimization, WTF?? WTF?? hello?? Bad bad bad company....... Optimization, Optimization, Optimization, Optimization, ........LoL??

…

Expand