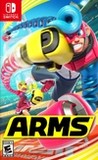 Summary:

The first fighting game of its kind. Choose a fighting champion from around the world, equip your own combination of extendable arms, and then use a mix of button presses and quick hand motions to really take the fight to your opponent. Throw punches and guide them midflight to hit agile

The first fighting game of its kind. Choose a fighting champion from around the world, equip your own combination of extendable arms, and then use a mix of button presses and quick hand motions to really take the fight to your opponent. Throw punches and guide them midflight to hit agile fighters, avoid incoming attacks with dashes, or trampoline high into the air to rain down fists from above. Power-up your punches to deal extra damage or curve your fists around obstacles to hit skittish opponents. Fill up your special gauge to dish out devastating combinations and finish them off. Unleash your inner fighter in this unbelievable sporting event. Fight via simple motion and button controls Grab onto your Joy-Con with a unique "thumbs-up" grip and use simple motions and button presses to outthink your opponent. Toss and curve punches when you find an opening, and dodge a flurry of incoming attacks. It's fast-paced fun for everyone!
* Select from a variety of fighters Select from brand-new fighting superstars like Ribbon Girl, Master Mummy, and more! Each fighter has their own special attributes to learn and master.
* Fight in arenas with unique obstacles Throw punches around (or through) mysterious liquid-filled columns in a spooky laboratory, or in certain arenas, toss fighters onto trampolines for epic aerial skirmishes.
* Choose your arms carefully Each weapon has its own strength. Some are slow and do tons of damage, while others are fast as lighting, but will only serve to set up larger combinations. It's up to you to mix and match your arms to fit your play style.

…

Expand
Developer:

Nintendo

Genre(s):

Action

,

Sports

,

Fighting

,

Individual

,

3D

,

Combat

,

Boxing / Martial Arts

# of players:

Up to 4

Cheats:

On GameFAQs

Rating:

E10+
Please enter your birth date to watch this video:
You are not allowed to view this material at this time.
Arms - Character Introduction Trailer
It's difficult to describe just how good ARMS is. The best analogy I can come up with is that it is to fighting games what Splatoon is to third-person shooters. ARMS is a bright, colorful, and welcoming game. Newcomers can easily hop in and enjoy most of the matches and modes available. Meanwhile, the more dedicated will find themselves developing complex strategies based on characters and ARMS loadouts and captivated by the opportunities to challenge others online.

Behind its wacky (and absolutely adorable) cartoony appearance, with its peculiar colorful appeal, its delightful cast of characters and its rubbery animations that somehow remind you of Splatoon, ARMS has the heart - and the brain - of a pure-bread fighting game. Deep, engaging, fascinating, fast and far from trivial, this beat'em up shows however one huge merit above its many undeniable virtues: it's a new, completely unique take on the genre, one that will be enjoyable for both fans and newcomers. Another hit for the Big N, scored with a surprising boomerang-punch.

Arms is a zany fighter that delivers excitement and fun at every turn. While I wish there was more to do, what is included in the package is worthwhile. If you're looking for a fresh and exciting experience to play on your Switch, Arms is worth a look.

Arms is a surprisingly balanced fighting game that mainly shines in it's (online) multiplayer thanks to the huge variety in characters and boxing gear. Unfortunately, the single-player campaign offers few options.

ARMS offers a very colorful and well animated fighting adventure with more strategy and depth then it might first appear. The initial offering feels just a little bit thin though in that despite the customization options in-game, you cannot customize or remap the controls and the single player modes are kind of thin — challenging, but not particularly captivating or appealing especially when the going gets tough. Online play is, like any other game, largely based on what you make of it and how the community does. Technically, my limited experience with it worked well, but time will tell if this game will have the legs to continue into something larger and sustained. For a new IP though, Nintendo has done another impressive job overall, but I would not consider this a must-have title for all Switch owners.

Overall, ARMS is delightfully quirky, surprisingly deep and, most importantly, strikingly self-confident. Whilst its vibrant and over-the-top aesthetic might have some expecting a shallow and simplistic experience, persevering with and embracing the game's sharp initial learning curve reveals a strong-willed and very detailed gameplay core. Nintendo made the right choice in highlighting the motion controls, which is by far the best way to play.

Stretching your limbs across the battlefield to stop an impending throw is good fun, but there's absolute anarchy when you throw in an extra body. The mediocre mini-games, and antiquated single-player further block the punch of Arms.
Arms is crazy good fun, and full of depth. I feel like most critics just didn't "get it", or werent very good. Motion controls are the best

Arms is crazy good fun, and full of depth. I feel like most critics just didn't "get it", or werent very good. Motion controls are the best ive ever used in a game, they are spot on responsive. You can play with a pro controller, but honestly youre cheating yourself a lot on the fun factor if not using the motion controls. Right now theres not a lot of characters, but the ones there are varied and play extremely unique to each other, and more will come in the future as free dlc, starting next month.
Honestly, this is the most fun ive ever had with a fighting game, and will be the first one i actually take to online in ranked matches.
Give this game the chance it deserves. I find it to best the best new ip from Nintendo in years. It is worth buying a Switch just to play this game.

…

Expand

This is an amazing game. It looks great, the motion controls are awesome and it's a lot of fun to play. I never though I would enjoy boxing so

This is an amazing game. It looks great, the motion controls are awesome and it's a lot of fun to play. I never though I would enjoy boxing so much. Now I don't know if I will have time for Splatoon or Zelda anymore. It's soooo great!

…

Expand

I didn't think I'd like this game as much as I do. It's not the most technical or most varied game, but the more close victories (or defeats)

I didn't think I'd like this game as much as I do. It's not the most technical or most varied game, but the more close victories (or defeats) I have as I play, the more fun I feel I'm having. Flailing about (or button mashing) definitely isn't going to win the game like Wii Sports boxing. I wish the game was $40-50, but if they do add some more content for "free", then I guess it all works out. At $60 I'd rate it about a 7.5/8... but price aside, I like what Nintendo came up with... although I'd like an uppercut function when in close proximity. I bet that would look supa cool.

It's also worth mentioning I've only played about four single player grand prix so I'm not really reviewing the online community (I'm sure there will be a number of people who ONLY care about online stuff). The AI makes for a fun time, and I've still only played the lower levels of difficulty so far (1-3). Don't be put off if reviews make this game seem like an online only sort of game.

…

Expand

The game lacked content at launch but the game gained a lot of great free dlc and is an absolite joy, I really do hope far a sequel.

ARMS is a game that, despite looking simple, can become surprisingly profound as it is played. With polished technical and artistic

ARMS is a game that, despite looking simple, can become surprisingly profound as it is played. With polished technical and artistic characteristics and an amazingly responsive motion controls mode, it deserves to be played by everyone.

…

Expand

ARMS is very fun at first. Stretching your arms to defeat your opponent is great, but the complete lack of usage of the rest of the body is

ARMS is very fun at first. Stretching your arms to defeat your opponent is great, but the complete lack of usage of the rest of the body is disappointing. The game also died out pretty quickly because of there not being enough singleplayer content and online games getting repetitive and dull.

…

Expand

Worst game I've ever played in the last year. I wouldn't pay 10 dollars for it and this game's existence is proof that stores should allow

Worst game I've ever played in the last year. I wouldn't pay 10 dollars for it and this game's existence is proof that stores should allow returns. Annoying music, poor controls. Notice the sob stories in the 8 9 10 score ratings where people say give it a chance, i don't understand why people don't like it. Read between the lines and avoid this "game".

…

Expand