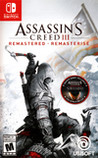 Summary:

Relive the American Revolution or experience it for the first time in Assassin's Creed® III Remastered, with enhanced graphics and improved gameplay mechanics. Plus, Assassin's Creed Liberation Remastered and all solo DLC content are included.
Developer:

Ubisoft

Genre(s):

Action Adventure

,

Open-World

# of players:

No Online Multiplayer

Cheats:

On GameFAQs

Available On:

Stadia

Rating:

M
Please enter your birth date to watch this video:
You are not allowed to view this material at this time.
Assassin's Creed III Remastered - Nintendo Switch Official Announcement Trailer
Assassin's Creed III Remastered on the Nintendo Switch is impressive. It's refined stealth tools and tactics mixed with additional gameplay design upgrades makes this a must-have for any AC fan dying to play something on the Switch that is guaranteed to occupy them for a long period of time.

Assassin's Creed 3 is playfully still a good action adventure game that I can recommend to anyone who has not played it yet. Some gameplay elements and features may not be up-to-date anymore, but you'll get a satisfying and comprehensive package by today's standards.

If you are looking for a stealth game of any sort, or are considering getting into Assassin's Creed, this game is a must buy. Despite the few issues like unnoticeable graphical improvements and a slow beginning, Assassin's Creed III Remastered features solid gameplay and a story underneath its surface that more than quantifies the investment. The sheer amount of things to do will lead to you investing hundreds of hours into this game.

Assassin's Creed III Remastered on the Nintendo Switch is an adaptation that's not without its problems, especially when it comes to hit detection, framerate and unsolved bugs and technical issues. Despite all that, the combat and gameplay are enjoyable and competent and the game's shortcomings act more like nuisances to an experience that needs some polishing.

Assassin's Creed 3 Remastered is a tricky one. The term 'remastered' feels a little disingenuous compared to the other consoles. Yet at the same time, the game at least in handheld runs as well as it did on last gen consoles. If you want to play Assassin's Creed how it used to be on a handheld, you can't go wrong with AC3, as long as you can accept it as it was a generation ago. If you didn't like AC3 the first time then this time around likely won't change your mind. If you haven't played the earlier entries in the series, this would be the weirdest place to start.

Both Assassin's Creed III and Liberation are titles worth investing time into. They contain tons of content that's fun, and the time setting makes for some interesting scenarios, but the technical issues for this Switch port aren't worth the trade off for being able to play on the go. These issues aren't bad enough that the Remastered editions on the Switch are an unplayable mess, but it's still a mess regardless.

If you absolutely feel the need to relive Desmond's disappointing conclusion, do so on other platforms. At least the letdown looks a bit nicer there.
Dont know why so much negativity this looks great especially in handheld mode. These reviews are plain harsh and then we complain when they

Dont know why so much negativity this looks great especially in handheld mode. These reviews are plain harsh and then we complain when they stop porting games. We sit here and give these nintendo side scroller 1987 graphic games a 9/10 I'm confused. This game has its problems like any other but does not deserve this low of a rating. Stop bashing great games before they discontinue and stop pushing out physical copies. Saints row was just as gorgeous and not to mention the content you get with AC3. Better than super mario odyssey in my opinion

…

Expand

As of the latest patch, this runs perfectly well and looks very nice, especially in handheld mode. I'm having a great time revisiting this

As of the latest patch, this runs perfectly well and looks very nice, especially in handheld mode. I'm having a great time revisiting this game. Looks comparable to the original with some slight improvements. Amazing to play this huge game on a portable system. If you like the game and want a portable version, I can strongly recommend.

…

Expand

You guys and your overblown expectations are without question is what will kill this system. This is an amazing port of a great game ON A

You guys and your overblown expectations are without question is what will kill this system. This is an amazing port of a great game ON A HANDHELD!! I have had this game on almost every system, and no it doesn't look best here but it looks great and plays well plus having it on the go makes this without question my favorite way to enjoy this fantastic title. Imagine how disheartened I was to come online and see all the poor reviews (much like every other switch port recently). Do you guys really expect it to keep up with the big consoles? You are basically screaming to developers, "don't even try open world games on the switch". As a developer myself, it's obvious love went into this port, and to be received this way, I can tell you, I would NEVER publish a triple A port on this platform as the user base is never satisfied. Better off sticking to 2D platformers and casual games.

All that said, this is a great port (not without issues), and for something this engaging on the go, you won't find better anywhere else. I suggest you enjoy it too because publishers are about done throwing games this vast at the system because they always go entirely un appreciated.

…

Expand

Assassin's Creed 3 is still a solid game in the franchise and this remaster should've been better than the original but fails in certain areas

Assassin's Creed 3 is still a solid game in the franchise and this remaster should've been better than the original but fails in certain areas like sound mixing when you enter areas of the map or loading in the main game. The game also has many new bugs that I did not encounter in the original, while it has those things against it the game still looks good for a PS3 and Xbox 360 "Remaster". Overall a good game that is weighed down by a few bugs that shouldn't hinder your experience.

…

Expand

The game mostly runs rather smooth, but the experience is pulled down by a huge number of glitches that in part even affect the gameplay

The game mostly runs rather smooth, but the experience is pulled down by a huge number of glitches that in part even affect the gameplay negatively. In addition to that the interactions don't connect very well, especially when the hair of a character hang into his neck in a cutscene, which looks weird. The AI is as stupid as possible. If you during a fight just stop moving it is possible that all the enemies just stand around and look at you. At least the platforming is mostly fine but not demanding at all for being such a big part of the game. Better play a Mario game for that. You won't encounter most of the glitches that I encountered if you just stick to playing the story and ignore this rather big open world. Most of the things you can do there are just boring and don't pay of at all and the story and world don't connect at all. If you came for a game that makes this better play Breath of the Wild where climbing is far better or The Witcher 3 and if you came for the pretty good story you're better of playing the original, because that version runs better and looks better. This "remastered" version is a downgrade in performance shouldn't have been made. It's not bad but mediocre. That's why it 5/10 from me. You're better of not buying this.

…

Expand

Не исправили то что было НЕОБХОДИМО исправить(боевку, диалоги, второстепенные миссии/задания и в особенности сюжет!) Испортили то что

Не исправили то что было НЕОБХОДИМО исправить(боевку, диалоги, второстепенные миссии/задания и в особенности сюжет!) Испортили то что работало.

…

Expand