Publisher:

Nintendo

Release Date:

Aug 30, 2019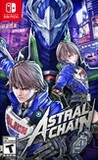 Summary:

As part of a police special task force, it's up to you to fight against mysterious, alien-like creatures who have invaded the world. In the Ark, a multi-cultural city in the near future, disaster strikes when gates to another dimension suddenly appear! Dangerous creatures begin to emerge,

As part of a police special task force, it's up to you to fight against mysterious, alien-like creatures who have invaded the world. In the Ark, a multi-cultural city in the near future, disaster strikes when gates to another dimension suddenly appear! Dangerous creatures begin to emerge, attacking the people and polluting the land, and normal police forces are unable to compete with them. To stand up against these threats, a brand new, special police unit known as Neuron is formed. Choose between two playable characters – one male, one female – on your adventure. The character you don't choose also appears as your younger twin, and a fellow member of Neuron. In order to resist the creatures, humanity developed a special weapon: the Legion. The Legion acts as your partner, and helps with your investigations. However, it's in battle where the Legion shows its real ability...

…

Expand
Developer:

PlatinumGames

Genre(s):

Action Adventure

,

General

# of players:

No Online Multiplayer

Cheats:

On GameFAQs

Rating:

T
Please enter your birth date to watch this video:
You are not allowed to view this material at this time.
Astral Chain - S+ Rank Combat Gameplay
Astral Chain's brilliant combat system is married with calm investigative activities, interesting platforming and clever puzzles. The world is fascinating, the soundtrack is amazing, the story is captivating. This is one of the very best games by PlatinumGames - and of the year.

Astral Chain is one of the best experiences of the genre on Nintendo Switch. PlatinumGames has managed to revitalize the gameplay and take its complexity and sensations further than it has ever done before. The combination of character and legion implies having to take into account double the elements while fighting, which at the same time allows for better combos and a comforting sensation whilst carrying out whatever movements we want to.

In the first few hours, I was all over the place when it came to an assessment, as it can take some time to really turn it up.

Astral Chain is a unique and beautiful game that excels at what it's trying to do. It's one of the best games of the year so far, and it makes me excited to see what the studio will come up with next.

PlatinumGames is back. Astral Chain offers extraordinary graphics and easy-to-learn controls, as well as an interesting story from the first second. A game that cannot be missing from any Nintendo Switch collection.

As it is now, Astral Chain is a great action game with a few blemishes. It might not be perfect, but it should be a high priority for any Switch owners, and fans of the action genre as a whole.

It's tough not to consider Astral Chain something of a small disappointment, especially when you know Platinum Games' talent for beat 'em ups. We not only highly commend the fight mechanics in this latest title from Takahashi Taura, but also its universe — original and supported by a high-class artistic direction. However, the overall game is pulled down somewhat by a structure of missions that doesn't match the studio's desire to mix the beat 'em up and investigative genres, and further by large approximations and other technical problems — all of which have a significant impact on the enjoyment of the game.
Es sin lugar a dudas la nueva y mejor ip que a sacado Platinum games.Todos aquelos que les gusta los videojuegos de ben jugarlo.Obra maestra

Excelente juego. Me encantan las obras de Platinum Game. El sistema de combate es adictivo y los gráficos hermosos.

I finally got my hands on Astral Chains and I will try to give you a good resume. So here are my pros and cons so far before I write down my

I finally got my hands on Astral Chains and I will try to give you a good resume. So here are my pros and cons so far before I write down my verdict. If you are looking for some feedback to decide weather or not to buy it yourself, here are my thoughts.

Pros:
- stunning graphics and visuals
- awesome soundtrack
- very unique and fun game mechanics
- complex combat system
- very action packed but not the typical buttom masher
- great eye for details in the surrounding world
- the city feels very much alive
- nice funny sidequests
- interesting story
- great and epic boss battles

Cons:
- 30 fps

Verdict:
The true nature of this gem is a wonderfully made action game. It has everything I asked/hoped for and even more.
The boss battles are well directed and challenging. The city feels very much alive and the scenery is just beautiful and eye-pleasing.
To me this game is one of the best games I've played in a long time and I can't wait to finish the whole thing over and over again.
The only downside I can see is the 30fps the game is running on. While I dont recognize it all the time, on rare occasions I had the feeling that I saw some frame drops but it was really minor.
If you are into action games and loved Nier:Automata and Bayonetta, you for sure will love this game to death.
Iif you asked yourself if you should buy this game, at least I can highly recommend it at this point of time.
Just enjoy the masterpiece that is Astral Chain!

…

Expand

This review contains spoilers

, click expand to view

.

buen juego nose que tanto lloran por correr a 30 fps da igual que vaya a eso deberian testiarlo y ver que merece la pena ya que en consolas hay bastantes juegos que van a 30 fps por eso no hay excusas que critiquen sus fps no todo es fps si quieres buenos fps pos andate a un pc las consolas tienen sus limitaciones pero eso no deja que sean buenos juegos

…

Expand

Es un Juegazo si es cierto q los personajes no son muy variados pero la historia y la jugabilidad son muy buenos los controles son precisos y

Es un Juegazo si es cierto q los personajes no son muy variados pero la historia y la jugabilidad son muy buenos los controles son precisos y cual juego en 30 fps no tiene caídas.... talvez no sea el tipo de juego que te claves unas 100 horas en el pero el juego e precioso!!!!

…

Expand

Don't let the salty Sony fanboy cloud your judgement this game is amazing from art to music I highly recommended giving it a go. Also to any

Don't let the salty Sony fanboy cloud your judgement this game is amazing from art to music I highly recommended giving it a go. Also to any one review bombing it just because it's an exclusive means they have paid to make the game get over your self.

…

Expand

This review contains spoilers

, click expand to view

.

Es un juego penoso muy aburrido la dificultad es muy fácil en fin un juego recomendable cuando cueste 2 dólares

…

Expand