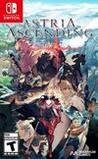 Summary:

Explore a vast world on the brink of chaos in a mature, emotional JRPG. Experience an epic story with rewarding, turn-based combat and expansive customization rendered in glorious 4K hand-drawn visuals.
Astria Ascending may not be a flawless release but the solid combat system, spectacular visuals, deep character skill building, and wealth of content make for an experience that JRPG fans will feel right at home with. We'd give this one a recommendation to anybody looking for an original RPG to sink their teeth into; the writing and plot could have done with more development and attention, but there's lots to love about Astria Ascending and we're eagerly anticipating whatever Artisan Studios does next.

Astria Ascending checks off the proper JRPG boxes while adding enough unique twists to satisfy fans of the genre. It won't sit at the top of your "must complete" list, but it'll serve you well when you need a break from higher profile releases.

Astria Ascending is a rather unusual RPG in the sense that it's visually similar to a side-scrolling metroidvania, but its gameplay is that of a turn-based JRPG. With that in mind, and while its plot feels rather sub-par, Astria Ascending features a very fun combat system, engaging and complex character progression, and an absolutely astounding visual world. Fans of JRPGs will have plenty to enjoy here, including committed completionists.

Astria Ascending has all the building blocks of what makes great RPGs, but all these separate parts haven't fit perfectly together in the final product. The story and characters have a lot potential but are let down by encumbered pacing and awkward writing. Still, it's a beautiful RPG for those who crave challenging/engaging turn-based combat and eye-catching visuals.

Thanks to the beauty of its graphics and music, Astria Ascending has an undeniable charm. Far from being content to be a beautiful postcard, the title does not forget to offer solid RPG mechanics to offer a tough challenge to fans of the genre. Unfortunately, its overly classic course and ergonomic concerns make the adventure at times laborious, at least to detract from the enjoyment of the player. Nonetheless, it remains a nice title which, behind its flaws, has an atmosphere that will delight those nostalgic for old-fashioned J-RPGs.

It's not unplayable or anything, and the battle system can sometimes be quite engaging. But it isn't something I would really recommend to anyone either unless they have a lot of time on their hands and have already exhausted better options.

I didn't really click with Astria Ascending, and I'm not sure why. Maybe it's an inability to relate to characters that are functionally immortal, or the hackneyed story, or losing about 60 turns of combat in one dungeon thanks to Omni-Stun. But I found myself fighting to actually boot the game up, which is something I haven't had from a review in a while. If you're ready to go all-in on Astria Ascending… well, you probably already have. If not, there's plenty of fish in the RPG sea on Switch and some more marlins coming before the year's out. You'll be able to get your fill.
I think the game is fantastic and is one of my top 3 favorite games ever because of very personal experience and time when I played through

I think the game is fantastic and is one of my top 3 favorite games ever because of very personal experience and time when I played through this game, since I was going through a very hard time in my personal life. The plot isn't very deep but for me that didn't matter. The plot was interesting enough to keep me beyond happy throughout in addition to the gorgeous art. It won't be for everyone but if you can appreciate a simple yet unique plot with a gorgeous art style and fun gameplay you'll be hooked. I bought the game physical and digital because I really wanted to support the developers for this amazing game that came into my life when I needed it, I'll cherish it forever for giving happiness during a very hard period in my life. The concept of living in the moment is something about the plot of the game that really stuck with me. The line where Eko says "there is no time for love" really got to me given my lack of a romance life and the fact that that he the character knew he Wally's die in a month due to the destiny of demigods in this world. Love the game, highly recommend.

…

Expand

Astria Ascending is a bit of an odd bird to me. In many regards when you see its art style, it looks something like the old school manual art

Astria Ascending is a bit of an odd bird to me. In many regards when you see its art style, it looks something like the old school manual art of classic 16-bit era titles from the likes of Square. Ornate and generally stunning, it feels like a wonderful homage to what RPG fans used to dream their games would look like one day. The trouble is in most other areas though, which either aren't reaching for, or are at least failing to meet the high standards set by the game's looks. Turn-based combat looks cool but plays pretty traditionally (see: somewhat dull), character development is elaborate for sure but the interface and the way it is handled I'd consider difficult to approach and odd. The storytelling, though earnest, feels a bit on the traditional side but I wouldn't say is done any favors by the voice acting trying to sell it. For genre fans there's plenty here that may excite you, but for people who only decide to pick up a JRPG once in a blue moon there are some more compelling choices out there for you on the eShop.

https://www.nindiespotlight.com/2021/10/mini-reviews-october-13th-edition.html

…

Expand

I don't like this game it all. The soundtrack is not good, the characters are awful