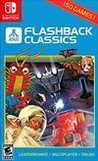 Developer:

AtGames

Genre(s):

Miscellaneous

,

Compilation

# of players:

No Online Multiplayer

Cheats:

On GameFAQs

Rating:

E
Atari Flashback Classics for Switch is one of the biggest and best classic game compilations ever produced. Not only are there a ton of enjoyable games for any kind of gamer, everything is implemented spot-on for big screen or on-the-go retro fun.

Atari Flashback Classics is a decent release. Despite some small issues, it is a great way to experience the early days of video gaming. Some games may not appeal to you, while others will bring back great memories. I would have liked better emulation in some areas, and more licensed games but what we get for the price isn't too bad at all. If you're a fan of classic Atari, or just want to see where gaming basically began, they you should definitely check this collection out. It's certainly not the best it could have been, but definitely not the worst classic game collection available. As a huge Atari fan, I would say it's worth your time.

Atari Flashback Collection is a wonderful way to experience gaming history for the first time, or reminisce over your favourites one more time.

The options for the games, whilst interesting, are not where they should be, especially given some of the more recent classic collections. And finally, there are the games. 150 games listed is technically accurate, but still factually wrong; whilst a lot of the games included are fun to play with still, there are a lot, mostly the sports games, that are not, so the overall collection just feels less. Fans of Atari, or anyone who grew up with those games, will find a lot of enjoyment in the collection though, so it is not all bad.

I can certainly appreciate the value of seeing where video games got their start, but we have come so far that nostalgia and preservation are really the only selling points of this collection.

Atari Flashback Classics offers a vast look back into the history of an important time in games, but may offer little of interest to those without nostalgic feelings for it.

Quantity over quality has never been exhibited so perfectly as it is here. Having 150 games is undoubtedly impressive, but when the vast majority of them are barely decipherable, let alone playable, you're probably only really left with around 15 titles that will hold your attention for more than a minute. While the contribution these games made to the evolution of gaming in its early days can't be denied, many of them are stepping stones that we don't need to walk over again.