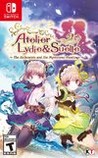 Summary:

Twin sisters Lydie and Suelle are also alchemists, living in Merveille, the capital of Kingdom of Adalet, and they intend to make their atelier the best atelier in the kingdom.
Please enter your birth date to watch this video:
You are not allowed to view this material at this time.
Atelier Lydie & Suelle: The Alchemists And The Mysterious Paintings - Announcement Trailer
Lydie & Suelle is an excellent choice as a game for creation, with very funny quests will becoming truly challenging after a while. The game may not have the most interesting fighting system for an JRPG and the best-executed graphics on the console, but it makes up for its failures with a good story and the mechanics of alchemy and exploration.

Overall, Atelier Lydie & Suelle is a great entry in the Atelier series, and it's easily one of the stronger Mysterious entries. It competes with Atelier Sophie for my favorite in the trilogy, though the general bloat of Atelier Lydie & Suelle gives Atelier Sophie the slight edge. That said, it's a great follow-up. Though it may take a while to reach its conclusion, it serves as a nice way to tie up as much of the Mysterious storyline as possible while also offering new worlds to explore, exciting new battle mechanics, and a refinement of an already excellent synthesis system. Of course, with the recent announcement of Atelier Sophie 2: The Alchemist of the Mysterious Dream, I'm eagerly looking forward to more Atelier.

It has great dialogue along with interesting battles but a boring post-game. It offers us a funny and epic story, but it also has excessive loading times for each action and poor quality in Nintendo Switch's portable mode.

Atelier Lydie & Suelle is a rather standard entry to the Atelier series. Content with relying on a pretty standard setup, the game doesn't innovate or move forwards, although fans of the series will no doubt be interested in the new story alone. It's a pretty interesting take on the ridiculously wide genre of RPGs, with a much heavier focus being given to its deep crafting system, but that might not be enough to convince new players on its own.

If the game was ever-slightly-more polished it would be a solid recommendation. Instead, this game's a shrug. It doesn't earn the credit it gets and instead just perpetuates a good idea that's been at the core of this franchise for two decades. This series needs a lot of improvements before the next entry; hopefully series' developer Gust will put in the work. If they do, I'll be there to play it myself.

Atelier Lydie & Suelle: The Alchemists and the Mysterious Paintings is a fun yet sometimes tedious JRPG that has you doing a lot of busy work. In some cases there is some fun to be had but a boring battle system spoils what I found to be a fun and lighthearted experience and worth checking out.

If you really love crafting, Atelier Lydie & Suelle: The Alchemist and the Mysterious Paintings might be your jam. But if you like literally any other aspect of a typical JRPG, you're going to be disappointed. It might be worth $20 for the curiosity, but at $60, I really can't recommend it to anyone who doesn't already like the series.
Éste es mi primer juego de la saga Atelier y estoy gratamente sorprendido. El título tiene muchísimo que entregar y puede transformarse en

Éste es mi primer juego de la saga Atelier y estoy gratamente sorprendido. El título tiene muchísimo que entregar y puede transformarse en horas y horas de juego. El sistema de combate por turnos comienza siendo bastante simple, pero en la medida que avanza la historia se va tornando mucho más estratégico, con una amplia variedad de personajes, modos de batallar, técnicas e ítemes para utilizar.
La gráficos son sencillamente preciosos. El diseño de personajes es único, así como los vestuarios estrafalarios que usan las alquimistas. Los escenarios tienen muchos detalles y te envuelven en una atmósfera mágica.
La música y sonidos son excelentes. Hay muchas melodías que sonarás por varios días en la cabeza antes de poder olvidarlas y se adaptan muy bien a cada escenario.
La historia no es muy fantástica, está orientada más bien a la cotidianidad de los personajes. Hay muchísimas escenas que se activarán al visitar distintos lugares donde podremos conocer distintos personajes y su relación entre sí. Los diálogos son bastante graciosos y los personajes hablan y se mueven de manera que parecieran expresar las emociones que transmiten sus palabras.
Sin embargo, lo mejor del juego es el sistema de creación de ítemes, llamado "alquimia". Al prinicipio podrá confundir a los jugadores que no están familiarizados con la saga Atelier, pero dándole varias horas se termina comprendiendo y en ese momento llega la adicción de crear los ítemes más perfectos y con mejores características. Se puede estar horas frente al caldero combinando materiales para crear una infinidad de ítemes cuya receta vamos descubriendo de distintas maneras a través del juego.
Personalmente, Atelier Lydie & Suelle me encantó, es el juego al cual más horas le he dedicado (alrededor de 110) y lo recomiendo fuertemente a los fans de los JRPG y a quienes les gusten los juegos de creación como Dragon Quest Builders, My Time At Portia o Dofus.

…

Expand

This is my first game in the series and must say I'm not dissatisfied. Very interesting characters with lots of great and humorous

This is my first game in the series and must say I'm not dissatisfied. Very interesting characters with lots of great and humorous interactions. Very fun battle system and the crafting is very engrossing. I hope the other two mysterious games come to the switch. The season pass adds tons of value to the game as well by adding new playable party members, areas to explore, recipes, ingredients and more.

…

Expand