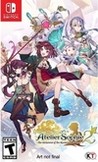 Summary:

A mysterious story of a mysterious dream...
One of the stories experienced throughout the Alchemist Sophie's many adventures, as she continued her travels after leaving her hometown of Kirchen Bell.
This is Sophie's adventure as she searches for her friend Plachta in the dream world ErdeA mysterious story of a mysterious dream...
One of the stories experienced throughout the Alchemist Sophie's many adventures, as she continued her travels after leaving her hometown of Kirchen Bell.
This is Sophie's adventure as she searches for her friend Plachta in the dream world Erde Wiege, where they become separated, and shows the bonds she forms with the people she meets and passing of hearts.

■Evolved turn-based battles & seamless transitions!
In the 6 member party turn-based battles, the 3 members in the front and 3 in the back form 2 teams cooperating "multi-linked turn battles", and transitions from exploration to battles without loading times in "seamless battles", the entire game can be enjoyed at a great pace.

■2 types of panels for everyone to enjoy synthesis!
This game uses panel synthesis, the synthesis system of the Mysterious series, where materials are placed in the panel slots to create new items in this puzzle-like feature. By placing the certain materials in the slots, various effects can be produced.
There are 2 types of panels in this game that players can select from : a regular panel and a restricted panel that has a higher synthesis difficulty level.
The board of the restricted panel is fairly complex, but when materials are placed just right, items with high effects can be synthesized, which can't be generated from the regular panel.

…

Expand
Developer:

Gust

Genre(s):

Role-Playing

,

Japanese-Style

# of players:

No Online Multiplayer

Cheats:

On GameFAQs

Rating:

T
Please enter your birth date to watch this video:
You are not allowed to view this material at this time.
Atelier Sophie 2 - Launch Trailer
Atelier Sophie 2 is the result of an exceptional polish of typical mechanics of the series. It's a title that immediately throws you into its core experience and rapidly evolves it in order to keep the player engaged in all of its aspects.

Fun new ideas, tweaks to old systems, and a captivating new chapter in Sophie's story all help Atelier Sophie 2: The Alchemist of the Mysterious Dream feel like a natural next step after Atelier Sophie, despite the handful of other Ateliers we've seen in the meantime. But more than than that, what makes Sophie 2 stand out is what has always made this series stand out: its absolute commitment to pure, unadulterated joy. That's what you come to Atelier for, and it's what Sophie's latest outing delivers in spades.

Atelier Sophie 2 is a charming and beautiful game. Being one of the best instalments of the series to date, and even taking into account its negative points, we are very happy to have been able to enjoy a new adventure of Sophie in a dream world such as Erde Wiege.

Atelier Sophie 2 stands as a wonderful achievement for Gust and the Atelier series. What we have here is an entry that feels like the perfect fusion of the old and the new. Sophie's new adventure may not have much to offer up in the story department, but it more than makes up for this with its streamlined design, thrilling combat, expansive world, and addictive alchemy system. This is a title we'd recommend to both longtime fans and newcomers—it's one of the best Atelier releases yet. If you're at all curious about this one, we'd strongly encourage you to give it a shot.

I'm sure the title will tip you off, but Atelier Sophie 2: The Alchemist of the Mysterious Dream is best appreciated by those who have already played the first game and enjoyed its characters and mechanics. There's a little story catch-up here for those coming in fresh, and you will survive even if this is your first Atelier game. But the game certainly means to build on the foundations set in the first game, particularly with regards to Sophie and Plachta. As such, I'd advise you to play that first game before this one. That caveat aside, Atelier Sophie 2 does everything a sequel ought to and will assuredly provide Atelier fans with their regular dose of light-hearted RPG adventure.

Atelier games continue to be the mark of a consistently good franchise, and Sophie 2 does little to deter me from that sentiment. It's the kind of game that deserves to be experienced alongside your favorite creature comforts and maybe a hot beverage to boot. Sophie's latest outing most definitely deserves to exist, and those looking for a relatively easygoing and chill experience can't go wrong here. It's a worthy sequel to a cherished game, and a wonderful way to celebrate the joy fans have experienced over the years.

I think whether or not someone will enjoy Atelier Sophie 2 comes down to how much they loved the original game and its characters. There are marked improvements from Atelier Sophie. It is clear Gust took what the team learned from more recent installments and applied it here. But it might not foster the same enthusiasm as other installments, due to its focus on certain characters. It might even leave you a bit frustrated when you need to perform certain actions to get needed recipes or run into inaccessible areas because you don't have the correct "keys" to open those metaphorical doors. People who love Gust and Atelier Sophie will likely be all-in and satisfied to see Sophie and Plachta's relationship grow. Everyone else may want to wait for the next entirely new entry.
Atelier Sophie 2 is definitely on the best RPG games I've ever played period. I just love all the characters and story and music and graphics

Atelier Sophie 2 is definitely on the best RPG games I've ever played period. I just love all the characters and story and music and graphics and combat lol. Too bad the game does end so hoping we can see more of these kind of great games in the near future.

…

Expand

Legitimate sequel of the Atelier series with Gathering and Alchemy, and Beautiful designs.

Love theese games, alchemy is great, no time limits. I keep coming back for the feeling rather than the story.

I'm starting play Atelier series since Ryza 1, and I'm Falling in Love to Atelier and of course I Played Ryza 2, and I Love it. But when I

I'm starting play Atelier series since Ryza 1, and I'm Falling in Love to Atelier and of course I Played Ryza 2, and I Love it. But when I play Sophie 2 well...I really don't Like the Story and point of view character on this game!

Sophie 2 it's Defnetly Downgrande from the previous series!
I don't mind gameplay Battle system Turn Base! Even I really Like it! But...
Grafic downgrade! Bad Character! Bad Story! Everything character logic it's too kind and cute, that was very not Natural! specially I Hate Elvira, Sophie, and plactha Chara!

I'm Regret to Buy This game!

…

Expand

this game is not good. Soundtrack is awful and you can't do anything cool. Don't recommend

this game is really bad with outdated mecanics. i dont enjoy nothing on this one

this game is very terrible, i really dont recommend to anyone. very bad gameplay