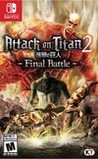 Summary:

Battle through the narrative of Season 1 and 2 of the anime from a new perspective. Players can also enjoy original stories supervised by series creator Hajime Isayama. Besides playable characters over 40, players can also create your very own character by "Character Editor". Battle through

Battle through the narrative of Season 1 and 2 of the anime from a new perspective. Players can also enjoy original stories supervised by series creator Hajime Isayama. Besides playable characters over 40, players can also create your very own character by "Character Editor". Battle through the story from a new perspective. Experience up to Season 3 story of TV anime! Experience the story from the same viewpoint as the character highlighted in the original.


…

Expand
Developer:

Koei Tecmo Games

Genre(s):

Action

,

Action Adventure

,

General

# of players:

Up to 8

Cheats:

On GameFAQs

Available On:

Stadia

Rating:

M
Please enter your birth date to watch this video:
You are not allowed to view this material at this time.
Attack On Titan 2: Final Fight | Cinematic Combat Gameplay
A.O.T. 2: Final Battle is an expansion that will delight fans of the manga series. At the technical level it is still improvable in several aspects, but it is still very funny. Now we have a much more complete version that will give us more hours of play if possible. If you are a fan of the series, you should not miss it.

Overall, this still remains a game worth experiencing. The wealth of content will likely make the gameplay feel old eventually, but the fact remains there really is nothing else quite like this on the market. For those who loved the original game, the handful of mechanical tweaks and additions alongside the new content should be an appealing proposition, though those who grew tired of it all might not feel so inclined. Regardless, despite the faults in presentation and repetition, Attack on Titan 2 in any form remains an appealing option for those looking for a unique action experience.

The introduction of ranged weaponry really opens up your titan-battling options, and Territory Recovery is a welcome new Dynasty Warriors-style mode that embraces the game's best mechanics. However, the pricing model is far too high and only serves to penalise players who already own the base game.

Overall, Attack on Titan 2: The Final Battle makes significant improvements over its original release, but it still suffers from performance issues and has a niche target audience. With a steep retail price of US$59.99 this game is hard to recommend unless you are an Attack on Titan fan or just simply need another hack-and-slash RPG to play.

Attack on Titan 2 Final Battle is a tough title to recommend to anyone. It runs poorly, the new targeting system doesn't work as it should, and the new modes simply aren't worth the investment. If you still want to give it a shot despite all of this, do yourself a favor and avoid the Switch version.
AOT 2 Final Battle est la version ultime et bourré aux hormones d'un jeu déjà très costaud et généreux. C'est l'exemple parfait de

AOT 2 Final Battle est la version ultime et bourré aux hormones d'un jeu déjà très costaud et généreux. C'est l'exemple parfait de l'adaptation réussie et respectueuse de l'oeuvre originale, que ce soit le manga ou l'animé. Débordant de contenu, le jeu nous permet de revivre en détail l'intégralité des trois saisons de l'animé, tout en nous proposant un regard différend qui nous permet d'approfondir encore plus l'univers de la licence. Bénéficiant de multiples modes de jeux additionnels solo et multi, vous pouvez facilement passer une centaine d'heure sur le jeu. Les fans seront aux anges et les nouveaux venus dans la licence n'auront qu'une envie: lire les mangas et regarder l'animé. On regrettera juste, sans surprises, l'absence des musiques (divines) de l'animé. La version Switch tient la route techniquement et reste fluide, c'est le principal.

Note: 9/10

…

Expand

vale, llevo jugadas casi 40 horas, asi que puedo opinar sobre el juego:
como fan del anime, me ha encantado, es un juego que tiene unavale, llevo jugadas casi 40 horas, asi que puedo opinar sobre el juego:
como fan del anime, me ha encantado, es un juego que tiene una cantidad de contenido abismal, tiene una jugabilidad divertida y que no aburre mucho,

la historia es de durabilidad media (unas 25 horas solo la campaña principal, aun no me he pasado la camapaña de la expansion)

sin embargo, los bugs siguen apareciendo, el online en switch esta casi muerto y ese es el gran pero del juego.

si eres fan del anime y manga de esta franquicia, te puede encantar, sobre todo si lo juegas a la maxima dificultad, dando un gran reto

…

Expand