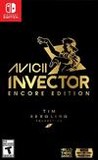 Summary:

Soar through vocal melodies, sweep each fade and attack every beat in 25 of AVICII's biggest hits, in this enthralling futuristic rhythm-action experience – AVICII Invector.
I may not have been very familiar with the work of Avicii before playing this game, but I think I can honestly call myself a fan now. If you like his music or just like rhythm games in general AVICII Invector is a game you absolutely should check out on the Switch.

Invector is a successful combo of Best-of-Album and rhythm game, while at the same time recognizing the life's work of an exceptional EDM artist.

Music fans should dig Avicii Invector, especially those inclined to appreciate the deep lyrics in these tracks. For non-enthusiasts, an easy difficulty setting makes the game inviting, even for those with limited experience in rhythm games. While the gameplay can certainly get repetitious after time, it's a fun game to watch even if you pass the controller to a friend. Avicii is on my radar now, thanks to Avicii Invector.

AVICII Invector: Encore Edition manages to balance its challenging rhythm gameplay and fantastic soundtrack with an air of respect and love for the artist that makes it easy to recommend. Even some small frame-rate issues and distracting visuals can't get in the way of this one.

Avicii Invector: Encore Edition adds a few more songs into last year's rhythm game tribute, and it's a solid addition. The Switch version is up to par with the other consoles, and you can now listen to much of the late EDM artist's work in one awesomely entertaining package.

A deep and rewarding rhythm action title that is surprisingly accessible.

Avicii Invector is a musical marvel. It offers yet another opportunity to remember Tim Bergling's remarkable talent and engage with his music in new ways. There are a couple of low notes, but it's an enjoyable experience overall.
A beautifully composed, posthumous love letter from Avicii to his fans. Invector is a unique rhythm game that's endlessly playable, delivering

A beautifully composed, posthumous love letter from Avicii to his fans. Invector is a unique rhythm game that's endlessly playable, delivering a consistent stream of pure joy throughout. Hello There Games deserves heaps of praise for creating a heartfelt experience just oozing quality and demonstrating deep respect for the source materials and it's once-in-a-generation artist. Invector is a perfect game for Switch, a port that mercifully delivers Avicii's tracks in high fidelity audio with no obvious dynamic range compression or other mood killing artifacts. Put on a pair of headphones and drop into this gift of sensory nirvana that memorializes the legacy of a star who burned bright and left us too soon. If you're a music lover, Avicii fan, rhythm game player or a human being, this is a must buy.

…

Expand

Very good tribute ! The game is not very difficult, it is accessible and fun. The colors and the artistic direction are imersive. The music is

Very good tribute ! The game is not very difficult, it is accessible and fun. The colors and the artistic direction are imersive. The music is for the most part very good, especially with a good headphone!!

…

Expand

I listen to a very different kind of music than this. That being said, I'm not some jerk who can't appreciate things I'm not familiar with.

I listen to a very different kind of music than this. That being said, I'm not some jerk who can't appreciate things I'm not familiar with. For the purposes of a rhythm game the music fits fantastically with the neon space highway the game takes place on. The gameplay is tight, responsive, integrated well with the music, visually enticing, and addictive as hell. I've been looking for a game exactly like this on switch meeting somewhere in the middle between Thumper and Sayonara Wild Hearts. Pricey? If you're a savvy e-shopper, sure, but the royalties all go to Avicii's Foundation which focuses on suicide prevention so if you have some extra bucks to spare and like rhythm games I think you can doubly enjoy the game knowing your money is going towards helping someone.

…

Expand

Avicii Invector was a very unexpected surprise. Ever since I was a small child, Avicii has been one of my favorite artists of all time. As

Avicii Invector was a very unexpected surprise. Ever since I was a small child, Avicii has been one of my favorite artists of all time. As with millions of other people across the world, his songs have spoken to me in a way that cannot be described with words. His passing away in 2018 hit me very hard. However, I will always remember Tim Bergling in my heart for all they joy he has brought me with his songs.

When I first heart about this game, I was very skeptical. But upon doing research I found out that Avicii was working on this game for a long time. Today I got to play it for the first time and it is insanely fun. This is my first rhythm type game and I enjoyed every second of it. All the songs are Avicii's biggest hits over the years, and it was beautiful to listen to them again while flying a spaceship through beautiful landscapes.

Obviously, the best part of Invector is the music itself. Avicii's songs are universally loved, and even if you are not a gamer you will have a great time playing this. I think it is worth to play it, and I am glad this project saw the light of the day. RIP Tim Bergling, I will always remember you.

Final Score: 82/100

…

Expand