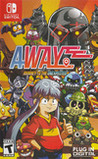 Summary:

Away: Journey to the Unexpected is a feel-good FPS game that combines action, negotiation and slightly roguish elements, presented in an animated style. Progress through the levels and the story, choose your path, but above all, recruit allies. All the strange characters you meet in game can

Away: Journey to the Unexpected is a feel-good FPS game that combines action, negotiation and slightly roguish elements, presented in an animated style. Progress through the levels and the story, choose your path, but above all, recruit allies. All the strange characters you meet in game can be played in first person, and it's up to you to find the right answers to get them to join your team.

…

Expand
Developer:

Playdius

Genre(s):

Action

,

General

# of players:

No Online Multiplayer

Cheats:

On GameFAQs

Rating:

T
Away: Journey to the Unexpected is a thoroughly abnormal game that triumphs when its oddities all click. When you're rolling out there switching between your little boy, robot bounty hunter, and drunk wizard and blazing through battles against colorful foes, it's excellent, but when the repetitive areas and roguelite malaise starts to creep in, it falters. If all works out, by the time you hit that point, you'll be rolling the credits.

Away: Journey to the Unexpected looks very promising at first and while it features a good mechanic of character bonding and some fun moments and a very good audiovisual environment, its plot is rather disappointing and the gameplay feels shallow. Overall, the game's experience is short of memorable and gives off the impression that this game could have gone much further.

Away: Journey to the Unexpected is the sort of game that's disappointing because of how good it could have been if more thought had been invested into certain systems. There's a good game buried in here somewhere, but it's so mired in confusing or irritating game design elements that it becomes incredibly difficult to recommend. If you're really into roguelikes and want to try out an okay one in first-person, Away: Journey to the Unexpected is perhaps worth a punt, but even then, we'd highly suggest that you take a pass. There are far better roguelikes available on the eShop for a comparable price; you're sure to get much more out of those.

While AWAY: Journey to the Unexpected features some great 2D character models and animations, the gameplay simply didn't provide a fun experience. Close-up first-person combat and first-person platforming has never been easy in games and AWAY doesn't take any meaningful step forward in solving those issues.
The game's initial visuals and anime cut scene leads you to believe this game might be worth playing. After attacking your first monster you

The game's initial visuals and anime cut scene leads you to believe this game might be worth playing. After attacking your first monster you realize where the developers spent all their time. It wasn't with the combat which gives you almost no depth using your melee attack. The game requires 3 unlocks before enter the boss area. There's little to no randomization and the XP you game after you die leads to 2 hearts and not much else. The stars you earn from unlocking playable characters allows you to open doors in your house to pointless dialogue that adds nothing.

Basically the game play is boring and best and frustrating at worst. I feel like i got "jebaited" into buying this game and hopefully no one else makes this mistake

…

Expand