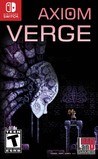 Summary:

Life. Afterlife. Real. Virtual. Dream. Nightmare. It's a thin line.

This is the action-adventure you've been waiting decades for. After a lab accident, a scientist awakens in a mysterious, alien world. Is this a distant planet? The far future? Or a complex virtual-reality computerLife. Afterlife. Real. Virtual. Dream. Nightmare. It's a thin line.

This is the action-adventure you've been waiting decades for. After a lab accident, a scientist awakens in a mysterious, alien world. Is this a distant planet? The far future? Or a complex virtual-reality computer simulation?

Plumb the recesses of a large, labyrinthine world in order to learn its secrets and uncover your role within it.

Discover tons of weapons, items, and abilities, each with their own unique behaviors and usage. You'll need your wits to find them all.

Combat bizarre biomechanoid constructs, the deadly fallout of an ancient war, and the demons of your own psyche.

And finally, break the game itself by using glitches to corrupt foes and solve puzzles in the environment.

Life. Afterlife. Real. Virtual. Dream. Nightmare. It's a thin line.

It's Axiom Verge.

…

Expand
Developer:

Tom Happ

Genre(s):

Action

,

Action Adventure

,

General

,

Platformer

, ,

Metroidvania

# of players:

No Online Multiplayer

Cheats:

On GameFAQs

Rating:

E10+
Please enter your birth date to watch this video:
You are not allowed to view this material at this time.
Axiom Verge: Multiverse Edition - Switch Announcement Trailer
This is truly an outstanding port of an outstanding game, no more and no less. We would strongly urge those of you that missed this game on other platforms to pick it up here; this is the full Axiom Verge experience and it's available in a format that supports both handheld and home play. For those of you who have played it before on other platforms, it's ultimately a question of just how much you love this game. This is the exact same, excellent game that you've played before, so whether or not you want to buy it again is personal choice. Regardless of which side you fall on, Axiom Verge is a fantastic example of how to do a Metroidvania right, and we couldn't be more pleased with it.

This isn't a game for the faint-hearted. It's a challenging action adventure which forces you to use physical and mental dexterity in equal measure. It wields nostalgia and innovation with laser precision, creating one of the most fun and inspiring games that you will have the chance to play. If you want an excellent adventure platformer, then it would be a disservice not to own this game.

Axiom Verge was already one of the best Metroid-style games in years and it lands on the Switch like it belongs there. The game is endlessly creative with new enemies, weapons and tools, making each new area a fun challenge to explore while giving plenty of reason to revisit the older ones. The huge, detailed bosses can seem insurmountable at first, but give up their patterns after an attempt or two, and good odds of receiving a new ability afterwards makes the fight worthwhile.

A lesser game would have broken away from the standard Metroidvania fare by referencing Super Metroid and playing out like a 2D Metroid would be expected to. It wouldn't be bad, but it wouldn't be particularly special, either. Axiom Verge is not a lesser game, though. It strictly pays tribute to the original NES Metroid, but not once does it do anything with its premise that feels derivative. Any instance of homage is quickly subverted and thrust down a path all of its own. Solutions to puzzles are genuinely creative and the overworld is filled with more optional weapons and upgrades than actually necessary for a normal playthrough, offering an incredibly rewarding, explorative experience. Challenging, creative, and endlessly endearing, Axiom Verge: Multiverse Edition is the best take on the Metroidvania genre in years.

Axiom Verge is a real homage to a time gone by. But instead of feeling old and tired, it injects new life into an old genre by coming up with inventive ways to push you forward. It is also the kind of game that works great on the Switch. Its simple design means it plays well on the go and also doesn't kill the battery. If you are looking for something to dip in and out of during the busy Fall period, then look no further.

Axiom Verge works great as a portable game, and while it's been available before on the Vita, I feel like the Switch is the best possible platform since it looks spectacular in handheld mode and works beautifully as a sit-down, console experience.
This game far surpassed my expectations and considering that it was all done by 1 person, I decided this game deserves a 10/10, if there are

This game far surpassed my expectations and considering that it was all done by 1 person, I decided this game deserves a 10/10, if there are any faults with the game, it would be that some weapons kind of felt underwhelming, I ended up focusing my playthrough on a few weapons only. Axiom Verge is easily one of the best Metroidvania games I have personally played and the fact that it stands next to Super Metroid is all you should need to know if you are considering playing Axiom Verge.

I loved the soundtrack, the graphics and the movement of Trace was on point, some of the sound effects were a bit screechy and would be the second issue I would have with the game. The speedrun mode is an awesome addition and provides some replayability along with the randomized secret areas, I also bought the Multiverse Edition which is a great physical release, if you are a Metroid fan you NEED to play this game.

…

Expand

This is one of my top 3 indie games. It's a fantastic love letter to the NES and Metroid with such uniqueness and creativity. I bought this

This is one of my top 3 indie games. It's a fantastic love letter to the NES and Metroid with such uniqueness and creativity. I bought this game used thinking meh I might like it and I was absolutely blown away. In my top 10 on switch I can't recommend this title enough!

…

Expand

Este juego si te gustan los metroid y los castlebania.... tardas en jugarlo.
Brutal, dificil, sorprendente,.... increible juego. Y con esaEste juego si te gustan los metroid y los castlebania.... tardas en jugarlo.
Brutal, dificil, sorprendente,.... increible juego. Y con esa estetica viejuna 8-16 bits... espectacular.

…

Expand

Axiom Verge is a 2D side-scroller shooter. This game is a Metroid-inspired game, you go through a claustrophobic dungeon, with alien-looking

Axiom Verge is a 2D side-scroller shooter. This game is a Metroid-inspired game, you go through a claustrophobic dungeon, with alien-looking creatures and structures. I actually have no complaints, this is, indeed, one of the best 2D Platformer Shooters I`ve ever played, and man, I play games like these since 1994...so that's a lot. I can`t say its perfect because its style is not unique.

However, I must say the following: (i) The artwork is amazing. This is a pixel art game, and it is as good as it comes. The environment is amazing; (ii) The gameplay is fluent and easy; (iii) The difficult is extremely balanced. It's not easy, but not overly frustrating; (iv) The story is interesting enough for you want to keep exploring the mystery; (v) The gadgets you have are beyond awesome, and you have so much fun with them. So, without further delay..., it's a great game, and perfect for the Switch. Don't miss it.

…

Expand

Axiom Verge is homage a to Metriod (NES) that shows a lot of love. The Graphics are pixelated, dark and strange. The story is pretty good,

Axiom Verge is homage a to Metriod (NES) that shows a lot of love. The Graphics are pixelated, dark and strange. The story is pretty good, mysterious, surreal. Surreal is definitely the a fitting word for it.
This game would have been one of the greats if it came out back in the NES days, but in modern times it feel like it could have used more mechanics to really make it stand out. Still I recommend it to anyone who loves the genres. I'm definitely keeping my eyes out for future titles by Axiom Verge's creator, Tom Happ,

…

Expand

Axiom Verge is a retro-styled metroidvania with a very classic feeling, 16-bit graphics, and a few clever mechanical twists. It was developed

Axiom Verge is a retro-styled metroidvania with a very classic feeling, 16-bit graphics, and a few clever mechanical twists. It was developed entirely by one very talented individual, and that fact certainly makes it special–but it also comes with downsides. While Axiom Verge is fun and lovingly built, it's marred by a slightly unpolished overall feeling, including clunky controls, a confusing story that attempts to mix one too many high concept, and uneven graphics that go from great to mediocre.

If you cherish your memory of playing Super Metroid back in the days, then Axiom Verge should be on top of your list. However, this game's love for the classics seems to push it a little bit too far. It doesn't just look retro–it plays a tad retro as well. It's worth playing, and a great success as a personal project, but it doesn't necessarily stand out from the currently crowded metroidvania scene.

…

Expand

the lack of content hits hard here. this game really needs more good gameplay content