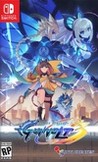 Summary:

The Gunvolt series began in 2014 with the digital-exclusive 3DS game Azure Striker Gunvolt. In 2016, Azure Striker Gunvolt 2 continued the story of hero Gunvolt alongside his rival Copen. And now, in 2022, Azure Striker Gunvolt 3 finally picks up where 2 left off as an official sequel. New

The Gunvolt series began in 2014 with the digital-exclusive 3DS game Azure Striker Gunvolt. In 2016, Azure Striker Gunvolt 2 continued the story of hero Gunvolt alongside his rival Copen. And now, in 2022, Azure Striker Gunvolt 3 finally picks up where 2 left off as an official sequel. New protagonist Kirin fights along side Gunvolt, allowing players to switch characters on the fly, adding a new element to the series' high-speed 2D action gameplay. Familiar faces will return as "Image Pulses," a new system that allows players to use characters from Gunvolt's past in combat with over 150 varieties available! Thanks to the cooperation of Keiji Inafune (LEVEL5 comcept CCO), series executive producer / action supervisor, Inti Creates has evolved Gunvolt 3's action to exceed the expectations of modern players on the Nintendo Switch platform. Players will be blown away by the speedy and precise action on display in Azure Striker Gunvolt 3!

…

Expand
Developer:

Inti Creates

Genre(s):

Action

,

Platformer

,

2D

# of players:

No Online Multiplayer

Cheats:

On GameFAQs

Rating:

T
All things considered, I really enjoyed Azure Striker Gunvolt 3. While it doesn't quite manage to give fans a perfect experience, it's definitely one of the best in recent history. It's a game with an ambitious story, gorgeous art and sound design, and frenetic and exciting combat. If you're a fan of the series, you'll find some especially exciting elements to enjoy. But even if you aren't, this is a game any fan of the platformer genre needs to own. It's well worth the price of admission.

Azure Striker GUNVOLT 3 manages to close out the trilogy by upping the ante in all the right ways, introducing new mechanics to keep things fresh whilst re-imagining and building upon what made fans love the series in the first place. A true work of art that blends a retro aesthetic with today's capabilities, this feels like the culmination of Inti Creates' many years of work and has been well worth the wait since its predecessor was released back in 2016. If this is the last GUNVOLT title, then we can at least rest comfortably in the knowledge that the Azure Striker went out with the big blue bang he deserved.

Azure Striker Gunvolt 3 forgets all about the past to create a new path for itself, which was risky, but it paid off. Kirin is the best protagonist the series ever had, with a playstyle that encourages proactively setting up defenses while attacking relentlessly. Even if the story left a bit to be desired, Gunvolt 3 is a step up from an already strong franchise.

Azure Striker Gunvolt 3 is very reminiscent of past games, but I'm more than okay with that because it does deviate where it counts.

Gunvolt 3 manages to embody the best that Azure Striker has to offer.

The third entry of the Azure Strike Gunvolt series is worth trying for Mega Man fans, despite some confusing UI-related things here and there.

Returning Gunvolt fans will find plenty to love here, and I believe this game can act as a great entry point for newcomers as well. Whether you want to master the systems and chase high scores, or just feel like a god smiting every obstacle in front of them, there's still plenty to enjoy.
I can say confidently that this is the series at it's peak, the Gunvolt formula has never been this awesome, and it's all thanks to the new

I can say confidently that this is the series at it's peak, the Gunvolt formula has never been this awesome, and it's all thanks to the new gameplay additions that make this entry an incredibly fast paced and enjoyable experience.

As a long time Megaman / X fan I can honestly say this has some of the most fast paced, fun gameplay I've ever experienced in any sort of "MMX clone". That's all thanks to the new character Kirin, who is essentially your melee type "Zero" character, but with his abilities dialed up to 11 and a little bit of ninja assassin thrown in there. Kirin's style is excellent and extremely satisfying, and her main ability is designed to reward being skillful enough to keep combos going while being airborn the entire time. Another cool thing is that Gunvolt this time around is OP as **** (but on a timer) and is retrofitted with her abilities as well.

The only real con I have for the game is the drop rate on the equipment is kinda bad, but none of the drops are really required and only served to make the game easier to S Rank.

The story is simple is actually pretty comprehensible but it's not really why I play these games. The voice acting is great for a lower budget game. The Visuals on the levels and characters are still GBA-styled but the actual design of everything is fairly pleasing to the eye. If you're looking for a 2D action game on the Switch, you can't do much better than Gunvoit 3.

…

Expand

"Azure Striker Gunvolt 3 reminds me of Mega Man X at its peak with its fast gameplay and fun platforming puzzles to navigate. Likewise, bosses

"Azure Striker Gunvolt 3 reminds me of Mega Man X at its peak with its fast gameplay and fun platforming puzzles to navigate. Likewise, bosses too are a particular highlight, with some really impressive attack patterns for you to learn and avoid. It may be a little easy for some, which is no doubt great for those who aren't looking for a challenge, but at least there are unlockable harder to help make up for that. Inti Creates have shown themselves to be maestros of the platforming genre, and I hope that we can see more from Kirin in the future!"

https://theeliteinstitute.net/2022/08/12/azure-striker-gunvolt-3/

…

Expand

The writer for the Gunvolt series really has a hate boner for GV himself. Every single ending is either extremely depressing or bittersweet at

The writer for the Gunvolt series really has a hate boner for GV himself. Every single ending is either extremely depressing or bittersweet at most. Not to mention characters and plot threads are just completely dropped between GV2 and 3. If you're playing this game for the story, don't bother. If you're playing for that sweet sweet Azure Striker gameplay, once again, don't bother. Gunvolt is relegated to a time-limited power up for the new protagonist, Kirin. This should've been a Gunvolt Chronicles game setting up Kirin as a new protagonist. As it stands, it's an insult to fans of the first 2 Gunvolt games.

…

Expand

the gameplay is very boring. the story is very short and easy. the music is awful.

Si el juego se llama Azure Striker Gunvolt no me cambies que el jugador principal en lugar de Gunvolt sea Kirin. Relegando el papel de Gunvolt

Si el juego se llama Azure Striker Gunvolt no me cambies que el jugador principal en lugar de Gunvolt sea Kirin. Relegando el papel de Gunvolt a un actor secundario de apoyo para Kirin. A partir de ahora para mí la saga principal pasa a ser la de Luminous Avenger.

…

Expand