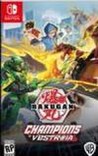 Summary:

Bakugan: Champions of Vestroia is an all-new action role-playing game with an original story that expands on the hit TV series and brings the Bakugan universe to the Nintendo Switch for the very first time. The adventure takes players on the ultimate Bakugan journey as they befriend powerful

Bakugan: Champions of Vestroia is an all-new action role-playing game with an original story that expands on the hit TV series and brings the Bakugan universe to the Nintendo Switch for the very first time. The adventure takes players on the ultimate Bakugan journey as they befriend powerful creatures known as Bakugan, gear up and customize Bakugan teams for fiercely strategic battles, and master their skills to become the Champion of Vestroia. Players can also play online in head-to-head multiplayer.

…

Expand
Developer:

WayForward

Genre(s):

Role-Playing

,

Action RPG

# of players:

No Online Multiplayer

Cheats:

On GameFAQs

Rating:

E10+
Nintendo Force Magazine

May 17, 2021

If you've got a young gamer in your life, show them the Bakugan: Champions of Vestroia trailer video, then sit back and watch their reaction. [Issue #51 – March/April 2021, p. 72]

Overall, Bakugan: Champions of Vestroia is well put together and does what it sets out to do which is provide low-stress, family-friendly entertainment for as long as you want it to. The added depth in the world and its characters as well as the thoroughness of the brawling system and the checks and balances between abilities and Bakugan allow players to dive in and optimize their team and curb their competitive appetite. As long as you look at it for what it is, Champions of Vestroia is worth the look for anyone that's a fan of the game, the toys, or is looking for a game to enjoy while killing time.

Bakugan: Champions of Vestroia is certainly the best of the recent Bakugan video game adaptations, though it's far from a masterpiece. The world is neat, and WayForward does an excellent job with the Bakugan creatures themselves. Battling is solid, as it does a great job at mixing real-time and turn-based elements. It could have greatly benefited from some new Bakugan types for diversity's sake, or a more unique story. Regardless, Bakugan: Champions of Vestroia will surely satisfy most fans of the franchise.

For all its shortcomings, I wouldn't mind seeing WayForward get another crack at this series with a more concerted effort to bring in non-fans, with more depth.

Similar in terms of structure to your typical Pokémon game, yet with less-than-interesting plot and a not very clever combat system.

If you're a fan of Bakugan, there's no doubt you'll get a kick out of Bakugan: Champions of Vestroia. It's a great-looking game, and seeing those huge beasties in battle for the first time is quite a thrill. But the game's dull and repetitive combat quickly loses its excitement, and the fact you'll be looking forward to completing a mindless side quest simply to get a reprieve surely tells you all you need to know.

Bakugan: Champions of Vestroia shows a distinct lack of passion not just from its poorly thought out gameplay and shoddily thrown together story, but also through its astounding lack of polish. Gameplay would frequently freeze before animations could play, key NPCs could be hidden behind level geometry, and you can even move around the map some 10 seconds before a loading screen finishes; I guess any speedrunners out there should take note of that. It all culminates in a game that feels like it was made as an excuse to put a box with the Bakugan name on a shelf in Wal-Mart. Champions of Vestroia is a total failure. If you're not already a Bakugan fan, there is absolutely nothing for you here. If you are a Bakugan fan, then you deserve a game that respects your time and passion more than this.
There are so many lies about this game, it is devolved into bullying due to the fallout from the Nintendo Treehouse situation.

The gameThere are so many lies about this game, it is devolved into bullying due to the fallout from the Nintendo Treehouse situation.

The game isn't ground breaking, but it is good at what it's supposed to be. I have been wanting an RPG on switch after Fire Emblem and Pokemon so I tried this out. I am about 10 hours into the game now and the combat is much more fun than people are giving credit. You do not simply pick tiles up off the ground. You have a team of three Bakugan, and each one has 4 abilities that you can use. There are hundreds of abilities you can interchange, making the battle system fun and similar to a traditional RPG. Picking up the tiles is just to give mana to your Bakugan so they can perform the abilities, it is identical to how the tv show works which is probably why they did that.

The environments look good on the switch, they are colorful and the sound design is appropriate and lowkey. The game has been very comfy to play while watching TV. The quest system is fun, though it's mostly going from place to place, there are some gather quests which take you around the world and I enjoyed that. The writing is fine, has some quirky dialogue that made me laugh at times, it feels like an episode of the show which is intended for a younger audience.

The loading can get a little annoying, but you spend a good amount of time in each zone so that isn't the worst. Sometimes there is slowdown, but it hasn't affected a battle yet so I wouldnt say it's a giant flaw.

The game is not as unbearable or atrocious as some of the bullying reviews would have you think. 1/10? 0/10? This is just mean, and comes from a place of hate.

…

Expand

es un juego muy entretenido. Las primeras horas de juego pueden volverse monótonas, pero luego se pone mucho mejor.

Look it's fun if you liked the the 2nd gen of Wii games for bakugan but if you don't have nostalgia for the older tie in games. If not then

Look it's fun if you liked the the 2nd gen of Wii games for bakugan but if you don't have nostalgia for the older tie in games. If not then it's a 5/10 on sale 3/10 for full price why did they have to make the devs sell it for 60 dollars Jesus. I am very biased that is why the score is so high

…

Expand

bad gameplay. this game has a really bad level design overall with a lack of content

That the one person who blamed all the hate on a nintendo treehouse everyone already forgot about had to update their score from 8 to 10 to

That the one person who blamed all the hate on a nintendo treehouse everyone already forgot about had to update their score from 8 to 10 to prevent the game from sliding down further says a lot about the quality of this cashgrab..

They have the audacity to charge 50 euros in Germany for a game that looks and plays like a mobile game. I had 3d games that looked and played better on my samsung s2 more than half a decade ago. This is a 2020 switch game and it can't even use a single stream of particles without chocking.

The gameplay itself is questionable. Moves are just copy pasted between elements. The elements themselves don't really stand out from each other with a few exceptions. In older games the gate cards etc. actually gave different boosts to different elements, but since this is dumbed down to the level of a kindgarden nothing like that matters anymore.

Its essentially just a kaiju battle simulator with bad graphics, bad performance, bad effects, and the core gameplay loop walking around a barren world, looking at visibly compressed jpegs and freeze frames of dated models and running around attempting to colide with the flimsy colliders of disks lying on the ground.

Does the game have redeeming qualities? you get access to plenty of bakugan but that's not really groundbreaking. Otherwise I truly cannot think of any.

I also find it rather amusing that the ingame cutscenes are figurative slideshows due to the fps drop, but the out of combat cutscenes are mostly literal slideshows.

…

Expand

Utterly atrocious. More expensive than Hades and looks and plays like a mobile game. The core gameplay is just running around collecting tiles

Utterly atrocious. More expensive than Hades and looks and plays like a mobile game. The core gameplay is just running around collecting tiles and throwing them with a single button press, the colliders being so bad they have difficulty registering the player. The graphics are decent on the models of the bakugan, but everything about the players and the animations of the bakugan are horrendous and have barely anything to do with their attacks. The movement of the player is so floaty that he just glides across the count while kicking his legs. The particles are a ps2 era line of colour where you can clearly see the origin point floating in front of the bakugan. Not only do they look terrible, but they also cause slowdown. I'm glad I got a physical copy of this, so I can pawn it off to some poor unsuspecting person expecting a good game. And I'll price it exactly 1 cent less than Hades.

I'll also mention that the teambuilding is just shoving predefined moves into slots of bakugan of the corresponding attribute. Truly thriilling. and the most progression you'll get is buying mechanics that make the game less tedious. I suppose one can be at least glad that this game wasn't made by ubisoft or they'd be paid dlc.

Also they use anime screenshots for dan kuso and others and you can see the jpg compression on the images I cried of laughter the first time I saw it.

…

Expand

Tedious, bland, basic, uninspired, repetitive and totally lazy. Terrible character models and animations, bad dialogue and grindy, boring and

Tedious, bland, basic, uninspired, repetitive and totally lazy. Terrible character models and animations, bad dialogue and grindy, boring and annoying battles with absolutely horrendous voice acting for the monsters. The entire concept of the game with the giant monster battles is illogical and dumb.

This game looks like nobody ever during development had any interest whatsoever in creating an original, compelling and in any way interesting or enjoyable game. It's Bad and even 5$ would be to much asked, since it a waste of time and a literal pain to have to grind through these obnoxious and overly long battles. Don't waste your time and hard earned cash on this, it's not worth it.

…

Expand