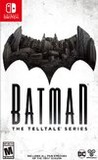 Summary:

Enter the fractured pysche of Bruce Wayne in this dark and violent new story from the award-winning creators of The Walking Dead - A Telltale Games Series. Batman - The Telltale Series comes to retail as a Season Pass Disc, which includes Episode One, and grants access to the remaining four

Enter the fractured pysche of Bruce Wayne in this dark and violent new story from the award-winning creators of The Walking Dead - A Telltale Games Series. Batman - The Telltale Series comes to retail as a Season Pass Disc, which includes Episode One, and grants access to the remaining four episodes in the season as they become available to download. The Season Pass Disc will give you access to a total of 5 episodes as they become available.

…

Expand
Developer:

Telltale Games

Genre(s):

Adventure

,

Point-and-Click

# of players:

No Online Multiplayer

Cheats:

On GameFAQs

Rating:

M
Nintendo Force Magazine

Feb 26, 2018

Amid a glut of other Batman stories, this has become one of my all-time favorites. [Issue #32 – March/April 2018, p. 72]

Batman - The Telltale Series completely caught me off guard in the best way possible. The scene direction combined with the truly exhilarating action and drama made for an unforgettable experience from start to finish. There can be frequent load times and frame rate drops, but they don't really matter as it never gets in the way of the fun and exciting story. What did tarnish an otherwise fantastic game was the awful save system that failed me multiple times, making me repeat 3 hours of gameplay I had already experienced. But if you can get past that and are a fan of The Dark Knight trilogy or Netflix's Daredevil, you should feel right at home and won't want to miss experiencing this new series.

Fans should definitely check this game out, though the Nintendo Switch version does lack a lot of the polish seen on other platforms. But if you want to take your Batman experience on the go then this is your best choice.

If you're a fan of Batman and don't mind the style of Telltale's episodic point-and-click games this title is worth checking out. Despite its underwhelming technical performance and watered-down visuals, it's a gritty and violent story that captures Gotham City in a similar way to other modern stories about Batman. Else, if you're not really a fan of Bruce Wayne and his after hour activities, maybe hold out until another episodic Telltale game based on a different series is released.

Batman: The Telltale Series brings together some of the franchise's most iconic heroes and villains, weaving a story that is intriguing and thrilling for the most part. It can be predictable at times, and the game engine is well past its sell by date, but fans and newcomers alike will love what Telltale have crafted here.

Not bad by any means, but the seriously plodding pace for the first few episodes kills much of the excitement in Batman - The Telltale Series. Though the game really picks up for a great crescendo in the latter two episodes.

While Batman: The Telltale Series pulls off a novel retelling of the titular Bat's origin, it still falls into the same traps that plague much of Telltale's catalogue of games. Low stakes choices, inconsistent storytelling, and short episodes all culminate in a season that squanders all its potential by the finale. This is especially disappointing since there are genuine high points. The relationship between Bruce and Selina is handled excellently, and the concept behind Harvey Dent's downfall is arguably more iconic than ever thanks to the intimate nature of the game. Unfortunately, these moments aren't enough to save the story from unearned twists and a lacklustre conclusion. Batman: The Telltale Series is worthwhile enough for Batman fans looking for an original story sporting a fresh-faced Bruce Wayne, but this is one series that will struggle to win over any Telltale detractors.
Absolutely love this game. Really enjoyed playing and living as Batman dealing with decsion.

Great game! I'm a DC fan since forever! Don't understand why the hate of some of the reviews!! It's a great game! I enjoyed it a lot. Great

Great game! I'm a DC fan since forever! Don't understand why the hate of some of the reviews!! It's a great game! I enjoyed it a lot. Great story!!

…

Expand

A great telltale game that works well on the Nintendo Switch. Totally recommend it especially to DC fans and Batman fans.

Very enjoyable game! I always wondered, how Telltale could work with the Batman character, but they really made it splendid!

The Batman - Telltale Series game offers a unique antagonist and a decent storyline, but unfortunately, it falls short in many areas. While

The Batman - Telltale Series game offers a unique antagonist and a decent storyline, but unfortunately, it falls short in many areas. While the detective gameplay can be enjoyable, it quickly becomes repetitive. The combat stance is similar to that of the Arkham games, which is a nice touch, and the white-eyed Batman is a welcomed feature. However, the prompt timers are awful, and the QTEs are too fast, unpredictable, and often irrelevant. The choices you make throughout the game seem to have little impact on the outcome, and the achievements are more like participation trophies. The graphics and animations are inconsistent and lack depth, and the sounds are often missing or inconsistent, making it difficult to get fully immersed in the game. Additionally, the voice acting can be off at times, and the character design for the Penguin are not what fans have come to expect. Overall, compared to other games released in 2016 and previous Telltale masterpieces, the Batman - Telltale Series is a letdown.

…

Expand

Always like heavy rain series kind of games. Every thing is good for this game except its a little too short. I spent only less than 10 hours

Always like heavy rain series kind of games. Every thing is good for this game except its a little too short. I spent only less than 10 hours to finish the whole game, i'm expecting it to be a lot longer. With a price like that, simple visual effects, and not too complicated game play, i'm pretty disappointed about the game length.

Overall, it is fun though, just that it is too short, not worth the price paying.

…

Expand

I expected an adventure game where my choices would affect the outcome.

Instead I get an pseudo-interactive movie where my choices areI expected an adventure game where my choices would affect the outcome.

Instead I get an pseudo-interactive movie where my choices are mostly cosmetic, when they are not blatantly ignored by referencing a choice I specifically didn't do. (Plot-hole galore)

What I certainly didn't expect are the QTE that sometimes take you by surprise and can be more difficult than for an action game. Which would be bearable if on top of this, there was a rewind feature (It use to be the case I believe). Most of the time it does not matter, but when it does and you've failed a critical QTE by one press, you can only restart the whole chapter or accept the pitiful outcome.

When I want an action challenge, I play Demon Souls, Monster Hunter or Bloodborne. This was meant to be relaxing.

I see no point enduring more of this : I'll never play another Telltale, ever.

…

Expand