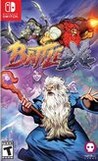 Summary:

Battle Axe is an arcade top-down hack & slash featuring high-quality visuals created by veteran pixel artist Henk Nieborg, true to form game mechanics, and music from the legendary VGM composer Manami Matsumae – retro gamers rejoice. For as long as you and your people can remember, your

Battle Axe is an arcade top-down hack & slash featuring high-quality visuals created by veteran pixel artist Henk Nieborg, true to form game mechanics, and music from the legendary VGM composer Manami Matsumae – retro gamers rejoice. For as long as you and your people can remember, your homeland of Mercia has been held in the tyrannical grip of "Etheldred"; a despotic sorceress in the distant icy wastelands to the north. Every seven years she sends her armies south to handpick inhabitants from each township who will be subjected to a life of slavery, and they are never heard from again. A call is sent out to champions across the land pleading with them to put an end to her rule.

An elf, a wizard and a marauder answer the call. Join this band of heroes on their quest the vanquish evil from the land once and for all!
• Pixel art fun – an adventure for pixel art enthusiasts, with gorgeously designed characters and environments to enjoy with every frame
• Hack n' slash adventure – familiar yet revitalised, thanks to new gameplay elements, improved controls and pixel perfect animations
• Enjoy a timeless melody – a superb soundtrack by legendary composer Manami Matsumae
• Solo or co-op – choose from three highly-detailed heroes to embark with on your quest, playing alone or with a friend in local co-op

…

Expand
Developer:

Henk Nieborg

Genre(s):

Action Adventure

,

General

# of players:

No Online Multiplayer

Cheats:

On GameFAQs

Rating:

T
Super Dragon Ball Heroes shows us the incredible battle of Vegeta, who has reached a new transformation, versus Turles and Cumber. Who will win the fight on fake planet Vegeta?

A great addition to anyone's Switch catalogue, Battle Axe provides some neat pick-up-and-play value with an Infinite mode accompanying the standard story fare. In tandem, these modes are perfect for coping with the daily commute with some bashing and slashing and are backed by a fantastic soundtrack and gorgeous retro art style. Although it has a savagely brutal difficulty curve for the young'uns (as well as older folk who don't have the reaction times they once did), Battle Axe is a decent conversion full of nostalgic fun.

Battle Axe is a hard game, but it never felt frustrating or unfair to play. I can appreciate a game that takes a lot of practice and technical skill, but my favorite thing about Battle Axe is the way that it engages your memory and map knowledge. Once I mastered a particular level's layout, I felt like the hero of a time loop movie, casually advancing through each zone and deflecting attacks with ease. It's a beautiful game created by developers that have a genuine love and talent for pixel art. Visually speaking, Battle Axe is pixel perfect. My biggest problem with the game is that I want more of it, and that's never a bad problem to have.

Battle Axe is a solid old-school hack & slash that, we think, fans of games like Gauntlet will enjoy even with its shortcomings.

Battle Axe is an arcade hack & slash game that stands out for its beautiful pixelated graphics, its great soundtrack and its challenging retro-style gameplay, although it offers levels that are not surprising. The possibility of playing doubles online is missing.

Battle Axe is a good-looking homage to the classic hack and slash arcade efforts of yesteryear that's dragged down by some fairly dull and repetitive action. It looks the part, sounds the part, nails the aesthetic and vibe that it's going for completely, but then it drops the ball with regards to level design, enemy AI and in providing any sense of strategy or surprise during a short campaign that gives you very little reason to return once its done and dusted. If only it had a few twists and turns and a handful more levels, this one could have been well worth a playthrough but, as things stand, it's pretty forgettable stuff.
Essentially this is an isometric arcade style action hack n slash spread across 4 levels.

You will need to play through many times (almostEssentially this is an isometric arcade style action hack n slash spread across 4 levels.

You will need to play through many times (almost like a Rogue-like games) each time getting a little further in order to win as you only have 3 lives at your disposal (no continues). As an average player took me 5 days of play (about 2 hours of playground a day) on hard mode and you need to play it consistent to keep with its fast pace.

Positives
+ very fast paced exciting game
+ beautiful pixel art
+ awesome sound track
+ the characters, coop and different game modes

Negatives
+ short game. Full play through is around 20-30 min
+ not a lot of replay value

…

Expand