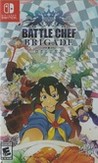 Summary:

In the fantasy realm of Victusia, the members of the elite Battle Chef Brigade are revered for their ability to skillfully take down monsters and transform their kills into delicious cuisine! But getting in isn't easy; chefs from across Victusia must vie for their spot in a high stakes

In the fantasy realm of Victusia, the members of the elite Battle Chef Brigade are revered for their ability to skillfully take down monsters and transform their kills into delicious cuisine! But getting in isn't easy; chefs from across Victusia must vie for their spot in a high stakes competition. Follow two contestants, Mina and Thrash, as their journeys through the tournament unfold. In order to become a Brigadier you'll need to hunt monsters with combo-based attacks and prepare your freshly caught ingredients in puzzle-based cooking challenges to serve up winning dishes to the judges – all while the round clock ticks down. [Nintendo]

…

Expand
Developer:

Trinket Studios

Genre(s):

Action

,

Beat-'Em-Up

,

2D

# of players:

No Online Multiplayer

Cheats:

On GameFAQs

Rating:

E10+
Please enter your birth date to watch this video:
You are not allowed to view this material at this time.
Battle Chef Brigade - PAX West Gameplay Trailer
Battle Chef Brigade is a fantastic addition to the Nintendo Switch's lineup of indie titles that everyone should give a try. The game ran beautifully in both portable and docked modes at a crisp 60 FPS and I never encountered a glitch or bug to ruin my experience, showing the studios talent to provide a properly polished game. I fell in love with this game during my time at E3 and now that the final product is finally here, I can safely say the game not only met my expectations, but surpassed them as my new favourite Indie currently offered on the Nintendo Switch.

What they've served up here is filling, delicious and sure to please every gaming gourmand. [Issue #31 – January/February 2018, p. 26M]

A delightful snack-sized game that combines its disparate elements in a whimsical, entertaining way. I loved the style and the occasional clever puns. The kitchen battles to be a lot of fun, especially because they were timed, and used match-3 mechanics in an innovative way. If you're a fan of Iron Chef, Studio Ghibli, or both, you'll like enjoy this foray into the world of Victusia.

Battle Chef Brigade is a hard game to explain, coming across as a gumbo-style mix of Match 3 puzzle gaming, action combat, and anime storytelling. Surprisingly, everything comes together to make a fun and unique title, where players will hunt monsters and cook fabulous meals for judges in grand stadiums. The game falters in areas outside of its core gameplay, but that core is pretty deep and satisfying.

Battle Chef Brigade serves up a delectable fusion of disparate flavours that create a dish far greater than its parts.

Battle Chef Brigade successfully mixes genres to create something wholly engaging. The charming art direction and characters, creative combat, and clever puzzle mechanics help put Battle Chef Brigade squarely in its own genre. Despite a few storytelling stumbles and some minimal repetition, the sunny disposition of Trinket Studios' puzzle/platformer/beat 'em up ultimately shines through.

I love the premise of this game, which folds together so many of my favorite things: platformers, mobile-style brain-suck puzzles, sexy orcs and overly complicated meals. And I love so, so much of its execution, especially the gorgeous art and music...But everything feels, from top to bottom, like it knows it ought to be a movie instead of a game — at times, it even comes off like it's apologizing for not being one. Some titles can walk this line between movie and game, soaring with cinematic intensity while the gameplay itself enriches the plot. Battle Chef Brigade, sadly, isn't one of them.
Game had so much charm, it should have been an anime. We desperately need a Battle Chef Brigade 2, because the first one is a must buy.

loved this game ! couldn't put it down - very unique, interesting and fun. short game but worth the price

This game wanted to sell us a fantasy rpg story featuring cooking with battle chefs. It delivers in both themes thanks to an amazing art and

This game wanted to sell us a fantasy rpg story featuring cooking with battle chefs. It delivers in both themes thanks to an amazing art and story direction, solid music and fun mechanics.

Duration: 9 hours. Easy and hard mode and online challenges for extended replayability.

Pros:
-The art direction is gorgeous. Hand-made and vivid.
-Realistic and relatable characters
-The story and settings are introduced very well.
-Fun combat and cooking mechanics.
-Customization allows for a lot of styles of playing.

-Cons:
-No loose ends on the story, but somehow you are left wanting more of the world.
-The battle and cooking idea limits the overall product. The game is perfect on its own but It's hard to see how it could be improved.

I hope to see more from the studio and congratulations in such an amazing feat.

…

Expand

Battle Chef Brigade is one of my only regrets of any Nintendo Switch game I have purchased however, the regret is that I didn't purchase it

Battle Chef Brigade is one of my only regrets of any Nintendo Switch game I have purchased however, the regret is that I didn't purchase it sooner. While you may not get a deep twisting narrative from this title you will get a fun match 3 style game that some how manages to blend in action rpg style combat in a manner that is near flawless. The environment and atmosphere of the game is brimming with colour and every time you take down a big creature to get ingredients or match up a lot of ingredients to make a great meal it feels so satisfying. The customization also helps add a little diversity to the game which it greatly appreciates. Overall Battle Chef Brigade is a shorter game but you're still looking at 6-10 hours to complete with post game options as well such as daily challenges so that you never completely run out of things to do. Battle Chef brigade is a wonderful indie title that unfortunately didn't get the respect it deserved at launch. I definitely recommend Battle Chef Brigade for anyone who's looking for a fun action rpg without a seriously deep narrative.

Cons

May feel short on content for some

Story is average

…

Expand

Nice little cooking/action rpg like game, cute characters and great voice actors. Also great art style

I love how they took a very interesting point of view in world full of monsters: culinary. This game did a great job combining puzzle,

I love how they took a very interesting point of view in world full of monsters: culinary. This game did a great job combining puzzle, strategy, and platformer genre. It gets more complicated throughout the story which really makes you always come back to play (or not, if you just need something silly to play with).

…

Expand

I tried really hard to like Battle Chef Brigade. It's by no means bad, but after finishing it, I feel like it has some big issues that will

I tried really hard to like Battle Chef Brigade. It's by no means bad, but after finishing it, I feel like it has some big issues that will prevent me from going back.

The cooking part is pretty fun, but I can't say (after finishing the game mind you) that I have any idea what I'm doing. The mechanics are fun, but I find some of the time limits a bit too strict for me to be able to actually plan out more than one meal, and instead I just throw stuff in based on color rather than what might actually work out together as a meal.

The action is pretty weak. Controls are floaty, hit boxes seem kinda wonky, and there is basically 0 difficulty involved in the action sequences. The idea of fighting interesting monsters to cook their innards is cool, but there aren't that many types of enemies, and there are basically only 3 areas with 3-5 different enemies to beat. After a few chapters, you'll basically have seen every ingredient in the game.

The graphics are nice, but the hand animated anime-styled sprites are probably animated 'on twos' for a lot of actions, which looks pretty jarring with the game running at 60 fps. Some battle animations look really good, Mina's dash/parry looks great, and her somersault kick attack also looks good. But the walking animations all look kinda floaty, some attacks seem/feel really slow, and it annoyed me.

The story is pretty bland, and the first 3 (of 6) chapters have nothing going on, then there's a bit of plot in chapter 4. Finally, I'm looking forward to seeing what happens next... then chapter 5 is filler.

The big bad is unremarkable, we only see him for the first time in the game in the second to last scene in the game. The good guys are also unremarkable, although nice and pleasant, their personalities are so weak and interchangeable that I wouldn't be able to tell who is talking without looking at the names on top of the text bubbles. There's basically no personal growth going on for anyone, good or bad. The voice acting is pretty good at least. The fake accents may annoy some.

All said and done, I'd like to see a vastly improved sequel. With good action, a solid story, and interesting characters, it would be right up my alley. I suppose you could say that about any average game, but I do like the concept. I'm just disappointed with the execution.

…

Expand