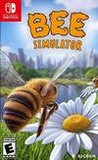 Summary:

A unique chance to see the macro scale world from the micro perspective of a honeybee. A realistic representation of a place inspired by Central Park.
Developer:

Varsav Game Studios

Genre(s):

Simulation

,

Action Adventure

,

General

,

Open-World

# of players:

No Online Multiplayer

Cheats:

On GameFAQs

Rating:

E
Please enter your birth date to watch this video:
You are not allowed to view this material at this time.
Bee Simulator - Official Gamescon 2018 Trailer
Bee Simulator on the Nintendo Switch is a unique game experience that combines educational messages, fun mechanics, and a ton of bee puns.

A beautiful trip that will take you by the hand to learn more about the world of bees. Much content for lovers of these insects, where the action and the story do not stand out. The best part is everything we will discover about bees.

The game wasn't very long, yet I imagine there will be times I'll come back to it, just to buzz around Honey Park. There's a sort of calmness to it all. In some ways, it reminds me of the old PlayStation 3 game, Flower. Bee Simulator is by no means perfect, but I'd still recommend it if you're looking for a simple yet unique, family-friendly distraction.

Bee Simulator is a surprisingly fun game, but makes too many odd design choices throughout the short experience. Repetitive missions, over-simplistic gameplay, and an overall lack of depth hold the game back from becoming something great.

Bee Simulator's flying mechanics will frustrate younger gamers, and its grade-school level presentation will turn away adults. If you're able to find some happy ground between the two of them, however, it's a thoughtful, educational, and fun way to live out the life of a bee.

Bee Simulator is a charming game, but one that never fully realises its potential as a true simulator. While at times gameplay was enjoyable, the overall experience felt limited and the experience was more akin to an interactive educational tale.

The premise for Bee Simulator is good, and I like the idea of doing education through video games in such a uniquely refreshing way, but the execution here has problems. When the game is not asking much from the player, then Bee Simulator ends up being somewhat fun with a great sense of scale, but the controls hamper such an important part of the game that the experience ends up being frustrating. Throw in repetitive tasks and muddy visuals and what you have is a video game that sadly does not deliver on its potential. It is hard to recommend Bee Simulator out right, especially at its asking price, but some of the younger kids might enjoy what Bee Simulator has to offer.
The game is very cute and educational. Some of the tasks like gathering pollen are very relaxing, but can get challenging on hard mode too.

The game is very cute and educational. Some of the tasks like gathering pollen are very relaxing, but can get challenging on hard mode too. The game was not made by a giant company and this is somewhat noticable but they definitely put a lot of love into the game. İf you don't expect a deep story and you love nature you will definitely enjoy it. Bonus: in my country they gift a part of the earned Money to an organization helping real bees

…

Expand

It is a game which really tries to do good and raises awarness for our nature, I love that approach. It's nice to play for/with kids I guess

It is a game which really tries to do good and raises awarness for our nature, I love that approach. It's nice to play for/with kids I guess too , but the controls are a real put off. They feel Sluggish and fuzzy and destroy the wholesome vibe of the little world around you. Voice acting is nice and on point. Colours and details are neat. Technical issues are gone since a patch over a year ago. Local multiplayer is fun.

…

Expand

"Bee Simulator is way better than it has any right to be. With a compelling storyline jam-packed with bee related facts, satisfying flight

"Bee Simulator is way better than it has any right to be. With a compelling storyline jam-packed with bee related facts, satisfying flight controls, and generally decent visuals, the game offers surprising fun that would be perfect for younger players who are interested in the natural world. It's such a shame that it is spoiled by the presence of a rather hefty price tag that will deter many from buying it."

https://theeliteinstitute.net/2021/03/22/bee-simulator/

…

Expand