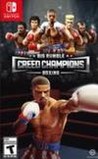 Summary:

Do you have what it takes to be a champion? Train, fight, and win like Adonis Creed and Rocky Balboa in this knockout boxing game!

Are you ready to become a boxing champion? Step into the ring and show off your boxing skills in a knockout arcade experience. Fight as one of 20 iconicDo you have what it takes to be a champion? Train, fight, and win like Adonis Creed and Rocky Balboa in this knockout boxing game!

Are you ready to become a boxing champion? Step into the ring and show off your boxing skills in a knockout arcade experience. Fight as one of 20 iconic characters from the Creed and Rocky movies. Take on world-class opponents across a variety of thrilling locations, or challenge your friends and family in intense, head-to-head matches.

Pound-for-Pound Boxing for All

Intuitive, pick-up-and-play controls
Robust boxing mechanics
Dynamic boxing styles and combos
Fighter-specific super finishers for cinematic knockouts

Ultimate Creed & Rocky Boxing Universe

Legendary tales of 20 iconic and unique characters

…

Expand
Developer:

Survios

Genre(s):

Sports

,

Individual

,

Combat

,

Boxing / Martial Arts

# of players:

No Online Multiplayer

Cheats:

On GameFAQs

Rating:

T
I think it's important to keep in mind that Big Rumble Boxing is an arcade game. With that mindset, you are going to have a really fun time, especially if you spar with a friend. Who doesn't want to play out Rocky versus Apollo Creed again? Or even Rocky versus Adonis? The Arcade mode does feel a little thin, and there are certain things that could have been done to flesh the game out from feeling like it's missing something (more voice acting would have added some much-needed meat to this mode), but aside from this, it's a great pick-up-and-play boxing game.

Big Rumble Boxing: Creed Champions is a solid take on the Rocky/Creed franchise, celebrating the wide variety of fighters that contributed to the series over the years. The gameplay is rather basic for the most part, with little deviation in style between the characters, but fundamentally the fights all feel fun and it's incredibly satisfying when you land a knockout blow on your opponent. The graphics benefit well from more stylised art design, but limitations with the arena's crowds do stand out. If you're a fan of Rocky, though, then you'll definitely want to step into the ring and try this one out.

Big Rumble Boxing: Creed Champions wants to be a tribute to the saga of Rocky Balboa, giving a light-hearted and self-referential tone to the various fights we have come to love so much.

Big Rumble Boxing: Creed Champions is an arcade boxing game that fans of the Rocky Balboa movies will love and that ends up suffering from a lack of variety in game modes and greater depth in its gameplay. It is an entertaining game that you will like if you want to have a few fights without too many pretensions.

Big Rumble Boxing: Creed Champions features all the greats from the franchise. Its large roster and faithful character designs will please fans. Unfortunately, it's in the ring where the game falls flat. It fails to strike the right balance between arcade action and the sport of boxing. Although some may find the casual nature quite fun, aficionados will have to wait for that knockout game.

Big Rumble Boxing: Creed Champions is one of those simple but fun arcade games that can entertain you for a while, but neither Rocky Balboa personally nor all the music from the movies are enough to cover up the lack of more meaningful systems and content.
Thus, "Big Rumble Boxing: Creed Champions" is fun from the first to the last second. The story mode is successful and especially fans will

Thus, "Big Rumble Boxing: Creed Champions" is fun from the first to the last second. The story mode is successful and especially fans will enjoy it. The fights are exciting. Unfortunately, the difficulty level isn't always fair and makes for some frustrating moments in the gameplay. In return, the graphics and sound can provide great elements in the gameplay. Especially the licensed music from the movies creates a great atmosphere. If you are looking for a boxing game or would like to fight with Rocky, you should definitely check out "Big Rumble Boxing: Creed Champions" for a closer look.

…

Expand

While the Switch has finally managed to get some fighting games rolling in the more recent years, sports titles in general have been woefully

While the Switch has finally managed to get some fighting games rolling in the more recent years, sports titles in general have been woefully few and far between. Looking to pick up the practically unclaimed boxing crown we now have Big Rumble Boxing, which brings along a fair amount of swagger as well as characters from the Rocky-verse which is a fair bonus for fans of the franchise. The first word of caution for people taking a look is to walk into the affair thinking of it as a fighting game that features a boxing feel, this isn't remotely a relative of the likes of Punch-Out or other 3D boxers. With that said, though it feels more like a 2D fighting game overall (though you do have the ability to dodge 3-dimensionally) the typical mass of special moves and nuanced combos don't come along for the ride, with each general fighting style having their own flow but in general the repertoire of attacks staying limited. Depending on what you're looking for, the result being more of a Chess-like strategic affair where you'll be trying to work with what you have to wear down and/or psyche out your opponent to then capitalize will either seem ideal or a bit dull and repetitive.

https://www.nindiespotlight.com/2021/09/mini-reviews-september-2nd-edition.html

…

Expand

es entretenido pero se podría haber hecho mejor, no tiene modo online y podrían haber metido un par de modos más y hasta 3 o 4 personajes más

es entretenido pero se podría haber hecho mejor, no tiene modo online y podrían haber metido un par de modos más y hasta 3 o 4 personajes más como son Mason Dixon de Rocky Balboa, pero bueno el juego en realidad se llama Creed, recomiendo el juego? Si, si te gusta Rocky y los juegos de lucha como es mi caso, el juego es mejorable? Bastante respecto a contenido

…

Expand

Don't buy this if you like boxing, it's just a desperate button mash.
What were they thinking, this could have been awesome, but fight nightDon't buy this if you like boxing, it's just a desperate button mash.
What were they thinking, this could have been awesome, but fight night smashes this from n64 days, there's no game of chess here.
Definitely not boxing, not even a good balanced fighter bbbbalanced fighter.
The grunts of the story are Dreadful, it's like the story on drift infinity desperate

…

Expand

While most boxing games have a different button for each straight punch and hook, this one just has one button that covers both hands.

While most boxing games have a different button for each straight punch and hook, this one just has one button that covers both hands. Repeatedly pressing this button does a combination. There is a separate power punch and super button.

The controls are slow and it's impossible to get out the way of opponents punches once they have thrown them. There is no option to move your head to the left or right.

The button mashing required makes it feel more like a very poor and sluggish Street Fighter attempt than a boxing game.

Ready to Rumble Boxing on the Dreamcast felt far more responsive and polished than this. Above all, that game was fun while this is just slow and boring.

In arcade mode you are forced to do a training routine and scroll through loads of text boxes before each match which isn't really suitable for a super simple fighting game.

A complete waste of money

…

Expand

Muy malo. La dinámica de peleas es de un juego de tipo tekken en vez de un juego de boxeo. No existe eso de boxeador a distancia haciendo jabs

Muy malo. La dinámica de peleas es de un juego de tipo tekken en vez de un juego de boxeo. No existe eso de boxeador a distancia haciendo jabs de lejos ni el boxeador de corto alcance. Lo venden como juego de boxeo pero es un juego de pelea, no de boxeo. Con combo y megacombos.. Si buscan un juego de boxeo está mejor el que incluye tokyo 2020. Muy poca libertad en los modos de juego. No vale la pena.

…

Expand