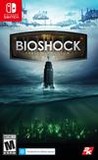 Summary:

Return to the cities of Rapture and Columbia and experience the award-winning BioShock franchise like never before, beautifully remastered in 1080p. BioShock: The Collection contains all single-player content from BioShock, BioShock 2, and BioShock Infinite, all single-player add-on content,

Return to the cities of Rapture and Columbia and experience the award-winning BioShock franchise like never before, beautifully remastered in 1080p. BioShock: The Collection contains all single-player content from BioShock, BioShock 2, and BioShock Infinite, all single-player add-on content, the Columbias Finest pack, and Directors Commentary: Imagining BioShock, featuring Ken Levine and Shawn Robertson.

BioShock is a shooter unlike any you've ever played, loaded with weapons and tactics never seen. You'll have a complete arsenal at your disposal from simple revolvers to grenade launchers and chemical throwers, but you'll also be forced to genetically modify your DNA to create an even more deadly weapon: you.
*Museum of Orphaned Concepts
*Challenge Rooms

BioShock 2
Set approximately 10 years after the events of the original BioShock, the halls of Rapture once again echo with sins of the past. Along the Atlantic coastline, a monster has been snatching little girls and bringing them back to the undersea city of Rapture. Players step into the boots of the most iconic denizen of Rapture, the Big Daddy, as they travel through the decrepit and beautiful fallen city, chasing an unseen foe in search of answers and their own survival.
*Minervas Den
*Protector Trials

BioShock Infinite
Bring us the girl, wipe away the debt. The year is 1912. Deep in debt, Booker DeWitt has only one opportunity for a clean slate: rescue Elizabeth, a mysterious girl imprisoned since childhood in the flying city of Columbia.
*Clash in the Clouds
*Burial at Sea 1&2
*Columbias Finest Pack

Features

*Remastered in 1080p.
*BioShock main game and all single player DLC.
*BioShock 2 main game and all single player DLC.
*BioShock Infinite main game and all single player DLC.
*Directors Commentary: Imagining BioShock, featuring Ken Levine and Shawn Robertson

…

Expand
Genre(s):

Miscellaneous

,

Compilation

# of players:

No Online Multiplayer

Cheats:

On GameFAQs

Rating:

M
All in all, is the Bioshock Collection worth picking up on Nintendo Switch? I would absolutely recommend it. As I mentioned, whether you have played them before or not, the hybrid console is a fantastic way to experience each of these titles, and the excellent result of the port alone should be enough to entice players new and old. The games have amazing stories, truly unique settings, and memorable characters and locations that everyone should jump into.

BioShock: The Collection stands as yet another fantastic port in the Switch's ever-growing library, combining three excellent games and all their DLC into one convincing package. Stable performance, engrossing narratives, fun gameplay, and lots of content make this one an easy recommendation, even if these releases show their age from time to time. If you're looking for a good single-player shooter to pick up for your Switch, look no further than BioShock: The Collection. We'd give this one a high recommendation, it's tough to go wrong here.

If you are like me and have never played a BioShock game before, I highly recommend picking up this collection. If you played one of these games or even all of them on another console, it is still an excellent collection on the Switch. Since you get all three games and their DLC, I think it is well worth the asking price of $49.99.

This collection is a fantastic adaptation of one of the best franchises ever made. They are that type of game that can be played years later and they're still as enjoyable as when they first came out, so wether it's your first or your tenth time with them, this is your chance to play them on the go.

For many BioShock: The Collection's hop to Nintendo Switch is as good of an excuse as any to indulge in this unforgettable series all over again. For others it's an opportunity to discover what they've been missing out on and if so "would you kindly" pick up a copy because yes, you've been missing out. For those owning a Switch alone, there's a banquet of content on offer in this collection that both looks and plays a treat, making it worth every penny. This first-person shooter is easily one of the best available in the Switch's catalogue of games and let's face it, being able to take BioShock wherever you go is indeed awesome. However, bearing in mind how this version plays best, it's difficult not to consider browsing stores on other consoles where this title often finds itself on sale for a pretty much identical experience at fraction of the price.

All three BioShock games in the collection contain all the DLC from their original releases and as far as packages go, are as complete as they come. Purely from a content perspective there's plenty to go around, and most of the time spent is engaging, too. I personally find all three games to be far more interesting as historical artefacts rather than for pure consumption, but it's nice that they function well as both. And so if you're just arriving at the series on Switch my recommendation is – if you can stomach the often very graphic violence – definitely play BioShock 1, if you loved the first then consider BioShock 2, and only if you like flying cities and have a yet unsatiated bloodlust, then play BioShock Infinite as well.

Bioshock The Collection on Switch is everything the home console versions brought us four years ago, but with a oh-so practical portable dimension, but also poorer graphics, thanks to a strong aliasing, and a frame-rate which cannot exceed 30 fps. But with three classical FPS games which already made history, the added DLC and many bonus gives us a good reason to dive again, on the go.
Super Solid port. Probably the best port on the console or at the very least on par with the doom port.

I had only played the third game before the first two so I didn't get it when I played it. When I bought the Nintendo Switch version,

I had only played the third game before the first two so I didn't get it when I played it. When I bought the Nintendo Switch version, collecting all three, I was hooked on the first two games. It's so deceptively simple and brilliant in its storytelling, as this really changed the way subtlety was used in games. It gave rise to the first Last of Us's storytelling. What amazed me is that when you play in the dark, it's almost similar to Metro Exodus on switch. It's that beautiful. I hope they make more Bioshock games, but if they made them every year, it would ruin the charm. We all saw what happened to Call of Duty, but Bioshock couldn't afford to go that route. Some games must have time and care put into them, and while there is some graphical difference, it meshes very well. The stories are top notch. The FPS shooters to date are Doom 2016 and Eternal, Wolfenstein, Bioshock, and the Metro series. I would recommend these as the FPS to play, and Bioshock earns its place easily with subtle and demented story telling and action driven by horror set themes. Infinite is a departure as it was trying to retell the story all over again, but it does have potential, and it even stands on its own if they needed to retell the story again.

…

Expand

One of the best fps un the last year come to switch with a good Port, thanks virtuos

This baby is gaming at its best. Bioshock as series is very satisfying experience. There is tons of atmosphere. I remember being scared as I

This baby is gaming at its best. Bioshock as series is very satisfying experience. There is tons of atmosphere. I remember being scared as I first experienced the feeling of being alone in a dead city.
Such an interesting story , exciting gameplay and the series invents different game mechanics as series goes on but honestly after finishing it all I feel like its one big awesome game. DEFINITELY GET IT

…

Expand

The Bioshock Collection brings the complete Bishock package with all 3 games and DLC to Switch.

These are fantastic games that hold up reallyThe Bioshock Collection brings the complete Bishock package with all 3 games and DLC to Switch.

These are fantastic games that hold up really well even today thanks to their unique art style, story telling and thick atmosphere.
Also I'm very happy to tell you that this is a good port of the games. Switch runs Bioshock at a solid 1080p 30fps. The graphical fidelity is much closer to the PS4 version than the original PS3 version. At some points (for example with certain fire effects) it looked like there were compression artifacts but otherwise tje image was very clean.
A few minor issues that Switch owners should know is that there is no gyro support, some text and hud elements being quite small in handheld mode (as these games were originally developed for home consoles) and that all games require additional downloads as only parts of every game have been stored on the cartridge.
Overall this is a quality port of a quality game but the developers didn't go the extra mile to consider Switch specific features.

…

Expand

Se ve espectacular en Switch buena adaptación sin duda uno de los mejores shooters de la plataforma

No me gusto nada la optimizacion en switch mucho mejor la version en otraa consolas