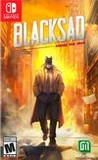 Summary:

A dark corruption scandal in the heart of the New York City's underworld for charismatic detective John Blacksad!

The 50s, New York City: Joe Dunn, owner of a boxing club, is found dead. Meanwhile, rising star Bobby Yale, due to take to the ring for the most important fight of his career,A dark corruption scandal in the heart of the New York City's underworld for charismatic detective John Blacksad!

The 50s, New York City: Joe Dunn, owner of a boxing club, is found dead. Meanwhile, rising star Bobby Yale, due to take to the ring for the most important fight of his career, has mysteriously disappeared. Sonia Dunn, Joe's daughter, takes over the gym and must deal with its financial woes. She hires private detective John Blacksad to investigate Yale's disappearance. This sinister case will take our investigator to the darkest, most dismal depths of New York.

With its anthropomorphic characters and its incredible 1950s feel, BLACKSAD: Under the Skin promises all the eerily dark adventure of a detective novel, just like the eponymous comic book series.

Conduct the investigation in your own way. Make use of your feline senses as you hunt for new clues. Make decisions on behalf of Blacksad and influence the outcome of the case.

…

Expand
Developer:

Pendulo Studios

Genre(s):

Adventure

,

3D

,

First-Person

,

Third-Person

# of players:

No Online Multiplayer

Cheats:

On GameFAQs

Rating:

M
Please enter your birth date to watch this video:
You are not allowed to view this material at this time.
Blacksad: Under The Skin - 14 Minutes Of Cat Detective Gameplay
Despite its flaws — both performance and otherwise — Blacksad: Under The Skin still makes for an interesting game. It's clunky (in more ways than one), but it's also got a gripping story at its core, and it's oozing style. I've certainly played better adventure games than this one, but there's enough interesting stuff going on here that fans of the genre could do worse than checking it out.

Blacksad: Under the Skin is a true adaptation of the comic album series created by Juan Diaz Canales and Juanjo Guarnido but delivers an overall frustrating experience due to technical issues.

Overall, Blacksad: Under the Skin is both a faithful adaptation and a frustrating example of modern adventure game pitfalls. Fans of the original comics will enjoy seeing Blacksad himself brought to life so accurately, but some inconsistent performances in the voiceover department and some frustratingly unresponsive controls make it a far less enjoyable experience. There's a really intriguing mystery to unfold and solve, but with some technical problems and a little too much blurring for our liking, you'll have to grit your teeth if you really want to crack this case on the go.

A story true to the essence of the franchise, intriguing and fun. However, it doesn't compensate for the bad graphic and playable section of this title.
It restarts sometimes but the beautifully drawn graphics and the atmosphere makes it worth keep exploring. Creative and exciting. It has its

It restarts sometimes but the beautifully drawn graphics and the atmosphere makes it worth keep exploring. Creative and exciting. It has its flaws but I prefer a good story and some glitches over a like every other 2d run and jump game. If you like comics it's worth trying, but you can wait til it's on a sale.

…

Expand

So, in the first 2 hours using the current patch (1.02) the game has crashed three times and glitched badly enough that I needed to close and

So, in the first 2 hours using the current patch (1.02) the game has crashed three times and glitched badly enough that I needed to close and reopen the game once. That's really bad - worse than any game I've seen on the Switch by far.

Aside from that, it's often slow to transition between animations, loading times are fairly poor, and textures occasionally fail to load in.

I'm giving it a 6 because despite all of those failures, there really is a gem of a game underneath all the bugs, and it's one that I keep coming back despite all the aggravation those bugs cause.

It's quite beautiful when the graphics are working properly, the soundtrack is exceptional, the writing is excellent and the acting is decent. There's a story and a world here that I absolutely adore. The gameplay mechanics are well thought through too. If it were less glitchy and better optimised, this could be a classic - and slow as the patches are, they've already announced the third one to be released so it is being worked on. If they can fix the game, this could be a 9/10 for me. As it stands, it's impossible to recommend to someone unless they know exactly what kind if frustration awaits them. I hope they are able to fix it, because it really is worth fixing.

…

Expand

Раскидаю по пунктам
Техническое исполнение:
Минусы: – много вылетов, – долгие загрузки и выгрузки меню, – долгие загрузки между уровнями,Раскидаю по пунктам
Техническое исполнение:
Минусы:
– много вылетов,
– долгие загрузки и выгрузки меню,
– долгие загрузки между уровнями, при этом текстуры не успевают прогружаться,
– чувствуется тормознутость управления даже в режиме хендхелда,
– стабильные вылеты после финальных титров, в итоге, я не знаю, прошёл я игру или не прошёл, и есть ли что-нибудь после титров.
Плюсы:
– всё вышеперечисленное не мешает прохождению игры.

Графика:
– низкие разрешения текстур, алиайзинг, но на телеке с препроцессингом картинки смотрится отлично;
– есть баги в движке;
– местами так темно, что невозможно ничего увидеть;
– если убрать проблемы, то графика производит нужное впечатление: персонажи прорисованы красиво, и местами выглядят отлично, но чаще смотрятся, как фигурки с натянутыми текстурами. На Switch есть примеры с гораздо лучшей графикой.

Звук:
– в наушниках лучше не слушать: есть резкие моменты, которые не удаётся сгладить настройкой громкости, а есть диалоги очень тихие, что местами влияет на прохождение игры;
– при построении звуковой сцены есть рассинхрон между сменами картинки и позиционированием звука.

Музыка
– атмосферно, хороший джаз, но треклист небольшой.

Сюжет/сеттинг:
– проработаны детали, по крайней мере на том уровне, который требуется для игры,
– персонажи прописаны,
– придраться не к чему, есть желание перепройти.

Геймплей:
– в каком-нибудь месте можно втупить и ходить кругами;
– не понравилось, что между местами, где ты уже был, нужно ходить ногами. При этом игровой мир не наполнен и не меняется, чтобы был смысл по нему ходить. Почему было не сделать быстрое перемещение?
– остальные элементы геймплея идеальны: есть всё, что я ожидал увидеть в детективной игре.

Перевод:
– русская озвучка отличная, но есть целый монолог, который остался без оной – пришлось включать субтитры, чтобы понять смысл.

Рекомендую покупать только после выхода патча.

…

Expand

Almost unplayable. Crashes constantly. Textures do not load and loading times are too long.

I cannot express through words how thoroughly disappointed and irritated I am with this game. It is LITERALLY unplayable. Textures won't ever

I cannot express through words how thoroughly disappointed and irritated I am with this game. It is LITERALLY unplayable. Textures won't ever fully load in or won't stay loaded in, the game lags constantly, there are glitches oozing from every pixel, it's very obviously unfinished, and this was AFTER the hour and 30 minute long update I had to sit through before starting. All of the cosmetics I could and did mostly ignore but what I could NOT ignore was the fact that I only made it 25% of the way through the game before it decided to lock up and keep me stranded in the boxing gym office area with no way to exit and with the only NPC up there banished to the dark realm. I restart just to find that my progress of TWO HOURS has been completely reset, and yes it had saved numerous times. I don't give it a complete 0 because the story was really captivating and the characters were likable. A shame the game part was utterly broken.

…

Expand

El juego tiene varios aspectos positivos: trama, ambientación...pero tiene demasiados fallos técnicos. En mi caso, hay un fallo que no me

El juego tiene varios aspectos positivos: trama, ambientación...pero tiene demasiados fallos técnicos. En mi caso, hay un fallo que no me permite seguir jugando tras la partida de póquer. Un juego que no se puede jugar no es un juego.

…

Expand

Worst port ever. period.
Literally unplayable.
Framedrops, stutters.
Worst quality Switch game I ever played