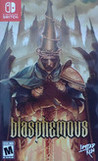 Summary:

A foul curse has fallen upon the land of Cvstodia and all its inhabitants - it is simply known as The Miracle.

Play as The Penitent One - a sole survivor of the massacre of the 'Silent Sorrow'. Trapped in an endless cycle of death and rebirth, it's down to you to free the world from thisA foul curse has fallen upon the land of Cvstodia and all its inhabitants - it is simply known as The Miracle.

Play as The Penitent One - a sole survivor of the massacre of the 'Silent Sorrow'. Trapped in an endless cycle of death and rebirth, it's down to you to free the world from this terrible fate and reach the origin of your anguish.
Explore this nightmarish world of twisted religion and discover its many secrets hidden deep inside. Use devastating combos and brutal executions to smite the hordes of grotesque monsters and titanic bosses, who are all ready to rip your limbs off. Locate and equip relics, rosary beads and prayers that call on the powers of the heavens to aid you in your quest to break your eternal damnation.

…

Expand
Developer:

The Game Kitchen

Genre(s):

Action

,

Action Adventure

,

Platformer

,

Open-World

, ,

Metroidvania

# of players:

No Online Multiplayer

Cheats:

On GameFAQs

Rating:

M
Please enter your birth date to watch this video:
You are not allowed to view this material at this time.
Blasphemous - 25 Minutes Of Gameplay
Blasphemous is a gothic horror masterpiece that can't be missed.

Blasphemous takes a few well trodden genres and mashes them into something that is fun, rewarding and downright beautiful. Its story, themes and macabre nature will not suit everyone but I could not get enough of it. Its difficulty is near-perfect, not too hard but enough of a challenge to please most players. Metroidvania fans, Souls-like fans and gamers who want a challenge will revel in this games gorgeously crafted world. Its a brilliantly crafted experience that needs to be played.

Blasphemous is one of the most interesting metroidvanias recently. It offers a great gameplay and exquisite visual presentation. A simple sound production and several technical errors can be annoying, but they do not prevent you from appreciating the great quality of this game.

Blasphemous is a great mix between Dark Souls and Castlevania. what we loved about it the most is how welcoming it was to its sorrowful world, it is simple but well designed. The pace can be slow though, as the moment to moment gameplay is less engaging than Castlevania's tight game design.

It's probably one of the best looking indie games of the year, accompanied by incredibly effective notes of religious horror. More importantly, minus a few small gripes, it's still a very enjoyable game to play through. Definitely one to sink into when the clocks go back in time for the dawn of All Hallows Eve.

As it stands in its current form, I will say that if Blasphemous' aesthetic interests you even a little, or if you're a fan of metroidvania-style games, then it's absolutely worth checking out in its current form. I will also say though that despite how good the performance is on the Switch version, there are bugs and animations/interactions that could use more tuning. Blasphemous in its current state is a strong entry in the genre, and definitely stands close to the top, but with further refinement, it could turn from an interesting title to a true must-play experience.

Unfortunately the game is too bogged down with a high difficulty level that is more tedious than challenging, dragging the entire experience down into something I can hardly bring myself to play. Blasphemous is a beautiful game that I wish I could enjoy more, but the extremely high difficulty of combat and platforming simply does not mesh well with the amount of exploration and backtracking needed from a world as expansive as this one.
Fantastica historia y gameplay en este metroidvania que es toda una sorpresa del estudio español

This game is a masterwork action RPG/platformer metroid-whateveria. Despite all it's similarities to say Dark Souls or Castlevania it

This game is a masterwork action RPG/platformer metroid-whateveria. Despite all it's similarities to say Dark Souls or Castlevania it absolutely stands out and up on it's own merit as a deeply stylish, haunting world and narrative. PSA as well: If you have trouble with the controls, switch to the d-pad for movement. It makes all your inputs much more exacting and really helps you finesse say some of the more difficult trick platforming in the added Bloodstained content.

I triple recommend the game if you've ever had a brush with hardcore faith or Catholicism in your life. As an ex-catholic it felt sublimely cathartic to experience themes all too familiar with a new coat of paint, underscoring both the grotesquely but also grace and elegance of faith.

This game is perma-downloaded on my system and it has so much replayability that even after three runs I can absolutely see myself coming back on a rainy day.

…

Expand

I enjoyed the gameplay of Blasphemous. The difficulty wasn't too bad except for the final 2 bosses. completed in about 13 hours.

Game(s)I enjoyed the gameplay of Blasphemous. The difficulty wasn't too bad except for the final 2 bosses. completed in about 13 hours.

Game(s) like: Salt and Sanctuary, Dead Cells

Pros:
- The sword play was satisfying
- Enjoyed the boss fights

Cons:
- Not a lot of skill/weapon upgrades
- If you are going to fit a boss multiple times don't make me wait and ride and elevator each time and listen to the same dialog!

…

Expand

Very fun game, 100% worth his price.
50% metroidvania 50% soulslike, with a lore that really got me hooked in and searching for YouTubeVery fun game, 100% worth his price.
50% metroidvania 50% soulslike, with a lore that really got me hooked in and searching for YouTube videos to explain it.
The overall experience is a 8/10 imo, it would've been a 9 but the platforming and backtranking can ruin the pace and fun of the game sometime.

…

Expand

Started off loving this game but ended up stop playing after 13 hours.

The controls is the biggest issue,its sluggish. Movement is slow, iStarted off loving this game but ended up stop playing after 13 hours.

The controls is the biggest issue,its sluggish. Movement is slow, i think there is a bug when you jump and turn around to face an enemy the character freezes for 1 second and then BAM!!! Enemy hits you.
Its a hard game but not that hard,starts off fun then precedes to be repetitive .

The upgrade system is the most useless i have seen in any game,the only upgrade worth using is lunging with your sword.

Then the Miracles (Powers) does next to no damage and this takes about 2 seconds to power up.

Pros- Game looks stunning,lore is weird and creepy.
Cons- Horrid controls

Buy this game only when on massive special

…

Expand

This is actually a fantastic game, but not on the underpowered switch. The switch version is virtually unplayable due to the input lag.

This is actually a fantastic game, but not on the underpowered switch. The switch version is virtually unplayable due to the input lag. There's a good half-second delay to everything you do, and in a game that demands as much precision as this one, that makes it unplayable. If you're thinking about buying this version, be sure to try the demo first. I have a feeling they only added that just so you could see how bad it is on switch before buying; no other version of this game on other systems has a demo.

…

Expand